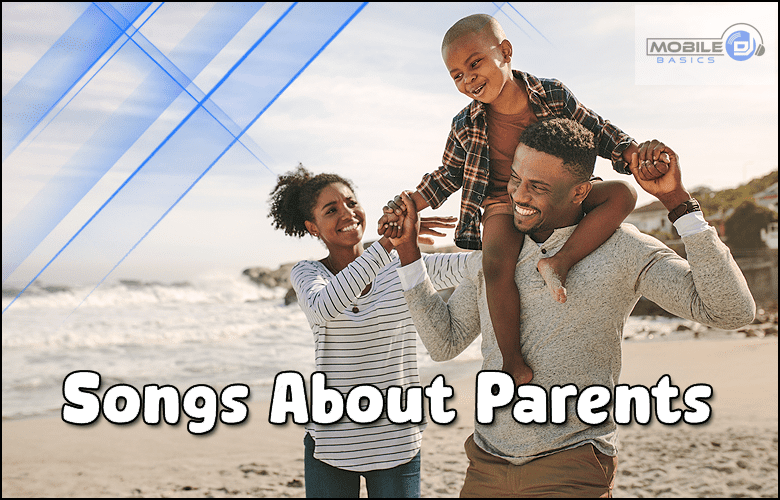 Last Updated on October 16, 2023 by Ryan Conlon | 🕒 5 min Read Time
---
As a child, there is no greater love than that of a parent. They are our first protectors, our first teachers, and our first friends. And as we grow older, their love only grows stronger. We may not always see eye to eye, but they are always there for us, no matter what.
Throughout our lives, they are our biggest supporters and our biggest cheerleaders. It is no wonder, then, that so many songs have been written about the special bond between parents and children.
From classic tunes like "Sunrise, Sunset" to modern hits like "Because You Loved Me," these songs celebrate the unique and unending love of a parent.
Whether we are five or fifty years old, their love will always be with us. And that is something to celebrate.
New Songs About Parents
There are some great new songs out there! In this section, we'll take a look at a few of our favorites.
These songs explore the complicated and ever-changing relationship between parents and their children in moving and sometimes humorous ways.
Whether you're a parent yourself or just have one in your life, you'll definitely appreciate these tunes. So without further ado, let's get started!
Check out these new parent songs:

for KING & COUNTRY – Unsung Hero
Taylor Swift – The Best Day (Taylor's Version)
Nichole Nordeman – Slow Down
Jeremy Zucker, Chelsea Cutler – parent song
Chris Lane – Ain't Even Met You Yet
Michael Bublé – Forever Now
Sasha Sloan – Older
Anna Clendening – To My Parents
Tate McRae – dear parents
Owl City – Not All Heroes Wear Capes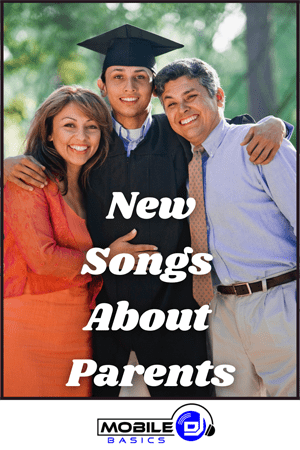 Your wedding day is one of the most special days of your life. You want everything to be perfect, from the dress to the cake to the music. And of course, you want your parents to be there with you every step of the way.
That's why we've put together this list of new parent dance songs for your wedding day. Whether you're looking for a sentimental ballad or an upbeat dance tune.
for KING & COUNTRY – Unsung Hero
There's something special about a song that captures the essence of what it means to be a parent.
For KING & COUNTRY's "Unsung Hero" is one of those songs. The lyrics are filled with the hope, joy, and love that parents feel for their children. The chorus celebrates the unsung heroes who are always there for their kids, even when they don't get the credit they deserve.
It's a beautiful tribute to the strength and sacrifice of parents everywhere.
This song is sure to resonate with anyone who has ever been blessed with the title of "mom" or "dad." And it's sure to bring a tear to the eye of anyone who has ever had the privilege of being called a parent.

---
Country Songs Talking About Parents
There's nothing quite like good country songs to make you feel nostalgic for your childhood and all the happy moments you shared with your parents.
Whether it's a song about a dad teaching his daughter how to drive, or a mom always being there for her son, these country tunes always seem to hit the spot.
Here are just a few of our favorite country songs:
Luke Combs – Without You
Brett Young – Weekends Look A Little Different These Days
Toby Keith – Heart to Heart
Waylon Nihipali – He's Her Life
Craig Morgan – The Father, My Son, and the Holy Ghost
Thomas Rhett – Things Dads Do
Lonestar – Let them be Little
Honey County – Got It From My Mama
Rodney Atkins – Watching You
Thomas Rhett – To The Guys That Date My Girls
I'm sure a lot of you can relate when I say that country music seem to always be about love, heartache, and trucks. But what you may not know is that country music is also full of songs that talk about parents.
Whether the song is about losing a parent, or thanking them for all they've done, these country songs are sure to make you appreciate your parents even more.
So put on your cowboy boots and get ready to feel the feels!
Luke Combs – Without You
Luke Combs released a song called "Without You" and it quickly became a fan favorite. In the song, Combs talks about his parents and how much he misses them now that he's an adult.
The lyrics are incredibly relatable for anyone who has moved away from home, and they perfectly capture the mixed emotions that come with leaving the nest.
On the one hand, there's a sense of excitement and possibility associated with starting a new chapter in life.
But on the other hand, there's also a sense of sadness and loss, as we realize how much our parents have always meant to us.
Whether you're currently living far away from your parents or you're simply missing them today, this song is sure to resonate with you.

---
Classic Songs About Mothers and Fathers

Raising children is one of the most rewarding things a person can do in life, but it's also one of the most challenging.
No matter what, parents always seem to find a way to make their kids feel loved. And what better way to show your love than by singing them classic songs about parents?
There are so many beautiful and timeless tunes out there that perfectly capture the special relationship between a parent and child.
Here are just a few song ideas:
Boyz II Men – A Song For Mama
Everclear – Father Of Mine
Tupac Shakur – Dear Mama
Queen – Father To Son
Garth Brooks – Mom
Luther Vandross – Dance With My Father
Chuck Wicks – Stealing Cinderella
Kenny Chesney – Don't Blink
Loggins & Messina – Your Mama Don't Dance
Billy Ray Cyrus – Ready, Set, Don't Go
Steven Curtis Chapman – Cinderella
Backstreet Boys – The Perfect Fan
Christina Aguilera – I Turn To You
The Band Perry – Mother Like Mine
Bob Carlisle – Butterfly Kisses
There are some classic songs that are about parents that never get old. Even though our parents may drive us crazy at times, we always love them and appreciate everything they do for us.
These are some of the best classic songs that will make you nostalgic for those childhood memories.
---
Country Songs that are About a Parents Love
There's something undeniably special about country songs that are written about a parental love. Whether it be a song about a child growing up and leaving the nest, or one about a parent who has passed away, these tunes always manage to strike an emotional chord.
In this list, we'll take a look at some of the best country songs that are talking about parents.
So next time you're feeling nostalgic, put on one of these country tunes and think about the special bond between you and your parents.
Country Songs Talking About Parents

Morgan Wallen – Thought You Should Know
Lee Brice – The Best Part Of Me
George Strait – The Best Day
Kane Brown – For My Daughter
Tim McGraw – 7500 OBO
John Michael Montgomery – Letters From Home
Trace Adkins – Just Fishin'
Brad Paisley – He Didn't Have To Be
Zac Brown Band – I'll Be Your Man (Song For A Daughter)
Lonestar – Mr. Mom
Martina McBride – Every Mother's Dream
Martina McBride – In My Daughter's Eyes
Chad Kaney – Daddy's Little Girl
Reba McEntire – You're Gonna Be
Sara Evans – You'll Always Be My Baby
Alan Jackson – You'll Always Be My Baby
George Strait – A Love Without End, Amen
Tim Mcgraw – My Little Girl
Phil Vassar – Just Another Day in Paradise
Kenny Chesney – There Goes My Life
From touching ballads to upbeat anthems, there are countless songs about the subject of parents' love. In particular, many country artists have written songs about their father's and mothers' love.
Morgan Wallen – Thought You Should Know
As a parent, there's nothing quite like the love you have for your children. It's a love that's unending and knows no bounds. And it's a love that's perfectly captured in country songs like Morgan Wallen's "Thought You Should Know."
This song is all about a parent's unconditional love for their child, and it's sure to resonate with any parent who has ever felt that way.
The lyrics are simple but incredibly powerful, and they perfectly capture the feeling of a parent who just wants their child to know how much they love them.
If you're looking for a country song that perfectly sums up the parental love, look no further than Morgan Wallen's "Thought You Should Know."

---
Sentimental Songs About Family
When it comes to songs about family, there are a lot of them that are sentimental and tug at the heartstrings. There's something about hearing a song that was specifically written about someone's family that just makes you feel all warm and fuzzy inside.
Whether it's a song about losing a loved one, or a song about being far away from home, these tunes will make you appreciate your own family even more.
Enjoy some of the best sentimental songs about family out there:
Steven Curtis Chapman – When Love Takes You In
Trace Adkins – Then They Do
Rodney Atkins – These Are My People
Grover Washington Jr. – Just The Two of Us
Kacey Musgraves – Family Is Family
TobyMac – Family
Garth Brooks – Thicker Than Blood
Andy Grammer – I Choose You
Ingrid Andress – More Hearts Than Mine
Rina Sawayama, Elton John – Chosen Family
Ricky Skaggs – Nothing Beats A Family
Ziggy Marley – Family Time
Zac Brown Band – Family Table
Alicia Keys – Blended Family (What You Do For Love)
Casting Crowns – So Far to Find You
Songs about families can be some of the most sentimental and moving pieces of music out there.
Whether it's a song about a mother, father, son, or daughter, these tunes can tug at our heartstrings and bring back memories from years past.
---
Thank You Songs for Parents
As a parent, there is nothing more special than being included in your child's wedding.
Whether you are walking down the aisle with them or simply watching from the sidelines, it's an incredible experience.
And to show their appreciation, many couples choose to include a thank-you song for their parents during the reception.
Here are some of our favorites:
Anne-Marie – Her
Alicia Keys – Good Job
JJ Heller – A Mother Like You
Diana Ross – Thank You
Good Charlotte – Thank You Mom
Cheerers of Faith – Thank You Dad
Queen – You're My Best Friend
Celine Dion – Because You Loved Me
Jon Barker – Thank you for being my Dad
Andrew Gold – Thank You For Being A Friend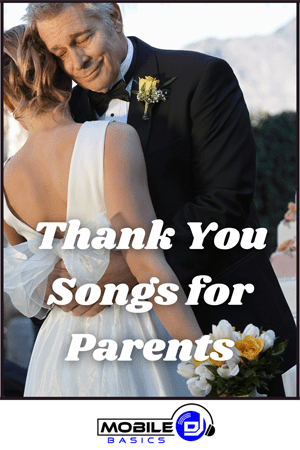 Thank you songs for parents can be a great way to show your appreciation for all they do for you. From cooking meals to driving you around, parents do a lot to help us out.
A thank you song is a simple way to say "thank you" and show your gratitude. There are lots of different thank you songs out there, so finding one that speaks to your relationship with your parents is easy.
Whether it's an original song or a cover, express your thanks in a way that feels true to you. And don't forget to sing along loud and proud!
---
Songs For a Parents Dance at a Wedding
Your wedding day is a special day to share with your family and friends. A day when two hearts become one and you start your journey through life together. A day filled with love, laughter, and maybe even a few tears. And what would a wedding be without music?
The right song can set the tone for your entire wedding, from the first dance to the last dance. So if you're looking for songs for parents to dance to at your wedding, we've got you covered.
For the father-daughter dance, we recommend "My Girl" by The Temptations or "I Loved Her First" by Heartland.
For the mother-son dance, how about "Wind Beneath My Wings" by Bette Midler or "A Song for Mama" by Boyz II Men.
For the mother-daughter dance, check out "My Wish" by Rascal Flatts or "Forever Now" by Michael Bublé.
Whatever songs you choose, make sure they come from the heart and capture the love between you and your parents.
Here is a list of the Top Parent Dance Songs:

Charlie Puth – One Call Away
Jax – Like My Father
Chris Lane – That's What Mamas Are For
Zac Brown Band – The Man Who Loves You The Most
Meaghan Smith – You've Got My Heart
Brantley Gilbert – Man That Hung The Moon
Michael Bublé – Mother
Camila Cabello – First Man
Lukas Graham – Mama Said
Lee Brice – The Best Part Of Me
Meghan Trainor ft. Kelli Trainor – Mom
Jason Blaine – Dance With My Daughter
Mac Miller – I'll Be There
Krystal Keith – Daddy Dance With Me
Bon Jovi – Story Of Love
Dancing at a wedding is always a fun time, but it's even more special when your parents get up and show off their moves.
Whether they've been practicing for years or it's their first time on the dance floor, these songs will make them the stars of the show.
---
The power of music in honoring our parents
There are few things more powerful than music. It can lift our spirits, heal our wounds, and bring us together in ways that nothing else can. And when it comes to honoring our parents, music can be a particularly potent force.
Just think about all of the songs that have been written about mothers and father over the years.
They range from tender ballads to rousing anthems, but they all share a common goal: to express our love and appreciation for the people who brought us into this world.
Music has a way of getting to the heart of things, and when it comes to honoring our parents, it is the perfect way to do so.
So the next time you are looking for a way to show your folks how much you care, don't forget the power of music. It just might be the best way to do it.
---
Conclusion
Although the lyrics of these songs vary, one thing is clear: parents are an important part of our lives, and we love them for it.
Wrapping up – Whether you're a parent yourself or have fond memories of your parents, these songs will make you appreciate all they do for us.
What's your favorite song about parents? Let us know in the comments!
---
Read More
---
---
---
Pins for Pinterest
If you like what you see, feel free to share some love on Pinterest ❤️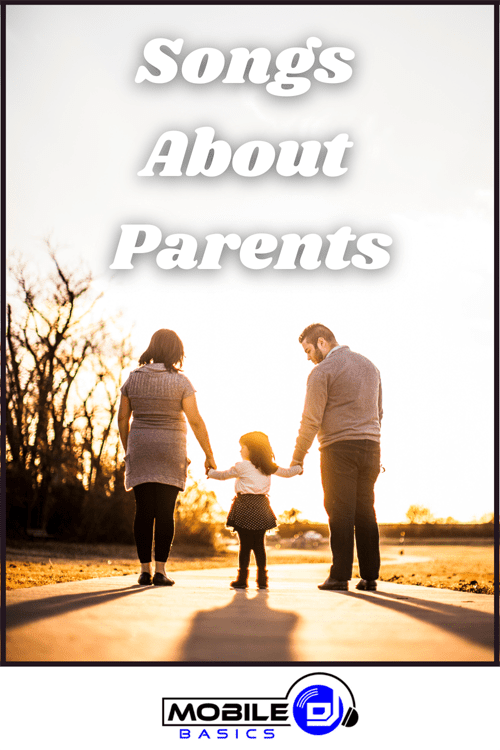 Beautiful Songs About Parents That Will Melt Your Heart 2023
From discovering new songs to getting more gigs, I'm excited to share the wealth of knowledge I've gained through many years of DJing. [email protected]