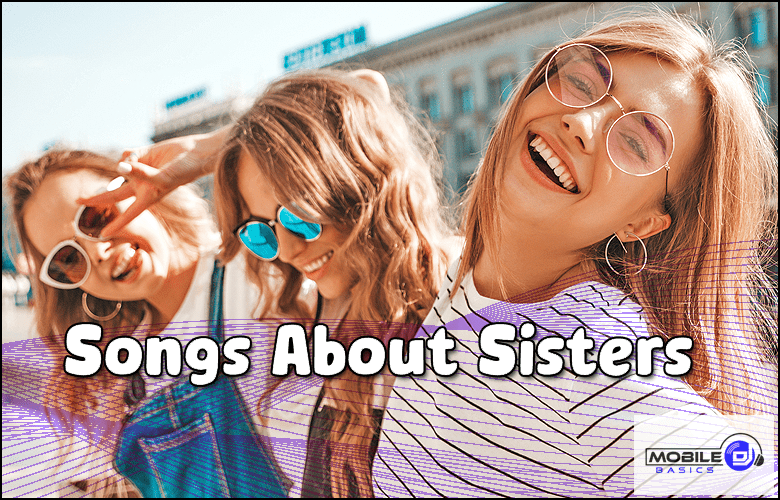 Last Updated on September 9, 2023 by Ryan Conlon | 🕒 5 min Read Time
---
Songs about sisters can be some of the most relatable tunes around. After all, who knows a sister better than she knows herself? Sisters often have a deep and unbreakable bond, and songs that capture that kinship can strike a chord with listeners.
Whether you're looking for something sweet and sentimental or funny and lighthearted, there's sure to be a song about sisters out there that speaks to you.
In this post, we'll take a look at some of the best tunes about sisters around.
Songs About Sisters
Songs about sisters are often about the complicated relationship between siblings. They can be about the strong bond between sisters, or how sisters can be both friends and rivals.
They can also be about the fragility of sisterhood, and how sisters can hurt each other in ways that no one else can.
Whatever the theme, these songs often capture the complex emotions that come with being part of a close-knit family.
And while sisters may not always get along, they usually have a deep understanding of each other that comes from shared experiences and a lifetime of history.
From country songs to pop anthems, these are some of the best songs about sisters
Taylor Edwards – Call Your Sister
Shaybo – My Sister
Aly And Aj – On The Ride
Tegan and Sara – Hey, I'm Just Like You
Whitney Houston, CeCe Winans – Count On Me
Colbie Caillat – Never Gonna Let You Down (it could be about sisters – But I think it is about dogs)
Sister Sledge – We Are Family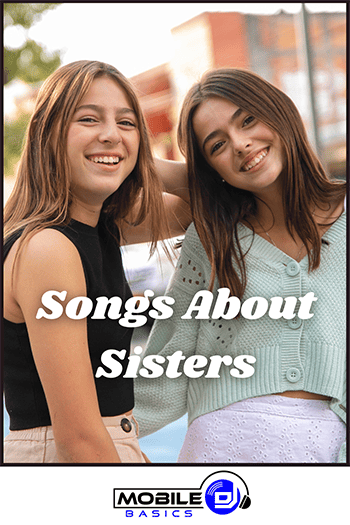 Sisters have a bond that is unlike any other. They are the people who know you best, and you can always count on them for support. There are many reasons why sisters have such a strong bond.
One reason is that sisters share a common history. They grow up together and share all of the same memories. They know each other's secrets and they can always rely on each other for support.
Sisters also often have the same interests. They may like to do the same things or they may share the same passions. This allows them to connect on a deeper level and strengthens their bond.
Lastly, sisters are often there for each other during difficult times. When one sister is going through a tough time, the other is usually there to support her. This type of support can be invaluable during tough times.
---
Country Songs About Sisters
Sisters are a special bond that often gets celebrated in country music. There's something about the relationship between sisters that just lends itself to storytelling, and country is all about stories.
From light-hearted songs about sisterly mischief to tear-jerking tunes about sisters who have passed away, country sisters songs run the gamut of emotions.
Here are just a few of the great songs talking about sisters
LeAnn Rimes – Good Friend and a Glass of Wine
Mickey Guyton – Sister
Martina McBride – This One's for the Girls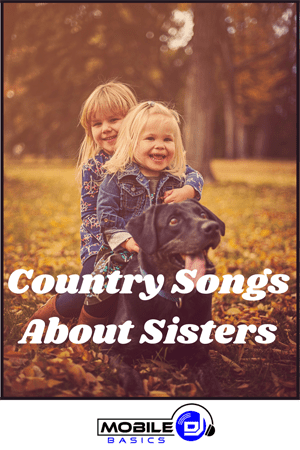 From cheeky anthems about growing up together to heartwarming ballads about sisters who have each other's backs, there are plenty of great country songs about sisters.
Some sisters are best friends, while others are more like adversaries, but one thing is for sure: sisters stick together through thick and thin.
---
Best Friend Songs
Siblings are often the best of friends, and sometimes their relationship is a little more complicated than that. Sometimes they're bickering partners who spend all day trying to get on each other's nerves, and sometimes they're confidantes who share secrets and help each other through difficult times.
But no matter what kind of sibling you have, it's impossible to deny the bond you share.
Best friends are the people we rely on, the ones who know us better than anyone else. They're the ones we call when we need to celebrate or when we need to cry. They're the sisters we choose for ourselves.
Here are just a few of the best friend songs out there that capture that special bond
Bruno Mars – Count On Me
Coi Leray – Go best friend
Saweetie – Best Friend
Icona Pop – Girlfriend
Cher Lloyd – Oath
Bette Midler – My One True Friend
The Beatles – With A Little Help From My Friends
Randy Newman – You've got a friend in me
Michael W Smith – Friends
Brandy – Best Friend
Vitamin C – Graduation (Friends Forever)
Dionne Warwick – That's What Friends Are For
Sabrina Carpenter, Rowan Blanchard – Take On The World
Whether it's about sisters or childhood friends, these sister songs always seem to hit the spot.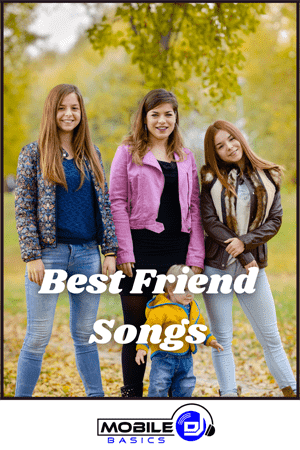 These songs remind us of how grateful we are to have these amazing people in our lives. So the next time you hear one of these songs, take a moment to think about your sisters and childhood friends, and how much they mean to you.
Bruno Mars – Count On Me
Planning your wedding can be an overwhelming experience, but don't worry, you can count on Bruno Mars to help you out! His iconic song "Count On Me" is the perfect pick-me-up for any bride who is feeling overwhelmed.
With its upbeat tempo and inspiring lyrics, this song will help you to stay calm and focused on what's important. So don't stress out – just count on Bruno Mars to help you get through your wedding planning process!

---
Inspirational Sister Songs
Sisters are some of the most important people in our lives. They are our best friends, confidantes, and advisers. And while sisters can sometimes drive us crazy, we would be lost without them.
That's why there are so many songs about sisters out there.
Here are just a few of the most inspirational sister songs that celebrate the special bond between sisters
Rachel Platten – Fight Song
Bette Midler – Wind Beneath My Wings
Andra Day – Rise Up
Jordan Smith – Stand In The Light
Alicia Keys – Girl on Fire
Lee Ann Womack – I Hope You Dance
Sara Bareilles – Brave
Coldplay – A Sky Full Of Stars
Eurythmics – Sisters Are Doin' It For Themselves
Kelly Clarkson – Stronger
Rachel Platten – Better Place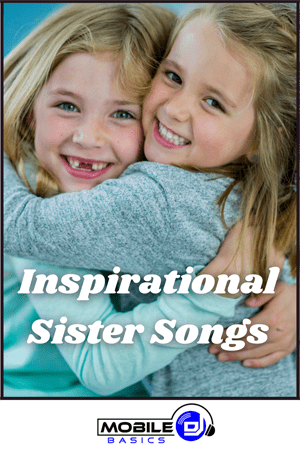 Sisters are special. They're one of the few people in the world you can count on to have a close relationship with. And these songs explore the bond between sisters, how it can be both strong and fragile at the same time.
They're the ones you can turn to when you need someone to talk to, and they're always there for you. Artist like Leona Lewis, Alicia Keys, Sister Sledge, Diana Ross, Aretha Franklin, Lee Ann Womack, Natalie Merchant and Cyndi Lauper all have great sister songs.
So if you're looking for a song that captures the special bond between sisters, look no further. These songs are sure to hit the spot.
Rachel Platten – Fight Song
Rachel Platten's song "Fight Song" has become a rallying cry for many people, especially brides-to-be. The song is inspirational, and its message is one of courage and determination.
If you're looking for some motivation in your life, or if you need a boost to get through your wedding planning, then this song is perfect for you.
It will give you the strength to fight through any obstacle that comes your way. So don't be afraid to let "Fight Song" be your wedding anthem!

---
Songs About Siblings
If you're looking for the perfect song to honor your siblings during your wedding ceremony or reception, look no further. We've compiled a list of some of our favorite tunes that celebrate brothers and sisters.
From sentimental ballads to lighthearted pop songs, these tracks will remind you of the special bond between siblings
Andrew Gold – Thank You For Being A Friend
Bill Withers – Lean on Me
The Chainsmokers & Kygo – Family
Rascal Flatts – My Wish
Chris Burton – Little Sister
Avicii – Hey Brother
Dustin Herring – Baby Sister
Diana Ross – WHEN WE GROW UP
Queen – You're My Best Friend
Faith Hill – There You'll Be
No matter what type of wedding you're planning, it's important to include songs that are special to you and your spouse.
But don't forget about your siblings! There are plenty of great songs out there that celebrate brotherhood and sisterhood.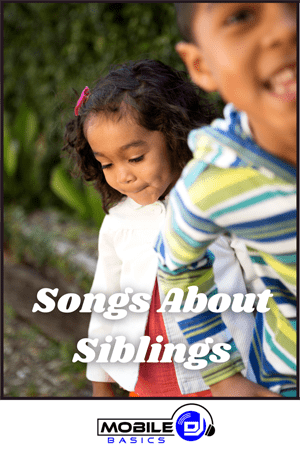 Andrew Gold – Thank You For Being A Friend
If you're a fan of The Golden Girls' then you know the importance of the character Andrew Gold played. As one of the show's main songwriters, Gold's music helped to set the tone for each episode and create some of its most memorable moments.

---
Songs With Sister in the Title
Sisters are often our closest confidants and best friends. They know us better than anyone else and are always there for us, no matter what. It's no wonder, then, that sisters have been the subject of many songs over the years.
Here are some of the best songs with sister in the title:
Train – Hey, Soul Sister
America – Sister Golden Hair
CHVRCHES – Cry Little Sister
Carly Simon – Older Sister
Night Ranger – Sister Christian
Fleetwood Mac – Sisters of the Moon
The Rolling Stones – Dance Little Sister
Dwight Yoakam – Little Sister
Elvis Presley – Little Sister
Coldplay – Brothers and Sisters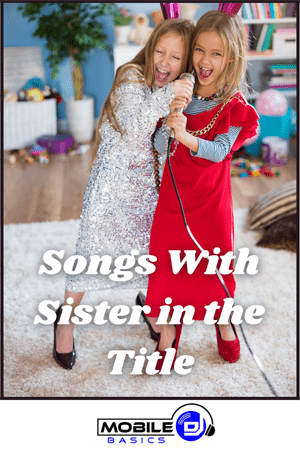 Every sister dreams of the perfect wedding day, and while the planning process can be stressful, it's also a lot of fun. One thing to consider when planning your big day is music. There are so many amazing songs with sister in the title, from classic tracks to contemporary hits.
Songs like – dance little sister, my sister, little sister, soul sister, sister oh sister – There really are a lot of songs about sisters.
Sisters have a special connection that is captured in song.
Whether it's sibling rivalry, fighting and making up, or simply being there for each other through thick and thin, sisters always have each other's backs. If you want to feel inspired by sisterly love, check out some of these tunes with sister in the title.
---
What is a good song to dedicate to a sister?
A song dedicated to your sister should be something that captures the special relationship between sisters. It should be something that celebrates the love and support sisters offer each other.
One song that perfectly captures the sisterly bond is "Lean on Me" by Bill Withers. The lyrics talk about how we all need someone to lean on from time to time, and sisters are always there when we need them.
This song is a perfect dedication for sisters everywhere, because it captures the true meaning of sisterhood.
Other good songs to dedicate to your sister(s) are:
Bette Midler – Wind Beneath My Wings
Christina Aguilera – Beautiful
Stevie Wonder – Isn't She Lovely
Judy Garland – Over The Rainbow
Martina McBride – This One's For The Girls
Fun Upbeat songs to dedicate to your sister(s):
Cyndi Lauper – Girls Just Want To Have Fun
Sister Sledge – We Are Family
Britney Spears – Stronger
Christina Aguilera – Fighter
Alicia Keys – Superwoman
Spice Girls – Spice Up Your Life
A sister is someone who loves you no matter what, and a good song to dedicate to her should reflect that sentiment. Whether your sister is your best friend or just the member of your family with whom you share the closest bond, these songs will express everything you feel for her.
From heartfelt ballads to empowering anthems, we've got something for everyone on this list. So grab your sister and put on some tunes – these are the perfect tracks to show her how much you love and appreciate her.
---
Songs About Missing Your Sister
Missing your sister can feel like a physical pain. It's a longing that you can't shake, no matter what you do.
Whether you're missing her because she's far away or because she's no longer with us, these songs will remind you of the special bond you share.
From country to pop, there's something for everyone on this list
Lauren Daigle – Rescue
Dani & Lizzy – Dancing in the Sky
Kodaline – All I Want
Calum Scott – You Are The Reason
Carrie Underwood – See You Again
Simple Plan – Gone Too Soon
Lewis Capaldi – Someone You Loved
AJR – 100 Bad Days
Luke Bryan – Drink a Beer
MercyMe – Finally Home
Marshmello, Bastille – Happier
Mari Olsen – Now You Belong to Heaven
Jessica Andrews – You Will Never be Forgotten
Matthew West – Save A Place For Me
KiwiEntertainer – My Sister, My Friend
Missing your sister can be tough, especially when it feels like she's always just a call away. But these songs about missing your sister will help you through the tough times.
We hope that these tunes can put a smile on your face and remind you of how lucky you are to have such an amazing bond with her. Cheers!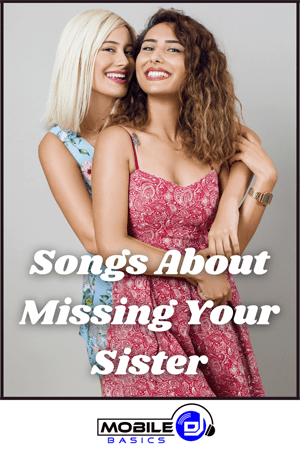 Lauren Daigle – Rescue
If you are like most people, you would do anything for your sister or brother if they were in trouble. That's the bond that family members share – a willingness to help out whenever possible.
No matter what the situation is, sisters will always be there. This is the theme of Lauren Daigle's song "Rescue." In her song, Daigle talks about how she would do anything for her friend who is in trouble.

---
Conclusion
Sisters have a special bond that is unlike any other. They share a common history, they often have the same interests, and they are always there during tough times. These things make the bond between sisters incredibly strong.
Although sisters can sometimes be a pain, they are also the people who know us best and love us unconditionally. These sister songs remind us of all the good times we've shared and how much we appreciate our sisters.
Whether you're fighting or loving your sisters, these tunes will make you feel closer to them. So grab your sis and crank up the volume – it's time to celebrate those special relationships!
What's your favorite song about sisters?
---
Read More
---
---
---
Pins for Pinterest
If you like what you see, feel free to share some love on Pinterest ❤️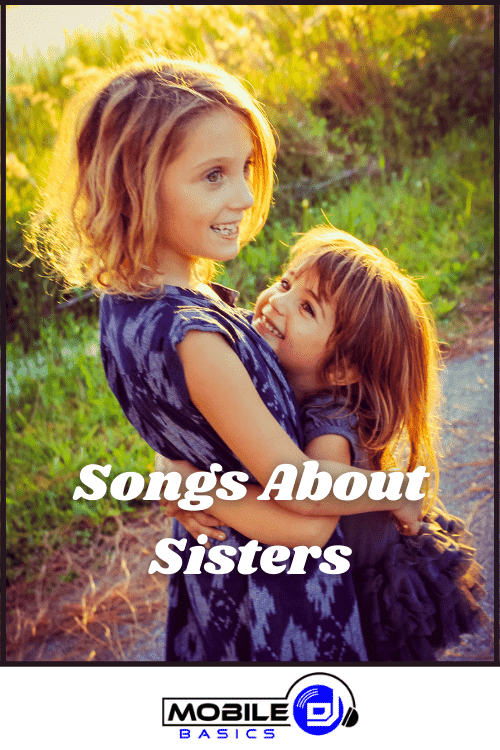 Songs About Sisters | Discover Uplifting and Inspirational Hits 2023
From discovering new songs to getting more gigs, I'm excited to share the wealth of knowledge I've gained through many years of DJing. [email protected]