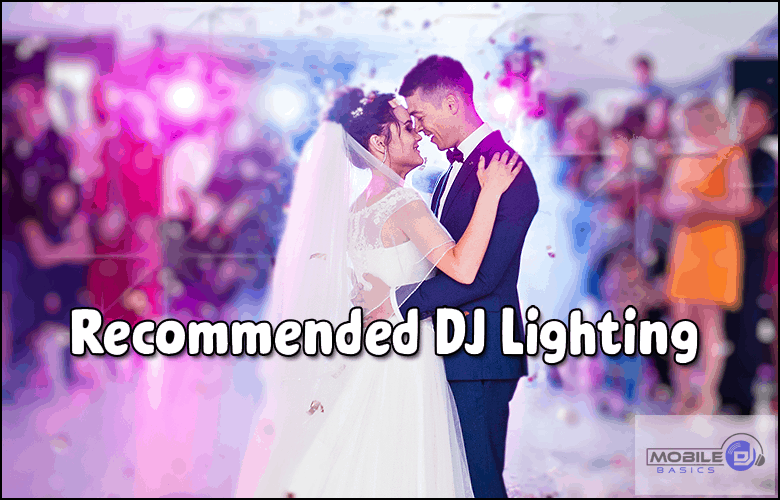 One of the most important aspects of any DJ is their lighting. DJ Lighting can set the mood for an event, and help to show off a venue's best features. But what will your DJ lights look like in 2022? Let's take a look at some trends for 2022 that you might want to consider when purchasing new equipment or upgrading current gear.
Recommended DJ Lighting 2022
DJ lights are a must for any event, and it can be difficult to navigate the many different options out there. Luckily we've done all of your homework by sorting through what you need so that finding one is quick and easy!
Best DJ Lighting Setup for Beginners 2022
There are a lot of different DJ lights on the market so it can be difficult to know which ones will work best for your event. Luckily, we've gone ahead and sorted through all those little details by presenting our top picks below!
---
In our article – DJ Lighting 101 The Basics 2022 | Easily Discover New Popular DJ Lights we talk about different types of DJ lights.
In this article we discuss different types of DJ light fixtures so that you can better equip yourself with knowledge when making a purchase decision. So make sure not be caught fumbling around next time you see some great looking lighting at your favorite club – have fun knowing exactly which type is best suited for your needs!
---
Wash Lights
The best wash light is the one that fits your needs. We've compiled a list of five different products with in-depth reviews to help you find what's right for your DJ business.
Elation Sixpar 200
The Elation Sixpar 200 is a powerful LED fixture light with 12 different colors and an electronic strobe that can be daisy-chained from other units. It also features DMX compatibility for the most sophisticated installations, which makes it perfect for any event space or club looking to add some panache to their lighting set up!
[wptb id=809]
Elation Lighting LED Lighting, Black (SixPar 200)
15 Beam 25 Field Angles 5 Variable Dimming Curve Modes Dual Yoke / Floor Stand Multiple Unit Power Linking RDM - Remote Device Management Rugged Die-Cast Aluminum Exterior Flicker Free Operation for TV and FILM
The indoor version SIXPAR 200 features 12 x 12W 6-IN-1 RGBAW+UV LEDs, 100, 000 average hour LED life, 15° beam and 25° field angles, electronic strobe and dimming (0-100%), five variable dimming curve modes, dual yoke / floor stand, multiple unit power linking, RDM (remote device management), rugged die-cast aluminum exterior, flicker free operation for TV and FILM, 150W max power consumption, and a multi-voltage universal auto switching power supply (110-250v)
Package Weight : 14 pounds
Package Dimensions: 14.0 L x 8.25 H x 13.0 W (inches)
---
Moving Head Wash Lights
In the world of mobile DJing, there are many ways to set a mood. Moving Head Wash Lights on the other hand offer an effortless way to create an amazing party atmosphere. This list will review five recommended DJ moving head wash lights that any professional or aspiring mobile DJ should consider for their next event!
ADJ American DJ Inno Pocket Z4
Chauvet Professional Rogue R1 Wash
ADJ Vizi Wash Z19
Blizzard Stiletto Ray-Z
Blizzard Flurry Z
Blizzard Flurry Z is designed to produce a plethora of colorful light. The sharp 16-color beams cast over the dance floor seduce and engage those within reach with pulsing lights that are sure to have everyone on their feet while they watch in awe as Blizzard produces each color at an even distance from one another for beautifully bright colors across all dark corners, perfect for any party!
---
Strip Lights/LED Bar
If you are looking for a DJ Strip Light or LED Bar, then this is the list for you. I have compiled our Recommended DJ Lighting 2021 with some of the best DJ Strip Lights and LED Bars along with links to purchase them on Amazon. These lights will change your night life experience from an average one to an amazing one. You can either choose between a strip light or just a straight up bar that has multiple LEDs all around it which ever way you prefer!
Blizzard Tough Bars
Chauvet EZlink Strip Q6 BT
ADJ American DJ Ultra Hex Bar 6
Chauvet EPIX Strip Tour 50
Blizzard Pixelstorm 240
The Blizzard Pixelstorm 240 is a 1-meter long pixel bar packed to the hilt with color serving as an excellent wash fixture that brings joy and wonderment in its 96 red, 72 green, and 72 blue lights. The effects of this lighting fixture hypnotize any crowd you are performing for while being fully equipped at 25 built-in programs perfecting it to be DJs best friend!
---
LED Lekos – Gobo Lights
LED Lekos are the perfect addition to any mobile DJ setup. They offer a variety of features and colors, as well as a lightweight design that is easy to transport. Lekos – Gobo Lights are great for adding an extra touch of creativity and flair to your set. Whether you're looking for something simple or more complex, this list has it all!
Chauvet DJ EVE E-100Z

Pro – Zoom
Con – They Do Not take the same gobo as a regular ETC leko

Blizard Oberon™ Profile NZ
ADJ Encore Profile Pro Color
Chauvet DJ Freedom Gobo IP
Chauvet DJ EZGobo
Chauvet DJ gobo zoom usb

Pro – Rotating Gobo
Chauvet DJ EVE E-100Z
The EVE E-100Z is the perfect LED light for mobile and installation applications. The sharp pattern projection can be achieved with a 100 W warm white LED, which allows you to create incredible gobo or patterns based on your needs. This versatile fixture comes equipped with manual zoom and framing shutters so that users are able to control beams of light according their need.
Highlighted Features
LED Ellipsoidal shines a hard-edged, warm white spot in any direction
Easily highlight areas by altering the projected beam with framing shutters
Flexibility to project from any distance using the manual zoom
Sale
CHAUVET DJ Stage Light Unit (EVEE100Z)
LED Ellipsoidal shines a hard-edged, warm white spot in any direction
Easily highlight areas by altering the projected beam with framing shutters
Flexibility to project from any distance using the Manual zoom
Includes gel frame holders for steel or glass gobos.
Gobo Size: M (66 mm outside, 48 mm image, 2 mm max thickness)
---
Batter Powered Uplights
The DJ world is a fast-paced environment that requires the right tools to keep up with your clients. The most important of these tools are lights and sound equipment. However, if you want to be able to create an unforgettable experience for your clients, it's also important to focus on how they see you as well. That's where Battery Powered Lights come in – they allow you to turn any event into something spectacular!
Chauvet Wellfits
ADJ Element HEX
Chauvet DJ Freedom Pars
Freedom Par Quad-4 is the perfect solution for any event that requires bright, wireless color mixing. It comes with a rechargeable battery and built in D-Fi transceiver to make connecting your lights easy as pie! Its control panel or included IRC remote will let you play around without having to go through complicated software on your phone (or tablet). The Freedom Charge 9 road case lets you take all of this power anywhere.
---
Blacklights UV Lights

Many people know blacklights as a way to make any room look like it's glowing. This is why they're perfect for those who love to party, and we've got just the thing for you! These are our top recommended blacklights that will turn your next event into a dance party. Check out the Full List Here.
Blizzard LB Bar
ADJ UV COB Cannon
Chauvet DJ COREpar UV
ADJ UV LED Bar20
The UV LED BAR 20 is a high output UV LED backlight that comes with a wireless remote for easy control of On/Off and strobe speed. With its small size, it can be mounted onto any stage or nightclub's ceiling to wash the floor in an exciting bright UV glow!
ADJ Products UV LED BAR20, 20x1W
Bright, high output Ultraviolet Bar with 20x 1-Watt UV LEDs Includes wireless remote control (control On/Off and strobe speed)
Great for performance stages, theatrical productions and special effects installations - requires almost no maintenance - long life LED, low heat output, low power consumption & no moving parts
Four Operational Modes: Sound Active, DMX-512, Master/Slave or Manual 1 DMX Mode UV strobe effect
Electronic Dimming: 0 - 100% Flicker Free Beam angle: 10 degrees vertical x 40 degrees horizontal linear beam angle.
---
All in One – Gig Bars
Now you can take your light setup with you. Chauvet DJ's Gigbar, Gigbar 2, Gigbar Flex, and Gigbar Move is an LED lighting system that folds up into a slim, lightweight package for easy transport and storage.
Transform your gig into a party with Chauvet DJ Gigbar, the light for mobile DJs. This all-in-one LED product creates stunning visuals and makes it easy to plug in and go.
Briefly summarize Chauvet's new gig bar LED lights by explaining their features so you don't mix them up between this product and others from unrelated companies. The Chauvet GigBar2 has many uses such as lighting effects at weddings or parties because of how different it looks when combined with other products like fog machines which creates really interesting moods depending on what someone wants to do.
This one piece will save time setting up before showtime since everything needed is right there.
CHAUVET DJ LED Lighting (4BAR LT Quad BT)
Complete wash lighting solution with built-in bluetooth wireless technology
Control directly from a smart phone or tablet without any additional hardware
D-fi USB compatibility for wireless master/Slave or DMX control
Generate a broad spectrum of colors and achieve natural-looking color temperatures with punchy Amber LEDs
Easily set up and tear down in seconds with the included tripod, carry bags and footswi
CHAUVET DJ LED Lighting System (GIGBAR 2)
4-in-1 light that includes a pair of LED Derby, LED pars, a laser and strobe effect all mounted on one bar
Added UV in pars and strobes for increased color mixing and effects.Strobe Rate: (strobe): 0 to 18 Hz Beam Angle: (pars): 13° (strobe): 8° Field Angle: (pars): 24° (strobe): 18
Cover any room or stage with 4 individually adjustable and interchangeable heads. Tripod minimum height is 4.8 feet, maximum height is 8.3 feet, leg width is 3.9 feet and size is 1.5 inch
Get in and get out quickly with the included tripod, wireless footswitch and FREE carry bags
Ready for every application using the included mounting brackets to attach to truss.Coverage Angle: (laser): 93°(Derby): 114°
CHAUVET DJ Projection Lighting Effect (Gig Bar Flex)
3-in-1 fixture INCLUDES a pair of LED DERBY, LED PARs and STROBE effect for ultimate convenience
Built-in UV (BLACKLIGHT) for increased color mixing and effects
Wireless footswitch for convenient HANDS-FREE CONTROL
FOUR individually ADJUSTABLE HEADS provide wide room coverage and lighting versatility
Built-in AUTOMATED and SOUND-ACTIVATED programs make dynamic light shows easy
No products found.
---
My Favorite Hazers
Stage Hazer Reviews – LDRyanConlon.com
Hazers and foggers look great but most nice places will not let you use them with out a Paid fire watch. Find out before your event if you can use haze and if it will be a problem. Since most places do not allow haze I would buy lights based off of that. Skip the Strobes and Lasers and buy Wash lights.
If the DJ light needs haze to look good – I would buy something else. A moving wash light will look better without haze compared to a moving spot.
---
What Are the Best DJ Lights?
The best DJ Lights come from brands that will stand by their product and get you parts if they're needed.
Right now there is a ton of choice in terms of what type and quality level – but whichever option you choose it should be backed up by warranties as well as timely customer service.
There are few things as important to a DJ than the right lights. They help set the mood and provide an atmosphere that keeps people on their feet for hours at a time, so you want them to be reliable and long-lasting. The best DJs have found themselves in front of crowds with faulty equipment before, but luckily there is always someone out there who has what they need when it matters most.
If you want to make a big statement on the dance floor, or create an immersive light show for your guests at home parties and events, then investing in high-quality DJ lights is essential. The best brands offer customer service that will get replacement parts sent out if they need them quickly because no party should be without fabulous lighting!
---
Best Brands for DJ Lights
The best DJ lights on the market are from Chauvet DJ and ADJ. The popular company is known for their high quality, innovative products that will keep you entertained at any event whether it's a small gathering or large wedding!
If you're looking for high-quality, innovative DJ lights that will match your budget and event needs then look no further than Chauvet DJ or ADJ.
---
What Are the Best DJ Party Lights?
Party lights are a great way to set the tone for any party! These can be used as decoration, provide light in dark areas or if you're having an outdoor event and it starts getting late. There's nothing better than setting up your decorations and lighting them with party lights.
DJ Party lights come in so many different colors – purple, pink, green – that will compliment whichever theme you have chosen for your celebration! They can also mix well together to give off an eclectic vibe which is perfect when playing music at parties too.
The best party lights are those that can change colors with a remote control to match the theme of your event. The most popular color scheme is red and green for Christmas parties, purple or blue decorating a New Year's Eve bash, or pink lighting up Valentine's Day festivities!
If you're struggling to find a way to decorate your small parties, then LED strip lights may be the answer. These cool looking strips can light up any space with vibrant colors and patterns that will turn heads for sure! Stick these sound activated LEDs anywhere from walls or ceilings-they'll easily bring life into any party.
Keepsmile 130ft Led Strip Lights (2 Rolls of 65ft) RGB Color Changing Bluetooth Smart APP Led Light Strips SMD 5050 LED Strips with Remote Led Lights for Bedroom Kitchen Home Decoration
Multi Color and Diy: Led lights colorful and durable, the brightness of the lights strip can be adjusted and offer 20 different colors and 6 lighting modes(jump, fade, flash etc) and 2 speed modes (quick, slow)
Upgrade Strong Self-Adhesive: The strip lights have upgrade adhesive so they stick very well on the dry & smooth surface; led lights more easy to install and connect. (please test the led strip lights before installation)
Music sync:Led lights strip with built in sensitive microphone, this ambience Lights color changing sync to music, make your party up to the high peak, light up your life and makes life more colorful
Quick and Easy Installation, fully equipped accessories, include LED strips, a AC Power Adapter, a IR remote Control, a controller, a Instruction Manual, a led strip lights installation accessories bag, no need for any other devices
Multiple Scenes Available: Rgb led strip lights is a suitable house ornament, transforms your home, kitchen, ceiling, back of tv, desk, stairs, bar and more with color changing lights
---
Conclusion – Recommended DJ Lighting 2021
With the help of professional grade DJ lights, DJs can make their event as memorable and enjoyable as possible. Lighting is a key factor in creating an optimal atmosphere that will keep guests entertained all night long.
With the right lighting, you can set a mood that will help your guests have fun and feel more relaxed. Lighting is an important consideration when planning any event, but it's especially critical for DJs who need to create an environment where their listeners are entertained by both sound and visuals.
---
Read More
---
---
Pins for Pinterest
If you like what you see, feel free to share some love on Pinterest <3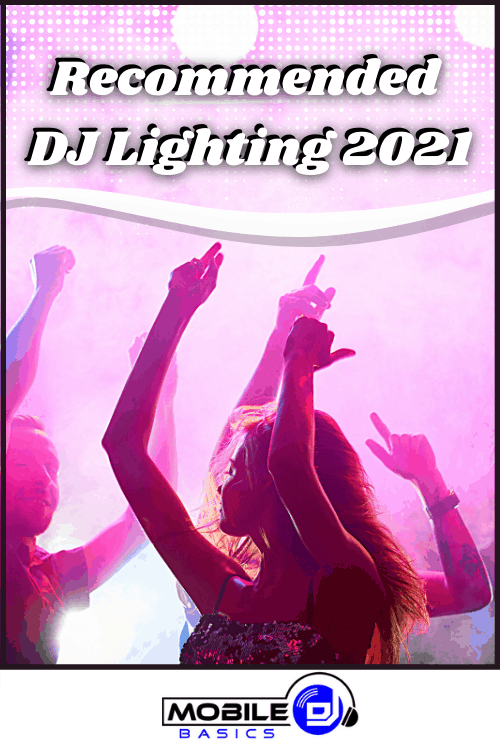 Recommended DJ Lighting 2023 | Here Are The Lights You Should Buy
From discovering new songs to getting more gigs, I'm excited to share the wealth of knowledge I've gained through many years of DJing. [email protected]