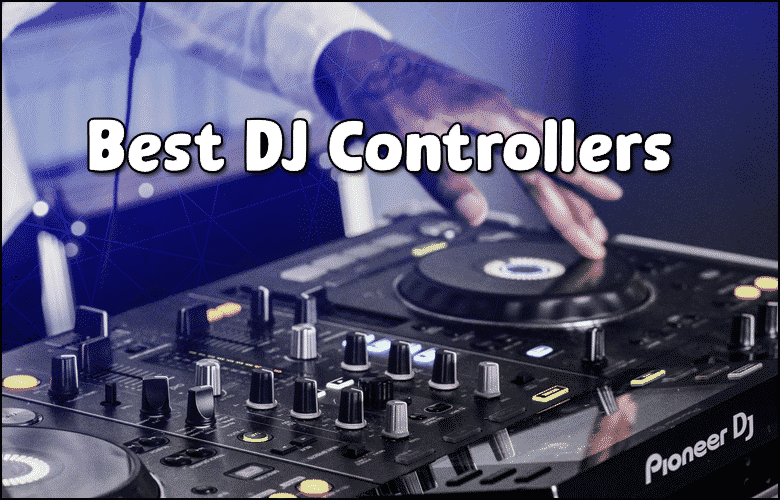 Ever since the invention of the CD, and now with MP3s in full swing, DJs have been able to carry their entire music library on a laptop. But what if you're not using a laptop as your controller? What if you want something more hands-on?
The DJ controller is the best all in one way to control your music. The controllers are designed for professional DJs and can be used at parties, clubs, weddings or any other event where you want great music.
There are many different features that come with a good DJ controller including sound card inputs and outputs, digital effects like flanger, reverb and echo as well as an integrated mixer.
Let's take a look at the top DJ Controllers:
Best DJ Controllers
1. Pioneer Pro DJ DDJ-1000
2. Pioneer DDJ-SZ2 Professional
3. Roland DJ-808 Serato DJ Controller & Drum Machine
4. Native Instruments Traktor Kontrol S4 MK3
5. Pioneer DDJ-800 2-Channel DJ Controller for rekordbox
6. Numark MixDeck Express Premium
7. Denon DJ MCX8000
8 DJ Controllers Under $500
Best DJ Controller for Beginners
---
What Company Makes the Best DJ Controllers?
That is a question that many people ask themselves when they are looking for their first controller. The answer may come as a surprise to some, but the company that produces one of the best DJ controllers on the market today is Numark.
DJs have been using Numark's DJ Controllers for decades. They are the industry standard and most of the world's top DJs use them to play their music live at clubs, festivals, weddings, and more. Numark has made a commitment to quality craftsmanship with every controller they make.
Their controllers are designed by professionals who know what it takes to be on stage in front of hundreds or thousands of people.
The company understands that each controller is an investment in your career as a DJ so they're always looking for ways to improve their product line while keeping them affordable enough for any budget.
It's hard to find the best DJ controller, but with Numark you can find different models that will fit any budget. Whether you have a tight budget or more money to spend, Numark has your back!
---
DJ Carlo Atendido Favorite Controllers
Best Beginner DJ Controller
---
All You Need to Know About DJ Controllers
You're ready to slide into the role of DJ. But how do you upgrade from making a cool playlist on your phone to being a straight-up pro? Start with a DJ Controller.
In this article, we'll discuss the basics of what a DJ controller is and how it differs from other tools. At the end of this read, you'll have a well-rounded understanding of how this tool can aid in your start with DJing.
Let's hit this downbeat FAQ style.
---
What is a DJ Controller?
A DJ controller is a great first tool to start your journey to becoming the next Deadmau5. It can take the place of more complex and expensive setups and offer the same abilities.
Simply put, a DJ Controller is a mobile tool board of knobs and gadgets that operate your preferred DJ software and allow you to mix music.
A DJ controller usually includes:
Two decks or 4 decks (a deck like a digital turntable set up)
Built-in mixer
FX controllers
Wide range of extra control buttons and knobs
Mic input
It can essentially replace a full gear set up and it will get you started in understanding how to mix and blend music at a much more affordable price. It takes the place of a turntable and a mixer by using your DJ software – Like Serato DJ Lite or Serato Pro.
You'll get the power of plenty in one compact box, to scratch and mix to your heart's delight.
---
How Does a Controller Work?
A DJ controller is a piece of hardware that allows you to control your computer's digital audio workstation (DAW) DJ software with physical buttons, knobs, sliders and pads.
The two most popular types of DJ controllers are the MIDI-based models which use computer-generated signals to trigger sounds and effects in your DAW as well as analogue based ones which can manipulate sound on their own without the need for any external input (2 channel and 4 channel controller).
A DJ controller board uses your computer's DJ software (Serato DJ or Serato Pro) to interpret the features of the board itself into audio functions. Flip this lever to cut a song, hamster switch to hit the next track or a classic scribble. You've got all the standard DJ tricks in one clever piece of gear.
Thanks to modern technology, you don't need a truckload of a gear.
---
Why Do I Need a DJ Controller?
You can do a lot with DJ controllers. Sure, maybe you're just shooting for hot music. But honestly, it's not just about the volume. DJ controllers will help you hone your skill and avoid falling into a train wreck.
A beginner Controller will help you practice and thus understand the basic techniques of DJing. You can't be a DJ without having the equipment – and this is where you start.
---

DJ Controllers vs a Modular Rig?
What are the pros of using a DJ controller vs a modular rig?
We've covered what a controller is – now what is a modular rig? It's the full setup of having multiple pieces of equipment, like turntables and mixers. DJ controllers are the all-in-one solution to a full setup.
Let's cover the pros of using a DJ controller:
Compact
Controllers are the most compact and inclusive option you can go for. The modern Controller set up can get complicated, especially if you're just starting into it. A controller can offer a lot of control within a relatively simple package.
Portable
Pack a go. You've got all you need in one box. No crazy coffin that you've got to dolly in and lift with your knees.
Performance
DJ controllers are the ever-evolving mother-tool of the DJ world. They're going to have the best specs and performance that's out there. More special effects and less latency.
Easy to use
You can snag a controller at any level – beginner to pro. For people just starting, a controller is the piece of equipment to invest in off the bat. There is a lot of DJ software available to help teach newbies the ropes and make it easy to get in the game. Serato DJ Pro or Seato DJ Lite
Compared to modular rig setups, there's no fuss about hooking up a controller. Modern controllers already come with USB ports and connections. You shouldn't need to figure out adapters or funky hookups.
---
What Can I Do With a DJ Controller?
You can … DJ! But really, anything that you can do on a standard set of turntables and mixers can be done in the single package of a controller. Using Serato DJ software with either Native Instruments Traktor Kontrol or Pioneer DJ DDJ – You can learn all the beginner DJ skills and expand from there.
You can cut, loop a break, crab scratch, hard swap, juggle, and more. From learning the basics on a starter board to hitting peer level with the pros on a super board, you can fit all your DJ needs in one.
The basic functions on a DJ controller will include:
Play and pause
A tempo fader: to control the speed of the track you're playing
Looping: establish a looping function on the FX station of your controller to set loops of different measures – this is mostly used as an effect or transition.
Sync: a function to instantly parallel the tempo of a different track
EQ Faders: usually three per deck – used to fiddle with the frequency volumes
Crossfader: the controller that allows you to toggle which channel you are on
Drum pads: your FX station – highly customizable
It can be a bit daunting to the new learner but will come easier with more practice.
The included DJ software (or whatever DJ software you decide to upgrade to) will get you started in learning the how-to on DJ methods and music anatomy. After learning the foundation of DJ methods on your controller, you can start pushing the limits on your custom work.
---
Who Should Use a DJ Controller?
A lot of different types and levels of DJs will benefit from using a controller. It's a versatile and compact piece of equipment. From the beginner to the advancing amateur and even some pros (ever heard of Zedd?), controller use is widespread.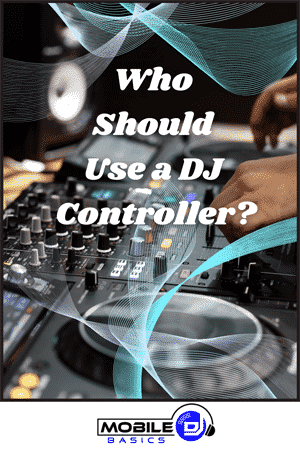 To name a few:
Beginners that want to understand the methods of DJing in a simple way
A person on a budget that can't afford multiple pieces of equipment
Someone wanting to get into wedding work and accommodate a lot of requests from USBs or CDs
A pro wanting an all-in-one performance package
So… basically, anyone who wants to DJ.
Who is a DJ controller not for? The stubborn vintage DJ that can't let go of his vinyl turntables. Jokes aside, many professionals do choose to go full rig.
---
What's the Difference Between a DJ Controller and a DJ Mixer?
You might be asking yourself this question. The answer is that there are many similarities, but they are not exactly the same. A controller is very similar to a traditional DJ setup with turntables, Pioneer CDJs or vinyl records.
Controllers allow for more control over your digital music files on your computer by using sliders, knobs and buttons to manipulate them in time with the beat of the song you're playing. This lets you use effects like loops and filters without touching your laptop screen or keyboard at all – which also means you can keep an eye on what's going on in front of the crowds!
A mixer is most often used as part of a live PA system
---
What's the Difference Between DJ Controllers and CDJs?
If you've been in the market for a new DJ controller (Like Pioneer DJ DDJ) or Pioneer DJ CDJ, you may be wondering what sets them apart.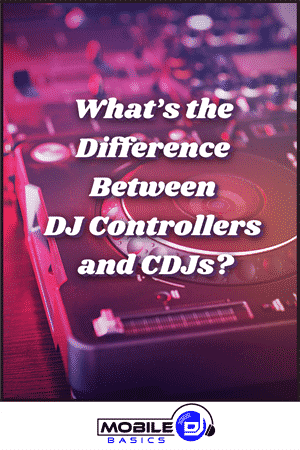 Here are some of the top differences between the two devices that will help you make your decision easier:
A CDJ is much larger, does not have a mixer built-in, and has a platter to accommodate a vinyl. Pioneer DJ CDJs can play CDs and audio files from SD cards or USBs. A usual setup for this tool includes two CDJ devices and a mixer.
A DJ controller is an electronic device that enables DJs to control digital music files without using turntables or Pioneer DJ CDJs.
Compared to the singular purchase of a controller for your setup, running the Pioneer DJ CDJ route will have you investing in at least three separate pieces of equipment.
---
How Much Do DJ Controllers Cost?
When you're shopping for your first controller, go for something cheaper. Don't overlook the quality or size of tools, but also don't break the bank. As most things go in the tech world, you'll soon want something bigger and better.
On average, you'll probably be spending somewhere in the price range of $150-$500 price range on a beginner's DJ controller. If you get fancier from there, the price is limitless.
Controllers come in all shapes and sizes. You can find a low-cost all-in-one controller with just a few knobs or you can spend over $2,000 on one of the top of the line models.
Which is better?
It depends on what features are important to you and how much money you have to spend.
Numark Mixtrack Platinum FX - DJ Controller For Serato DJ with 4 Deck Control, DJ Mixer, Built-in Audio Interface, Jog Wheel Displays and FX Paddles
Complete Serato DJ System – DJ Controller for Serato DJ Lite (Included) with 4 decks of control, built-in 24-bit audio interface and plug and play USB connectivity for Mac and PC
Visualize Your DJ Mix - Large 6-inch capacitive-touch jog wheels with high-resolution color displays that show beats per minute (BPM), platter position, beats remaining and pitch adjustment / key
Personalize your DJ Set - Six Fun, quick-launch FX with dual paddle triggers; dedicated instant loop controls; eight performance pads per deck to access cues, loops, fader cuts and samples
Stream Millions of Tracks – Browse and stream everything from the freshest underground sounds to certified classics directly in Serato DJ Lite from leading providers including SoundCloud and TIDAL
Ready to Connect To All Your DJ Equipment - Microphone input, headphone output and RCA output to connect to DJ speakers, plus a mixer with 3-band EQ, filter knobs, channel faders and crossfader
---
What Features Should I Look for in a DJ Controller?
When looking for the right controller, it's important to consider what features are going to be most useful for your needs. Are you looking for something simple with basic functions? Or do you need more advanced functionality like built-in audio interfaces or MIDI support?
The first thing to consider when looking at controllers is the number of channels it has: two channel controllers are great if you're only using a two channel software, but if you want more flexibility then four channel would be better suited for your needs.
There are a number of features you should look for in a DJ controller to help make your life easier. One is the jog wheel which, as its name suggests, can be used to control the position of tracks the same way that you do on Pioneer DJ CDJs and Technics 1200 turntables.
The cross fader dominates when it comes to mixing two songs together and should always be responsive with no lag time between lefts and rights.
Lastly, an integrated USB hub will allow you to hook up all your necessary gear without any additional cords or adapters.
---

What Extra DJ Equipment Do I Need?
If you're just throwing beats in your mom's basement, a DJ controller and computer with a good set of DJ headphones is about all you need. When you start to consider playing gigs or bookings in actual venues, you might want to invest in some high end Pro DJ equipment to complete your DJ set up.
Headphones
It's all about the sound when it comes to being a pro DJ. You've got to have a finely trained ear for rhythm and beats – so headphones are no place to penny-pinch. Invest in a good pair of cans and your ears will thank you.
Look for these important features in a good set of headphones:
Comfortable
Highly adjustable
Full over-ear closed design
Protecting (you work in a high-volume environment)
With the purchase of your Controller, you'll need a compatible software to use it. Most controllers come with software included. You want to aim for quality here. It's recommended that you practice through some trial versions before deciding what software to invest in.
The following brands are popular choices for software/controller combos:
Serato DJ: all-in-one starter set. A software-focused company that pairs well with iTunes and non-electric music.
Traktor Pro: ranging from beginner to pro-levels, this company pairs powerful software with high-quality controllers.
With newer models of controllers, you probably won't need to invest in an audio interface. Most modern controllers have this integrated by way of a headphone hub.
Highly Effective DJ Software | Best Free and Paid Options
Extras
Cables: You might need some accessory cables depending on what your plugin situation will be. Are you going to be tagging with other DJ pals? Do you need extension cables? The types of cables you'll most likely need are 1/4", XLR, and RCA cables.
Hard case: If your controller didn't come with one and you need portability, get a durable hard case to protect your equipment during travel.
Going Pro
Keyboard: When you want to take your DJing to the next level after having a controller, consider investing in a keyboard. You can add in a lot of variability and performance by including this tool in your DJ setup.
A modular rig: there's a stigma in the DJ world that controller use is conducive to the lack of skill. This isn't necessarily the case, yet the tech-snobbery abounds. If you want to go pro, you might eventually need to put out for CDJs.
---
What Else Can Help Me With My DJ Journey?
It can be a long and expensive road on the track to DJing. Make sure you have a strong plan for moving forward.
Jam out:
Explore the wide world of popular DJs out there. Discover which artists are your favorite. Be sure to flavor from a diverse range of DJs to get the best idea of different styles.
Try exploring in the following ways:
Listen to popular artists
Attend local clubs
Watch other DJs on Youtube
Get smart:
To control music, you have to understand it. A controller will give you the tool to start, but not the smarts to make the most out of it.
Take a class on music theory. The top DJs understand music down to its DNA.
Lean an instrument: If you don't already play an instrument, now is the time to start. It will help you understand the structures of song development.
Put out a mix!
For the person aiming to make this a career, give something tangible to your fans and build a following by putting some music out there. Keep up to date on your social media to support your following. Follow brands like #seratoDJ #PioneerDJ #traktordj
---
Are DJ Controllers Good for Beginners?
The short answer is yes. A DJ controller ( 2 channel or 4 Channel) is a good piece of equipment for a beginner to have. However, the longer answer depends on several factors.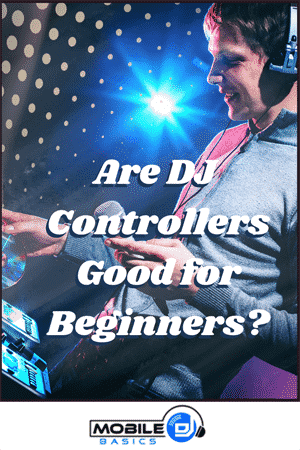 If you just want to try out being a DJ and have no plans to make it your profession, then the expenses of buying a DJ controller might not be worth it-unless you have enough money to try out your hobbies.
However, if you have enough money for your hobbies, a DJ controller is a great tool for you. As it essentially replaces a full DJ gear set up, you can have everything you need to learn how to be a DJ.
On the other hand, if you're dreaming of becoming one of the top DJs in your area, buying a controller is extremely worth it.
In fact, it is essential for beginner DJs. You can start practicing mixing and blending music with a controller without having to buy a much more expensive full gear set up.
Most professional DJs start with just a controller before they upgrade to a full setup down the road. Sometimes, they still use controllers for events that require a smaller compact device that is portable. There's always the best controller for specific functions, so you should be careful about what to pick.

---
Can You DJ Without a Controller?
Of course, you can always DJ without a controller. Beginners can start with using only a laptop as their setup, but it requires a lot of personalization. You'll need to map your keyboard for various functions like the equalizer controller in the DJ software that you chose.
However, you have to note that DJing without a controller requires high DJ skills. You can mix music, but only to a certain level.
Other people may also use a smartphone or a tablet with an app downloaded. However, due to the much smaller screen and limitations of the device, the functions are much more limited. You can also go for a traditional setup-using a 2 channel or 4 channel mixer plugged into vinyl, CD decks, or USB. However, this practice is much less common now in the modern world where there are better alternatives.
Meanwhile, professionals go for a full gear setup. While this offers more functions than a controller, they are much more expensive.
In short, if you are a beginner DJ, the best option for you is to use a plug and play all in one controller for your music. It is the most cost-effective equipment that finds a balance between functionality and price.
---
Can You Use a DJ Controller Without a Laptop?
With the existence of all-in-one plug and play 2 channel and 4 channel controller, you can mix and blend music without using a laptop. It has built-in screens where you can select tracks, and most all-in-one DJ controllers have most of the functions needed to mix music – Plus a Mic input.
High-end controllers often do not need a laptop to work. However, for low-end DJ controllers, it's best to have hardware like a PC or a laptop hooked to your controller to play music properly.
---
Best DJ Controllers for Beginners
Understanding what to look for when selecting your first DJ controller isn't always clear. Knowing what features are most important is essential, and so is choosing the right platform.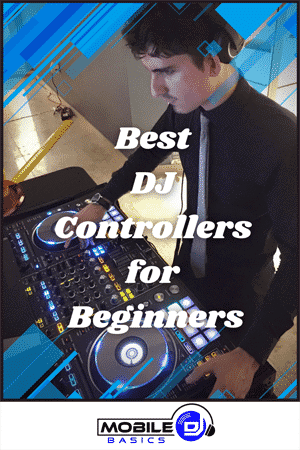 Those interested in a fully integrated DJ software solution will appreciate Pioneer's DDJ-RB with its compact design and licensed Rekordbox cloud-based DJ software. It's an affordable option with plenty of room for future upgrades.
The Pioneer DDJ-RB is perfect for those on the go, or anyone interested in taking their work to the stage or an audience.
Native Instruments Traktor Pro has grown to become a choice favorite among DJs far and wide, and the Traktor Kontrol S2 MK3 can be used with both the Native Instruments Traktor Pro 3 and Traktor DJ 2 programs.
Also, those who love scratching will appreciate its superior jog wheel and travel-friendly, lightweight design. It's built with quality in mind with plenty of room for more advanced functionality as your skills continue to evolve.
DJs looking for intuitive features and designs have plenty to appreciate in the Numark Mixtrack Platinum FX. Its highly customizable FX buttons and paddles place plenty of options at your fingertips, and its Serato DJ software works beautifully with Ableton lovers.
LCD screen is integrated directly into the jog wheels. Compatible with a range of set-ups, the Numark Mixtrack Platinum FX offers the capability and creativity to expand your horizons as a DJ.
---
Conclusion
A DJ controller can be a really helpful tool in getting you starting or progressing your DJ skill. It's a compact all-in-one controller board that's your physical link to manipulating sound and song in your chosen DJ software.
Let's hit that spinback – from a new DJ to a pro-veteran, a controller should be one of your first steps.
---
Read More
---
---
Pins for Pinterest
If you like what you see, feel free to share some love on Pinterest <3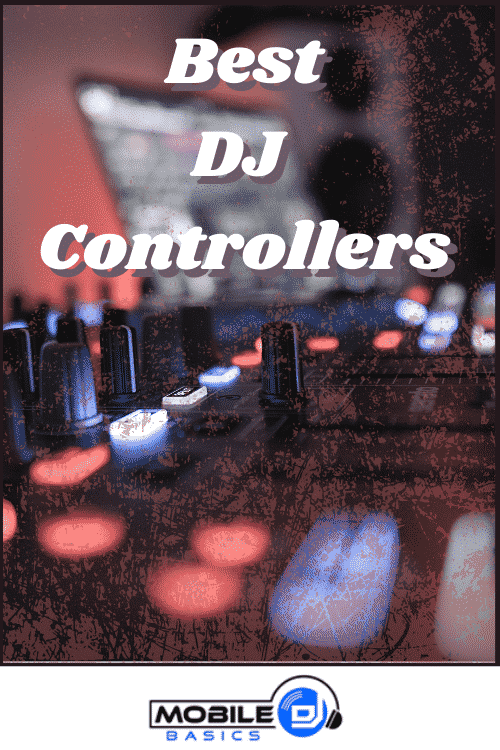 Best DJ Controllers On The Market 2023 and Top DJ Controller Under $500
From discovering new songs to getting more gigs, I'm excited to share the wealth of knowledge I've gained through many years of DJing. [email protected]