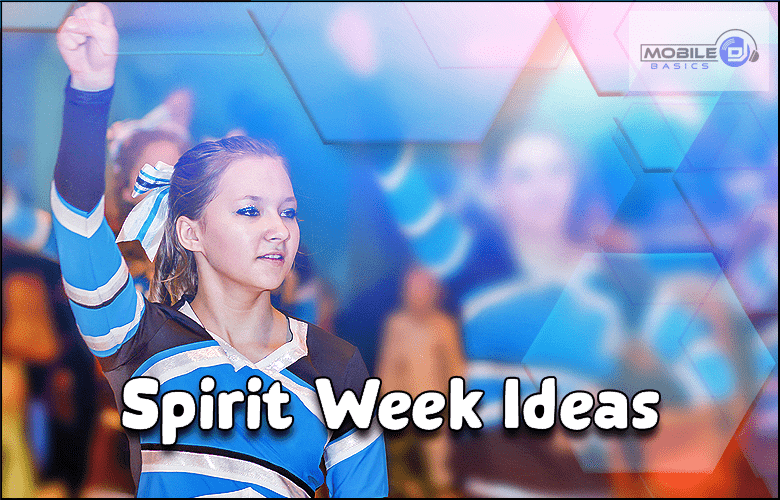 Last Updated on October 16, 2023 by Ryan Conlon | 🕒 6 min Read Time
---
Looking for High School Spirit Week ideas to make your school's week-long event even more enjoyable?
Spirit Week is a highly anticipated time that promotes school spirit, unity, and engagement among all the students.
With themed dress-up days, special assemblies, contests, and various activities, this spirited week offers a chance to showcase creativity, enthusiasm, and community involvement.
Whether you're searching for the perfect spirit week theme, unique ideas, or specific activities like Crazy Socks Day or a Community Service Day, this article is here to inspire and guide you in planning a memorable and uplifting Spirit Week celebration.
High School Spirit Week Ideas
Are you searching for means to bring some fun and adventure into your school life? If that's the case, consider organizing a homecoming week!
This event may include a variety of activities, games, and competitions that will get everyone in the mood for learning!
There are literally infinite options when it comes to celebrating spirit day, from creative ideas like donning wild costumes, wearing school colors, crazy hair day, college t shirt, cult movie day, charity day, favorite cartoon character, favorite villain day, superhero day or undertaking team-building exercises.
Not sure where to start? Here are some ideas to get you started.
Fun ideas for Homecoming Spirit Week themes include:
80's Day: Encourage students to dress in neon colors, leg warmers, and big hair – celebrating the era of MTV and the Brat Pack.
Beach Day: Tropical shirts, sunglasses, and flip flops can make school feel like a day at the beach.
Netflix Character Day: Students dress as their favorite characters from Netflix original series or movies.
Marvel Day: Celebrate the Marvel Universe with costumes representing favorite superheroes or villains.
Harry Potter Day: From the house uniforms to professors, the world of Hogwarts offers many options.
Super Hero Day: Beyond Marvel, there are plenty of superheroes (and villains) to emulate.
Jersey Day: A day for students to wear their favorite sports jerseys.
Neon Day: Bright neon clothes and accessories can make the school day colorful and fun.
Class Colors Day: Each class (freshman, sophomore, etc.) wears a specific color for spirit day.
Tie Dye Day: A celebration of colorful, swirly patterns on clothing and accessories.
Preppy Day: Time to break out the polo shirts, blazers, and pearls.
Pajama Day: Probably the most comfortable spirit day – students can come to school in their PJs.
Jungle Party Day: Animal prints, safari outfits, and jungle explorer costumes take center stage.
Disco Day: Students can dress in 70s disco attire – think sequins, bell bottoms, and big sunglasses.
Country/Western Day: Cowboy boots, flannel shirts, and denim can create a down-home feel.
Twin Day: Pairs of students coordinate their outfits to appear as twins.
Sports Day: From professional teams to favorite sports, this day is all about athletic endeavors.
Character Day: Whether it's from a movie, book, or TV show, the possibilities are endless.
Meme Day: A day to recreate favorite internet memes in real life.
Anime Day: Students can dress up as their favorite anime characters, giving a nod to Japanese pop culture.
Barbie Day: Inspire students to dress as their favorite Barbie doll, showcasing its iconic fashion styles and diverse professions, as a fun and empowering tribute to the timeless toy franchise during High School homecoming spirit week.
Other theme day ideas:
Crazy Weather Day, Hat Day, Board Game Day, College Day, world day, Favorite Disney Character, Wacky Sock Day, High School Stereo type Day, Ugly Tie Day or Dress as your Favorite Sports Team.
Whatever themes are chosen, make sure to have a plan for each day so that everyone knows what to wear and how to participate. Homecoming Week is a great way to build team pride and create lasting memories.
---
Fun and Creative Homecoming Week Events
The start of a new school year is always an exciting time for students and staff. Homecoming is a time to celebrate campus enthusiasm and show your pride in your school. One way to do this is to dress up for homecoming week.
80's Day
This year, why not try an 80s theme? You can dress up as your favorite 80s pop icon or movie character.
Or, you can go all out and dress up in 80s fashion. neon colors, big hair, and shoulder pads are all part of the fun.
And don't forget the accessories! Temporary tattoos, leg warmers, and jelly bracelets are all must-haves. So get creative and have fun with your 80s homecoming spirit week looks.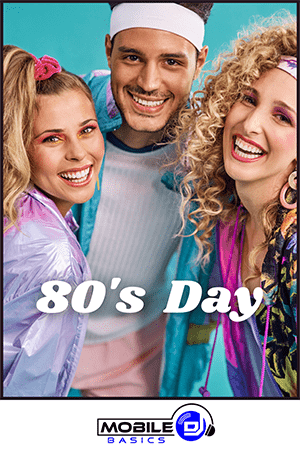 Netflix Character Day
As any Netflix addict knows, there are a ton of great characters to choose from when it comes to dress up day. For example, you could go as Claire Underwood from House of Cards, or Jessica Jones from Marvel's Jessica Jones.
Or, if you're looking for something a little more light-hearted, you could dress up as one of the kids from Stranger Things. Whichever character you choose, be sure to have fun with it and really get into character!
Adam Sandler Day
One popular option for dress-up days is to choose a character from a movie or TV show. And one of the most popular characters to dress up as is Adam Sandler.
There are a variety of Adam Sandler characters to choose from, so you're sure to find one that's perfect for you.
Whether you're looking for something funny or something more serious, there's an Adam Sandler character for you.
Western Wednesday
One of the easiest dress-up days is Western Wednesday. Of course, there are a few tried-and-true standby outfit ideas, like cowboy hats and boots or plaid shirts.
But if you really want to stand out from the crowd, it's time to get creative.
Why not try pairing your favorite jeans with a fringed leather jacket? Or go for a more glam look with a cowboy dress and tall boots.
No matter what you choose to wear, Western Wednesday is sure to be a fun and festive way to kick off homecoming week!
Red White and Blue Day
It's homecoming week and that means it's time to start thinking about what you're going to wear!
One of the most popular dress up days is Red, White, and Blue Day. Patriotic outfits are always a hit, and there are so many ways to style them.
Whether you're rockin' a red, white, and blue American flag t-shirt or a more subtle blue and white striped top, you can't go wrong.
70's Fashion
If you're looking for some inspiration, why not take a cue from the past and embrace some classic 70s fashion? Think bell bottoms, flowy dresses, and disco-worthy sequins.
Or, if you're feeling particularly brave, go all out with a full-on disco outfit complete with platforms and a big hair wig.
No matter how you choose to70s-ify your look, one thing's for sure—you'll be sure to stand out from the crowd. So have some fun with it and let your inner disco queen shine!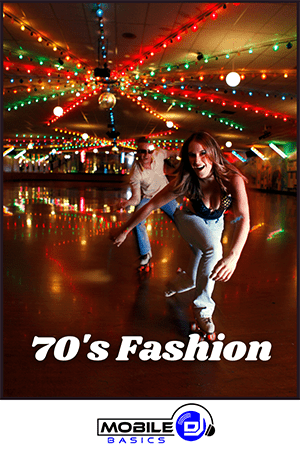 Career Day
Career Day is all about dressing up as your future self and showing everyone what you want to be when you grow up.
Not sure what to wear? Here are a few ideas to get you started.
For the future doctor or nurse, consider wearing scrubs or a white lab coat. If you want to be a teacher, dress in your favorite teacher's outfit.
For the business professional, a suit or dress shirt and tie would be perfect.
And don't forget about accessories! A stethoscope, briefcase, or pair of glasses can really make your outfit pop.
---
Creative Spirit Week Ideas?
There are plenty of fun and creative spirit week ideas that schools can use to build excitement and promote school pride.
The possibilities are endless when it comes to spirit day ideas, theme day ideas, and dress-up day ideas.
Some of the most popular high school spirit week ideas include homecoming dress-up days, school dress-up days, and college spirit week ideas.
Middle school spirit week ideas can help students transition from elementary to high school by creating a community and fostering camaraderie among their peers.
Other creative spirit week ideas include character day ideas, neon spirit day ideas, throwback spirit day, beach day spirit week, and crazy sock day ideas.
Twin day ideas, pajama day ideas, and superhero spirit day ideas are also favorites among students.
Decades spirit week ideas, cartoon character day ideas, and career day dress-up ideas are great for promoting creativity, diversity, and career exploration.
Patriotic spirit week ideas, country spirit day, music spirit week ideas, and sports day dress-up ideas are perfect for promoting school pride and unity.
Color day spirit week is a great idea for younger students as they can learn about colors and experience fun and unique ways to dress up.
Blast from the past costumes, meme day ideas, crazy hair, and sock day, wacky day ideas, and mix-match day ideas all offer creative and unique ways for students to express themselves and have fun.
Spirit week is a fun and exciting way to bring the school community together and build positivity.
There are many creative and unique spirit week ideas that schools can use to encourage participation.
---
Unique Ideas for Spirit Week

Unique spirit week ideas are the best way to show your school pride. One way to do this is to have a different theme each day.
For example, you could have "Classics" day where students dress up as their favorite classic book character. Other themes could include "Barbie", "Superheroes", "Disney", "Harry Potter" or "Netflix".
You could also have a "Decades" day where students wear clothing from a specific decade.
Another idea is to have a pep rally where each class competes in a series of fun games or activities.
The possibilities for your school dance pep rally are endless.
Blacklight Pep Fest
You could have a blacklight pep fest. Rent some blacklights from your school dance DJ. The school's cheer or dance team would create an awesome Glow Stick Dance, where everyone participating gets creative by creating their own moves to show off!
All the games that are played would have items that glow in the dark.
Whatever you do, make sure it's something that everyone will enjoy and will want to participate in.

---
What is the purpose of spirit week?
The purpose of Spirit Week is to foster a sense of unity, enthusiasm, and school pride among students and staff.
It is a week-long celebration that often includes a variety of activities and events.
Pep rallies, football games, and tailgating create a vibrant atmosphere where students come together to support their school teams.
The student section becomes a hub of energy and excitement, with cheerleaders and pom-poms adding to the spirited atmosphere.
The halftime show, featuring the marching band and elaborate performances, showcases the talent and dedication of the school community.
Spirit sticks, face painting, noise makers, wigs, sunglasses, and other accessories serve as visual representations of the enthusiasm and support.
Spirit Week also serves as an opportunity to recognize and appreciate the hard work of teachers and staff, fostering a positive school culture.
Whether it's in high school or middle school, Spirit Week allows students to bond, create memories, and contribute to the yearbook with unforgettable moments.
It can take place during various times of the year, such as back-to-school in the fall or in October, often coinciding with events like literacy campaigns.
Ultimately, Spirit Week encourages a lively and engaged school environment while instilling a sense of pride and unity in the entire school community.
---
Does Spirit Week come before homecoming?
Most high schools in the United States celebrate homecoming with a week of festivities leading up to the big game or dance.
This week is typically referred to as "Spirit Week," and it usually culminates with a pep rally on Friday. Homecoming itself is usually held on Saturday, although some schools do hold it on Friday night.
So, does Spirit Week come before homecoming? The answer is usually yes.
Spirit Week is a chance for students, faculty, and staff to show their spirit and get everyone excited for the homecoming game or dance. It's also a great way to build school pride and unity.
---
What are Spirit Week activities?
Every high school has one – that one week out of the year dedicated to fun school events.
But what exactly are Spirit Week activities? Commonly, there will be a different theme each day of the week.
For example, the day's theme could look like this – Monday could be pajama day, Tuesday could be twin day, Wednesday could be wacky tacky day, Thursday could be throwback Thursday, and Friday could be spirit day.
Of course, these are just examples – each school will have their own unique themes.
In addition to dressing up according to the daily theme, some schools also hold competitions between classes or grades, such as a Lip Sync Battle or a powder puff football game.
And of course, no Spirit Week would be complete without a pep rally to get everyone pumped up for the big game.
So whether you're participating in activities or spectating from the sidelines, make sure to show your school spirit!

---
The benefits of having a Spirit Week
Spirit Week is a time-honored tradition that can bring students, faculty, and community members together. It can also be a lot of fun!
Spirit Week typically includes a variety of activities, such as dressing up in school colors, decorating the school campus, and participating in games and competitions.
These activities can help to build school pride and unity, while also providing a great opportunity for students to show their creative side.
---
Must-have events for your high school's Spirit Week
There are a few events that are essential for any high school's Spirit Week.
First and foremost, a spirit pep rally is a must.
This is your chance to get the entire student body fired up and excited about the week's activities. Get everyone pumped up by playing music, showing videos, and having speeches from your school's leaders.
Another key event is a costume contest. You can award prizes for the best individual costumes, as well as for the best group costumes.
A great tradition is the homecoming game. Be sure to have plenty of activities planned for before and after the game to keep the excitement going!
---
Do you have to participate in Spirit Week?
No, you don't HAVE to participate in Spirit Week. But it is a lot of fun and a great way to make new friends!
Plus, there are usually prizes for the best dressed students or the class with the most school spirit. So even if you're not the most outgoing person, it's worth participating.
Just choose one or two days that you're comfortable with and go for it! worst case scenario, you don't win any prizes. But you'll probably have some fun and maybe even make some new friends.
So don't be shy…give Spirit Week a try!
---
Who is responsible for coordinating Spirit Week?
Spirit Week is an annual tradition in most high schools across the United States, typically taking place during homecoming week.
The week comprises several organized activities aimed at boosting school spirits and fostering social interactions among students.
One of the significant responsibilities within the school administration is coordinating Spirit Week.
This task involves ensuring that committees responsible for planning and organizing events such as the parade, floats, talent show, coronation, and themed days proceed accordingly.
The coordinators are also charged with identifying great ideas for fun spirit week activities that keep the students engaged and enthusiastic throughout the week.
Therefore, the success of Spirit Week is highly dependent on the competence and creativity of the individuals responsible for coordinating these events.
---
Planning and Organizing: Tips for a Successful Spirit Week
Planning and organizing a Spirit Week requires careful consideration and thoughtful execution to ensure its success.
Create a Schedule: Begin by creating a detailed schedule for Spirit Week. Determine the duration of the event, including the dates and specific activities for each day. This will provide a roadmap for the planning process and help ensure a smooth flow of events.
Form a Committee: Establish a Spirit Week planning committee consisting of students, teachers, and staff members. This committee will be responsible for brainstorming ideas, making decisions, and coordinating various aspects of the event. Encourage diversity in the committee to ensure a range of perspectives and ideas.
Involve Students and Staff: It's crucial to involve students and staff in the decision-making process. Conduct surveys or hold meetings to gather input and suggestions for Spirit Week themes, activities, and events. This involvement fosters a sense of ownership and increases participation during the week.
Select a Theme: Choose a unifying theme that resonates with the student body. Consider themes that allow for a wide range of dress-up day ideas and activities. The theme should be inclusive, engaging, and able to generate excitement throughout the school.
Plan Engaging Activities: Brainstorm and plan a variety of engaging activities and events for each day of Spirit Week. This could include dress-up days, lunchtime games, pep rallies, talent shows, or friendly competitions. Ensure there is a balance between tradition and innovation to cater to different interests and preferences.
Collaborate with Teachers: Work closely with teachers to integrate Spirit Week into the curriculum. Encourage them to incorporate the theme into lesson plans or offer extra credit opportunities related to Spirit Week.
Promote Spirit Week: Implement a comprehensive promotional strategy to generate excitement and build anticipation for Spirit Week. Utilize school announcements, social media platforms, posters, and flyers to inform students, parents, and the wider community about the upcoming events.
Seek Sponsorship and Support: Reach out to local businesses, parent-teacher organizations, or alumni associations for potential sponsorship or support. They can provide financial assistance, donations, or resources to enhance the overall experience of Spirit Week.
Ensure Safety and Inclusivity: Prioritize the safety and inclusivity of all participants during Spirit Week. Communicate clear guidelines regarding appropriate costumes, behaviors, and interactions. Create an environment where all students feel comfortable and respected, regardless of their level of participation.
Evaluate and Reflect: After Spirit Week concludes, gather feedback from students, teachers, and staff members. Assess the success of different activities and events, and identify areas for improvement. This evaluation process will help in planning future Spirit Weeks and ensure their continued growth and impact.
By following these tips and strategies, you can effectively plan and organize a successful Spirit Week that fosters school pride, encourages participation, and creates lasting memories for all students and staff involved.
---
Conclusion
As we all know, spirit week and homecoming is a very important event for high schools.
This year, make your homecoming week even more special by incorporating some of these fun and unique ideas into your Spirit Week festivities.
Have a blast showing your school spirit and creating memories that will last a lifetime!
---
---
---
Read More
---
Pins for Pinterest
If you like what you see, feel free to share some love on Pinterest ❤️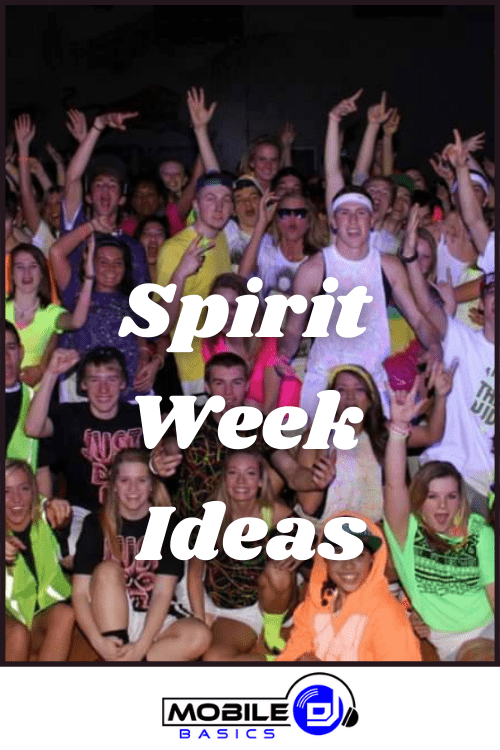 30+ High School Spirit Week Ideas | Discover Fun New Activities 2023
From discovering new songs to getting more gigs, I'm excited to share the wealth of knowledge I've gained through many years of DJing. [email protected]