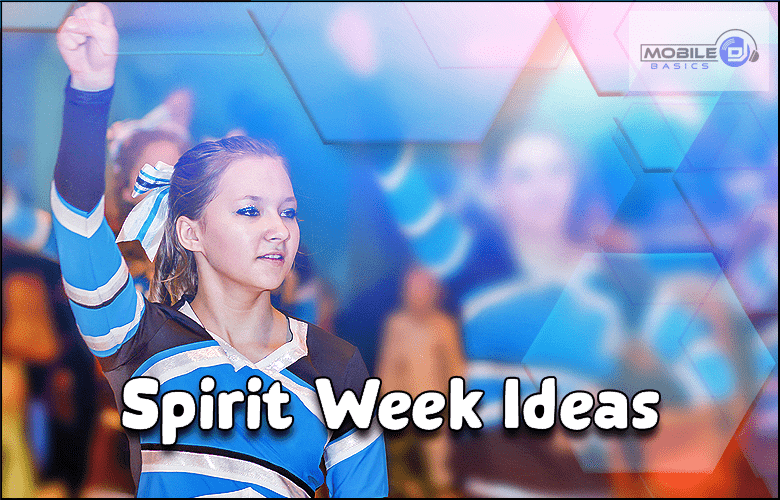 School spirit is an important part of any educational institution. It helps to create a sense of community and shared purpose, and can encourage students to get involved in extracurricular activities.
In order to foster school spirit, many schools organize Spirit Week events. This week-long celebration can include themed days, special assemblies, contests and games, and lots of other fun activities.
If your school is looking for some spirit week ideas on how to make this week even more enjoyable, read on!
Spirit Week Ideas
Are you searching for means to bring some fun and adventure into your high school life? If that's the case, consider organizing a spirit week!
This event may include a variety of activities, games, and competitions that will get everyone in the mood for learning!
There are literally infinite options when it comes to celebrating school spirit, from creative ideas like donning wild costumes, wearing school colors, crazy hair day, college t shirt, cult movie day, charity day, favorite cartoon character, favorite villain day, superhero day or undertaking team-building exercises.
Not sure where to start? Here are some ideas to get you started.
Fun ideas for homecoming Spirit Week themes include:
80's
Beach Day
Netflix Character
Marvel Day
Harry Potter Day
Super Hero Day
Jersey Day
Neon Day
Class Colors
Tie dye day
Preppy Day
Pajama day
Jungle Party
Disco Day
Country/Western Day
Twin day
Sports day
Character day (movie, book, TV etc.)
Meme day
Other theme day ideas:
Crazy Weather Day, Hat Day, Board Game Day, College Day, world day, Favorite Disney Character, Wacky Sock Day, High School Stereotype Day, Ugly Tie Day or Dress as your Favorite Sports Team.
These are just a few ideas – the sky's the limit when it comes to spirit week. So get creative and make it a week to remember!
Whatever themes are chosen, make sure to have a plan for each day so that everyone knows what to wear and how to participate. Spirit Week is a great way to build school spirit and create lasting memories.
---
Ideas for fun and creative events that can be held during Spirit Week
The start of a new school year is always an exciting time for students and staff. Homecoming is a time to celebrate school spirit and show your pride in your school. One way to do this is to dress up for homecoming spirit week.
80's Day
This year, why not try an 80s theme? You can dress up as your favorite 80s pop icon or movie character.
Or, you can go all out and dress up in 80s fashion. neon colors, big hair, and shoulder pads are all part of the fun.
And don't forget the accessories! Temporary tattoos, leg warmers, and jelly bracelets are all must-haves. So get creative and have fun with your 80s homecoming spirit week looks.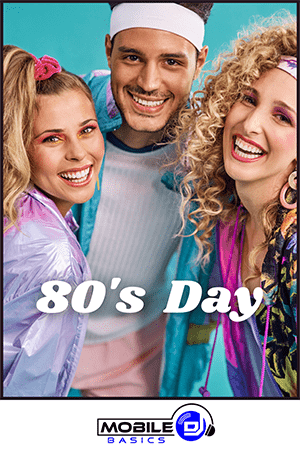 Netflix Character Day
As any Netflix addict knows, there are a ton of great characters to choose from when it comes to dress up day. For example, you could go as Claire Underwood from House of Cards, or Jessica Jones from Marvel's Jessica Jones.
Or, if you're looking for something a little more light-hearted, you could dress up as one of the kids from Stranger Things. Whichever character you choose, be sure to have fun with it and really get into character!
Adam Sandler Day
One popular option for dress-up days is to choose a character from a movie or TV show. And one of the most popular characters to dress up as is Adam Sandler. There are a variety of Adam Sandler characters to choose from, so you're sure to find one that's perfect for you.
Whether you're looking for something funny or something more serious, there's an Adam Sandler character for you.
Western Wednesday
One of the easiest dress-up days is Western Wednesday. Of course, there are a few tried-and-true standby outfit ideas, like cowboy hats and boots or plaid shirts. But if you really want to stand out from the crowd, it's time to get creative.
Why not try pairing your favorite jeans with a fringed leather jacket? Or go for a more glam look with a cowboy dress and tall boots. No matter what you choose to wear, Western Wednesday is sure to be a fun and festive way to kick off homecoming week!
Red White and Blue Day
It's homecoming week and that means it's time to start thinking about what you're going to wear!
One of the most popular dress up days is Red, White, and Blue Day. Patriotic outfits are always a hit, and there are so many ways to style them.
Whether you're rockin' a red, white, and blue American flag t-shirt or a more subtle blue and white striped top, you can't go wrong.
Show your school spirit and get ready to celebrate your homecoming week in style!
70's Fashion
If you're looking for some inspiration, why not take a cue from the past and embrace some classic 70s fashion? Think bell bottoms, flowy dresses, and disco-worthy sequins.
Or, if you're feeling particularly brave, go all out with a full-on disco outfit complete with platforms and a big hair wig.
No matter how you choose to70s-ify your look, one thing's for sure—you'll be sure to stand out from the crowd. So have some fun with it and let your inner disco queen shine!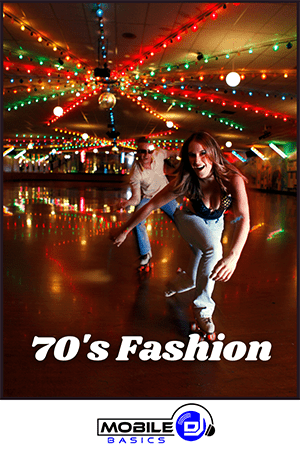 Career Day
Career Day is all about dressing up as your future self and showing everyone what you want to be when you grow up. This is a great opportunity to get creative and have some fun with your style.
Not sure what to wear? Here are a few ideas to get you started.
For the future doctor or nurse, consider wearing scrubs or a white lab coat. If you want to be a teacher, dress in your favorite teacher's outfit.
For the business professional, a suit or dress shirt and tie would be perfect.
And don't forget about accessories! A stethoscope, briefcase, or pair of glasses can really make your outfit pop.
---
Does Spirit week come before homecoming?
Most high schools in the United States celebrate homecoming with a week of festivities leading up to the big game or dance. This week is typically referred to as "Spirit Week," and it usually culminates with a pep rally on Friday. Homecoming itself is usually held on Saturday, although some schools do hold it on Friday night.
So, does Spirit Week come before homecoming? The answer is usually yes. Spirit Week is a chance for students, faculty, and staff to show their school spirit and get everyone excited for the homecoming game or dance. It's also a great way to build school pride and unity.
---
What are Spirit Week activities?
Every high school has one – that one week out of the year dedicated to school spirit. A week where you can dress up in costumes, paint your face, and show your support for your school.
But what exactly are Spirit Week activities? Commonly, there will be a different theme each day of the week.
For example, the day's theme could look like this – Monday could be pajama day, Tuesday could be twin day, Wednesday could be wacky tacky day, Thursday could be throwback Thursday, and Friday could be spirit day. Of course, these are just examples – each school will have their own unique themes.
In addition to dressing up according to the daily theme, some schools also hold competitions between classes or grades, such as a Lip Sync Battle or a powder puff football game.
And of course, no Spirit Week would be complete without a pep rally to get everyone pumped up for the big game. So whether you're participating in Spirit Week activities or spectating from the sidelines, make sure to show your school spirit!

---
The benefits of having a Spirit Week
Spirit Week is a time-honored tradition that can bring students, faculty, and community members together. It can also be a lot of fun! Spirit Week typically includes a variety of activities, such as dressing up in school colors, decorating the school campus, and participating in games and competitions.
These activities can help to build school pride and unity, while also providing a great opportunity for students to show their creative side.
Additionally, Spirit Week can be a great way to raise funds for the school or for charity.
So if you're looking for a way to show your school spirit, or just have some fun, make sure to participate in your high school's homecoming Spirit Week!
---
Must-have events for your high school's Spirit Week
There are a few events that are essential for any high school's Spirit Week. First and foremost, a spirit rally is a must. This is your chance to get the entire student body fired up and excited about the week's activities. Get everyone pumped up by playing music, showing videos, and having speeches from your school's leaders.
Another key event is a costume contest. This is always a lot of fun, and it's a great way to see how creative your students can be! You can award prizes for the best individual costumes, as well as for the best group costumes.
Another great tradition is the homecoming game. This is always a lot of fun, and it's a great way to show your school spirit. Be sure to have plenty of activities planned for before and after the game to keep the excitement going!
---
Do you have to participate in Spirit Week?
No, you don't HAVE to participate in Spirit Week. But it's a lot of fun, and it's a great way to show your school spirit! Plus, there are usually prizes for the best dressed students or the class with the most school spirit. So even if you're not the most outgoing person, it's worth participating.
Just choose one or two days that you're comfortable with and go for it! worst case scenario, you don't win any prizes. But you'll probably have some fun and maybe even make some new friends.
So don't be shy…give Spirit Week a try!
---
Unique Spirit Week Ideas
Unique spirit week ideas are the best way to show your school pride. One way to do this is to have a different theme each day.
For example, you could have "Classics" day where students dress up as their favorite classic book character. Other themes could include "Superheroes", "Disney", "Harry Potter" or "Netflix".
You could also have a "Decades" day where students wear clothing from a specific decade. This is a great way to get everyone involved and showing their school spirit.
Another idea is to have a pep rally where each class competes in a series of fun games or activities. This is a great way to get everyone excited about the upcoming week and show your school pride.
The possibilities for your school dance pep rally are endless.
Blacklight Pep Fest
You could have a blacklight pep fest. Rent some blacklights from your school dance DJ. The school's dance team would create an awesome Glow Stick Dance, where everyone participating gets creative by creating their own moves to show off! All the games that are played would have items that glow in the dark.
Whatever you do, make sure it's something that everyone will enjoy and will want to participate in. Show your school spirit and have some fun!

---
Conclusion
As we all know, spirit week and homecoming is a very important event for high schools. It's a time to come together as a community and celebrate school spirit.
This year, make your homecoming week even more special by incorporating some of these fun and unique spirit week ideas into your festivities.
Have a blast showing your school spirit and creating memories that will last a lifetime!
---
Read More
---
---
---
Pins for Pinterest
If you like what you see, feel free to share some love on Pinterest <3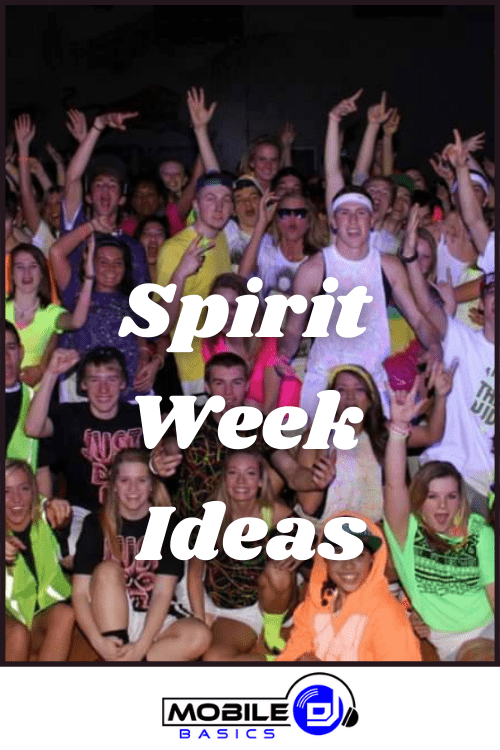 School Spirit Week Ideas | Discover Fun New Activities 2023
From discovering new songs to getting more gigs, I'm excited to share the wealth of knowledge I've gained through many years of DJing. [email protected]