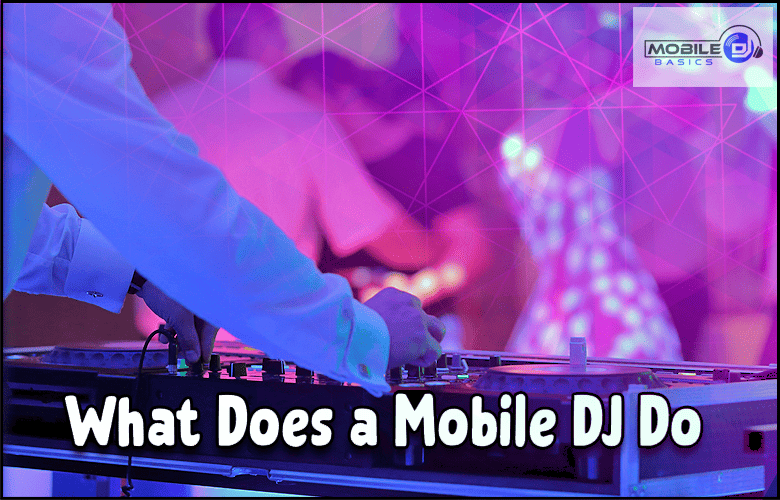 "What Does a Mobile DJ Do?" is a question that often surfaces when planning an event or contemplating a career in this exhilarating field.
A mobile DJ is much more than someone who plays music; they are the heartbeat of any party, the essential rhythm maker who sets the mood and pace of the event.
But their responsibilities encompass a range much wider and deeper.
In this article, we will delve into the key roles of a mobile DJ, highlighting the integral parts they play in making every gathering unforgettable.
Whether you're an event organizer, an aspiring DJ, or just curious, prepare to gain insight into the vibrant and dynamic world of mobile DJing.
What does a Mobile DJ Do?
A mobile DJ is a professional entertainer who provides music for a variety of events.
They typically have portable equipment, which allows them to bring their music and sound systems to any location, whether it's an indoor venue or an outdoor setting.
Here are some primary responsibilities of a mobile DJ:
Client Consultation: Mobile DJs need to meet with clients to understand their needs for the event, including the type of music they want, any specific songs they want played, the schedule of the event, and any other special requests.
Music Programming: DJs prepare playlists and sets in advance to cater to the tastes of the clients and their guests. This also involves having a wide-ranging knowledge of different music genres and staying up-to-date with the latest music trends.
Equipment Setup and Operation: DJs are responsible for transporting, setting up, and operating their own audio equipment. They should also know how to troubleshoot any issues that may arise with their equipment during the event.
Crowd Engagement: A significant part of a DJ's job is reading the crowd and adjusting the music to fit the mood. They should be able to seamlessly transition between songs and keep the energy level high.
Master of Ceremonies (MC) Duties: Depending on the event, DJs may also act as MCs, making announcements, introducing speakers or acts, and keeping the event on schedule.
Event Coordination: DJs often work closely with event coordinators or planners to make sure the event runs smoothly. This includes coordinating the timing of certain songs or announcements with other parts of the event.
Post-Event Activities: After the event, DJs are responsible for packing up and transporting their equipment. They also need to maintain their equipment regularly to keep it in good working order.
Business Management: For those who work independently, mobile DJs also have to manage the business side of things. This includes marketing their services, maintaining a professional online presence, handling bookings and contracts, and managing finances.
In addition to these tasks, a mobile DJ must continuously update their music library, stay aware of current music trends, and regularly maintain their equipment. Some mobile DJs might also handle their own marketing and business administration, especially if they work independently.
---
Pre-Event Responsibilities
As a mobile DJ, your role extends far beyond just showing up and playing music. There are a number of pre-event responsibilities that you must take care of to ensure a successful event.
For starters, you need to engage in client consultations to understand their vision for the event, as well as to discuss logistics and timing.
Once you have a clear understanding of their expectations, you'll need to spend considerable time selecting and preparing your equipment to ensure perfect sound quality.
And let's not forget about song list creation and music programming- these are key steps in setting the tone and atmosphere for the event.
There's no doubt about it- being a top-notch mobile DJ requires a lot of hard work and dedication to your craft!
---
Set-Up Tasks
There are several essential tasks that require your attention before every gig.
One of them is ensuring that your equipment is ready to be transported safely. You want to make sure that all your lighting and audio gear is packed up securely and is easy to transport.
The next crucial aspect is setting up the equipment on location. Taking great care in placing the speakers, setting up the lighting rigs, and connecting all your gear takes priority. This guarantees that your performance is top-notch.
To ensure that your sound is perfect, sound checks are mandatory. You can test your system and equipment to verify that everything works correctly.
Once everything is up and running, be sure to give your final preparations one last look over.
---
During the Event Tasks
There are numerous responsibilities a mobile DJ must handle throughout the course of an event.
One of the most important duties is playing music and managing the playlists. It is imperative to ensure that the music played matches the mood of the event and keeps everyone entertained. Reading the crowd and adjusting the music selection is also crucial in maintaining the energy and ambiance of the event.
Additionally, the DJ plays a role in making announcements and coordinating with event organizers to ensure the smooth running of the event.
Mobile DJs serve as the backbone of any successful event, and their attention to detail and ability to keep the audience engaged is what sets them apart.
---
Post-Event Responsibilities
As the final track fades out and your last client of the night ecstatically thanks you for a job well done, you might be tempted to pack up your gear and head straight home.
But as a mobile DJ, your post-event responsibilities are just as important as your pre-event preparations. First up on your to-do list is disassembling your equipment and safely transporting it back to your storage space.
Once everything is back in its proper place, it's time to follow up with your client to get feedback and ensure they were satisfied with your performance.
And don't forget to update your records with all the songs you played and equipment you used.
These post-event responsibilities might require some extra effort, but they're crucial for maintaining a sterling reputation as a mobile DJ.
---
Behind the Scenes: Administrative Tasks
Being a mobile DJ involves more than just spinning tracks and getting the crowd moving. There are administrative tasks that happen behind the scenes that are just as important to the success of the gig.
Marketing and promotion activities play a huge role in attracting new clients and keeping the business thriving.
Maintaining and updating the music library is also essential for delivering the perfect sound and atmosphere for each event.
And perhaps most importantly, continued learning and staying updated with trends is critical for staying ahead of the game and providing the best possible experience for clients.
These tasks may not be as glamorous or exciting as rocking the dance floor, but they are vital components of a successful mobile DJ business.
---
Appreciating the Hard Work of a Mobile DJ
When it comes to mobile DJ gigs, the job of a disc jockey goes beyond simply pressing play on a Spotify playlist.
A professional wedding DJ, for example, would require a thorough understanding of the couple's music preferences and an extensive music library to curate the perfect wedding playlist.
In addition, a skilled mobile DJ would need to have a comprehensive knowledge of lighting and sound equipment, as well as how to work with a DJ controller and set up a DJ mixer.
DJ software expertise is also a must-have skill for any DJ company, whether for birthday parties or club events.
The work of a mobile DJ is not just about doing gigs, but also providing top-notch DJ services that elevate the celebrations to a whole new level.
When it comes to weddings, in particular, wedding DJs would need to put in more effort into the preparation process, just to ensure that the special day is a memorable one.
To do this, the wedding DJ would have to consult with the newlyweds on the stories behind each song they'd like to include in their DJ set.
Moreover, on the day, the wedding DJ would have to oversee the DJ setup, ensuring that the lights and music enhance the mood of the event.
The wedding DJ's job is not just to play music; it's to bring an extra-special magic to the day, and experience that is unrivaled by any other DJ's performances.
---
What are the most common problems faced by mobile DJs?
Mobile DJs, just like any professionals, encounter various challenges in their line of work. For them, it's essential to be well-equipped and prepared to provide excellent services.
One of the most common problems that mobile DJs face is the lack of proper equipment. This includes sound systems and lighting, which can significantly affect the quality of the music and overall experience for their clients.
Another issue is the transportation of their gear, as they have to ensure that every piece of equipment is secure and protected during the journey.
Additionally, technical issues during events can cause significant disruptions, like software crashes and equipment malfunctions.
Despite these challenges, professional mobile DJs dedicate themselves to their craft and always find ways to provide unforgettable experiences for their clients.
---
What are the drawbacks to pursuing a full time career as a Mobile DJ?
Embarking on a full time career as a Mobile DJ may seem like a dream job for music lovers.
While it certainly has its perks, there are also significant drawbacks to consider before taking the plunge.
First and foremost, the amount of time spent away from home can be a major sacrifice.
Mobile DJs often work late nights and weekends, making it difficult to maintain a healthy work-life balance.
Additionally, the job can be physically demanding, requiring extensive equipment setup and tear down, not to mention the need to transport heavy gear from gig to gig.
Finally, there is the financial uncertainty that comes with being a self-employed earner.
While successful Mobile DJs can make a handsome income, there can be slow periods and the need to constantly hustle for new clients and gigs.
Overall, it's important to weigh these challenges before deciding whether a full time career as a Mobile DJ is right for you.
---
Mobile DJ FAQ
What is a Mobile DJ?
A mobile DJ is a professional entertainer who travels to different locations to provide music and entertainment at various events such as parties, weddings, and corporate gatherings.
---
What are the main responsibilities of a Mobile DJ?
Key responsibilities of a mobile DJ include planning the event music, setting up DJ equipment, playing and mixing music to suit the audience, and making event announcements.
---
Do Mobile DJs only play music?
No, mobile DJs do more than just play music. They also read the crowd, make announcements, coordinate with event organizers, and often handle their own marketing and administrative tasks.
---
What kind of equipment does a Mobile DJ use?
Mobile DJs use a variety of equipment, including turntables or CDJs, a mixer, speakers, microphones, and sometimes lighting equipment. The exact setup can vary based on the event.
---
Can a Mobile DJ customize the playlist for my event?
Absolutely! A significant part of a mobile DJ's job is to work with the client to create the perfect playlist that suits the mood and theme of the event.
---
Does a Mobile DJ need any specific skills or qualifications?
A good Mobile DJ needs a strong knowledge of music, excellent crowd-reading skills, and technical proficiency with DJ equipment. Many DJs are self-taught, while others may have completed DJ or music production courses.
---
Conclusion
Mobile DJs are incredible professionals for spicing up any kind of event. Not only do they keep the atmosphere alive and thriving, but they also give everyone in attendance the opportunity to be heard and to have fun.
With every turn of a table, DJ's simultaneously become teachers, entertainers, and coordinators. They listen attentively to their audience while showcasing an unmatched level of expertise that will never fail to keep your guests entertained until the last song plays.
By orchestrating an uncanny combination of music, Mobile DJs have the skill set to deliver every time with simple finesse.
For those looking for someone who can rock any party, look no further than a Mobile DJ; their infectious energy will undoubtedly leave you with long-lasting memories for years come.
---
Read More
---
---
---
Pins for Pinterest
If you like what you see, feel free to share some love on Pinterest ❤️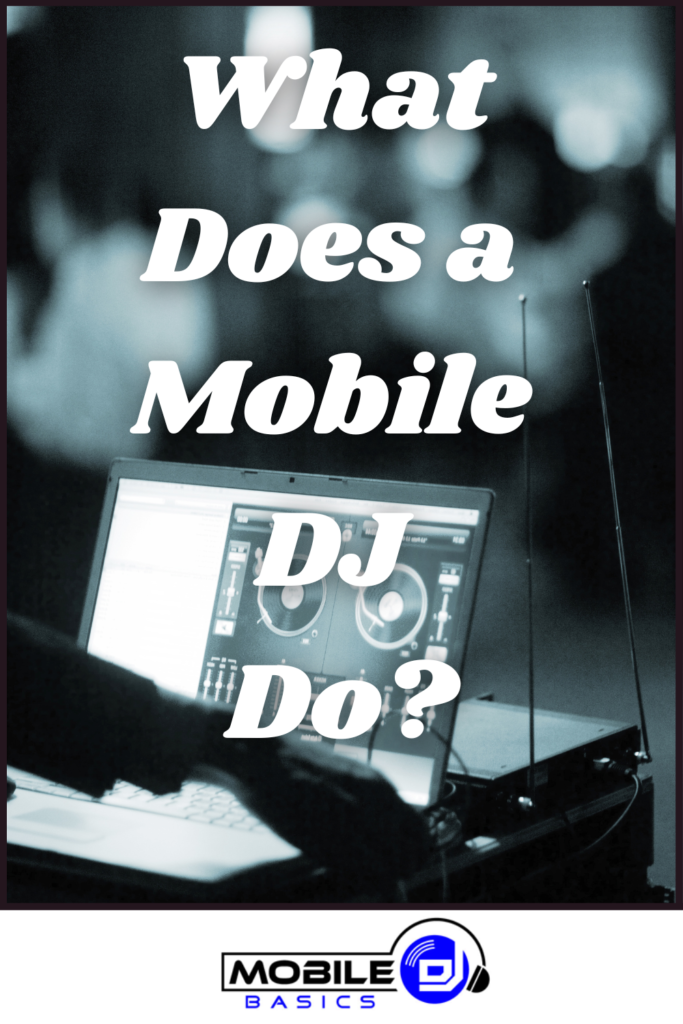 What Does a Mobile DJ Do? | The Heartbeat of Every Party | 8 Key Roles
From discovering new songs to getting more gigs, I'm excited to share the wealth of knowledge I've gained through many years of DJing. [email protected]