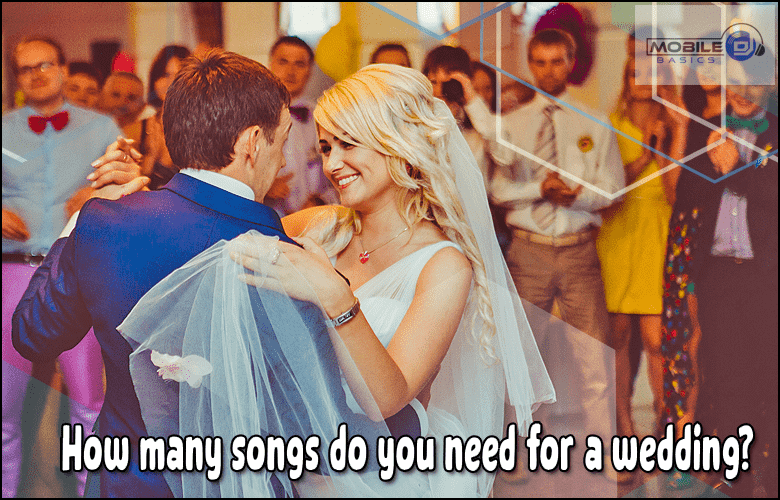 When planning your wedding reception, you will need to choose music for various parts of the wedding ceremony and reception.
You may also want to consider hiring an MC or emcee to help keep things organized and running smoothly.
Here is a look at how many wedding songs you will need for a typical wedding, as well as some other things to consider when choosing the music for your special day.
How many songs do you need for a wedding?
There is no definitive answer when it comes to wedding songs.
The number of songs you need will depend on the length of your reception, as well as the overall tone you want to set for the event.
Ceremony Music
Typically, there are seven to eleven total songs for a wedding ceremony. This includes the bride's walk down the aisle, the wedding party entrance, the prelude (if applicable), and the recessional. You can also choose to have additional songs played during the ceremony, such as during the lighting of the unity candle or during communion.
3 Hour Reception
For a three-hour reception, you will need at least 45 songs. This will give you enough time to play a variety of music, including slower songs for dancing and upbeat tracks for when the party really gets going.
4 Hour Reception
If you are planning a four-hour reception, then you will need 60 songs or more. This will allow you to have even more variety in your music, as well as provide a longer soundtrack for your bridal party and guests to enjoy.
Dinner Music
Finally, if you are having dinner at your wedding, then you will need 20 songs or more for background music.
Wedding music can play an important role in setting the tone for your big day, so be sure to choose them carefully!
Just play the best of the best – from the first song to the last song – no filler.
---
What songs do I need for a wedding?
When it comes to wedding songs, there are a few key moments that you'll need to pick tunes for.
For the wedding ceremony, you'll need prelude music three to five songs, a processional songs for when the bridal party walks, one songs for when the bride walks down the aisle, one to two songs for during the unity candle or signing of the register, and one songs as a recessional song for when you walk back down the aisle as a married couple.
The bride's walk down the aisle is one of the most important and emotional moments of a wedding. As the bride makes her way to the altar, all eyes are on her. T
his is a moment that will be remembered forever, so it's important to choose a wedding song that perfectly captures the mood. There are many traditional wedding songs to choose from, but some modern brides are opting for more unique selections.
Whether you choose a classic ballad or a contemporary pop song, make sure it reflects your personal tastes and style and sets the tone for your special day.
Then, for the reception, you'll need a first dance song, a father/daughter dance song, a mother/son dance song, a bouquet toss song, a garter toss song, a cake cutting song, and a last dance songs.
Ceremony Music:
– Prelude: three to five songs
– Processional: one to two songs
– Bride Entrance: one song
– Unity Candle/Sand – Signing of the register: one to two songs
– Recessional: one song
Reception Music:
– Grand Entrance: one to two songs
– First dance song: one song
– Father/daughter dance: one song
– Mother/son dance: one song
– Wedding party dance: one song
– Bouquet toss: one song
– Garter toss: one song
– Cake cutting: one song
– Last dance: one song
You can pick any songs you like for these moments – they can be sentimental ballads, upbeat pop tunes, or anything in between.
The most important thing is that they reflect your taste as a couple and help to make your wedding day even more special.

---
A band typically plays how many songs at a wedding?
A wedding band typically plays 3-4 sets of music, with each set lasting about 45 minutes. The number of songs in each set varies, but a typical set list might include 15-20 songs.
The live band will usually take a brief break between sets, giving guests a chance to mingle or dance. When choosing wedding songs, it's important to consider the flow of the entire evening.
The first set should include upbeat, danceable songs that will get guests on their feet and set the tone for the rest of the night. The second and third sets can be a mix of slower, more romantic tunes and faster, more energetic numbers.
Is the band going to play the ceremony music?
And the final set should be all about generating excitement and getting everyone out on the dance floor for one last round of fun.
FYI – during the breaks you might need to provide music or you can ask the band to play some songs.

---
Number of Slow Songs Can I Play at a Wedding?
One of the most important aspects of wedding planning is choosing the right music. After all, a wedding is a once in a lifetime event, and you want everything to be perfect.
While there are no hard and fast rules when it comes to wedding music, there are some general guidelines that can help you make your choices.
For example, many couples choose to include a few slow songs during their reception. This provides a chance for guests to unwind and enjoy a romantic moment on the dance floor.
But how many slow songs should you play?
There is no magic number, but as a general rule of thumb, you can plan on playing one slow song for every three or four up-tempo songs. This will ensure that there is plenty of time for dancing without feeling like the night is dragging on.
With careful planning, you can create a wedding playlist that will keep both the bride and your guests moving all night long.
---
Other things to consider:
Do you want live music or recorded music?
Do you want a band or a DJ?
What type of music do you want? (e.g., classical, jazz, rock, pop, etc.)
Do you have any specific songs that you want played?
Do you have any songs that you do not want played?
Who will be responsible for choosing and organizing the music? (e.g., the bride, the groom, a parent, friend, the wedding planner, etc.)
Do you want an MC or emcee to help coordinate the music and other events during the reception?
---
Create a Do Not Play Playlist
Choosing the perfect wedding playlist can be a delicate balancing act. You want to choose songs that will get your guests moving and create an unforgettable atmosphere, but at the same time, you don't want to play any songs that might offend or upset anyone.
If you have specific songs that you definitely don't want to hear on your big day, it's important to make a do-not-play list for your DJ or band. That way, you can rest assured knowing that those songs will not be played, no matter what.
Some brides choose to avoid well-known wedding songs. Others prefer to steer clear of more sentimental tunes. And still others simply want to avoid any song with profanity or suggestive lyrics.
Whatever your reasons for wanting certain songs off the wedding songs list, be sure to communicate your wishes to your wedding entertainer in advance. That way, you can enjoy your wedding day stress-free, knowing that the music will be just right.
---
Tips to pick the perfect wedding songs
When choosing the music for your wedding, you will need to decide what type of music you want. This can be based on your personal preferences, the theme of your wedding, or the type of atmosphere you want to create.
If you are not sure what type of music to choose, ask your friends and family for their recommendations, or consult a professional wedding planner or DJ.
Few things to keep in mind
First, think about the overall tone you want to set for the event. Do you want something light and joyful, or something more romantic and intimate?
Second, consider your guests. What kind of music do they usually enjoy?
Third, pick songs that are your favorite songs and have special meaning to you and your partner. These could be songs, a slow or upbeat song that were popular when you first met, the same song your parents danced to, or ones that hold personal significance for your relationship.
Fourth, look at these song list to get song ideas to keep the music flowing
By keeping these things in mind, you can choose wedding songs that will reflect your unique style and create a memorable day for all.
---
Conclusion
The average wedding lasts about four hours, which means you'll need quite a few songs to keep the festivities going.
Most weddings will have between 50 and 150 songs. This may seem like a lot, but remember that you'll need music for the ceremony, cocktail hour, dinner, and dancing. If you're struggling to come up with enough song choices, talk to your DJ or bandleader.
They should be able to give you some suggestions based on their experience.
In the end, the most important thing is that you choose a mix of songs that will keep the bride and groom, family and your guests entertained all night long.
---
Read More
---
---
Pins for Pinterest
If you like what you see, feel free to share some love on Pinterest <3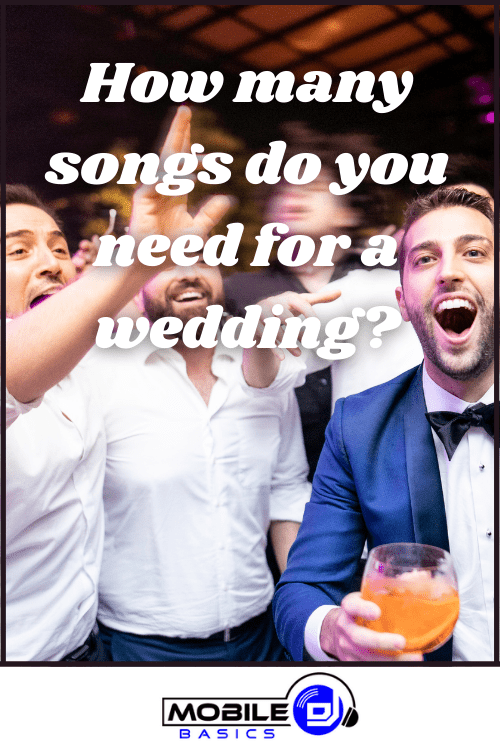 How many songs do you need for a wedding? Useful Planning Tips 2023
From discovering new songs to getting more gigs, I'm excited to share the wealth of knowledge I've gained through many years of DJing. [email protected]