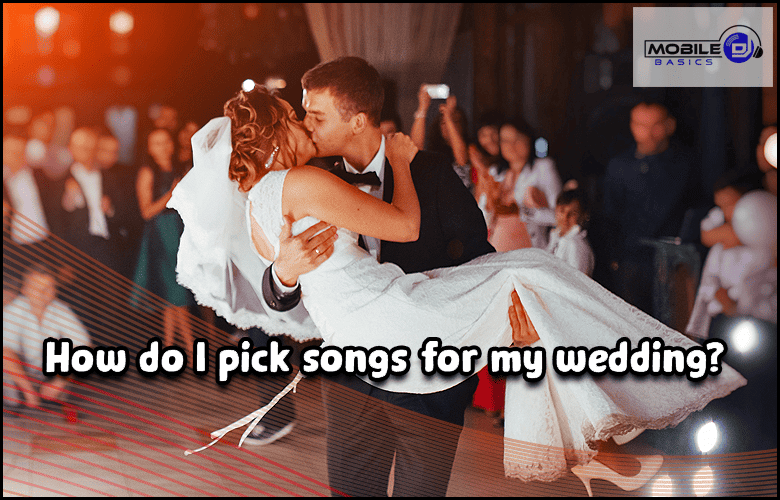 How do I pick songs for my wedding?
How do I pick songs for my wedding? Choosing the right music can make or break the mood of your special day.
From the pre-ceremony ambiance to the last dance of the night, music plays a crucial role in setting the tone and creating unforgettable memories.
With so many options to consider, it can be overwhelming to decide what songs should be included in your wedding playlist.
It's important to keep in mind the preference of both the bride and groom, as well as the guests attending.
A well-crafted playlist should flow seamlessly, representing your unique style and personality, while catering to the diverse tastes of your guests.
In this blog post, we'll explore the tips and tricks to selecting the perfect wedding songs, ensuring a harmonious and joyful celebration.
So how do you go about finding that perfect song list?
Read on to learn our top tips for choosing memorable music that will ensure every moment of your special day is one to treasure!
---
What Dances are at a Wedding
Different dances at a wedding not only serve to entertain but also to mark the progression of the event and to honor relationships. But, what dances or songs are traditionally included in a wedding?
Whether you're a bride, groom, parent, or guest, understanding these dances can help prepare you for these beautiful moments and ensure you fully enjoy the celebration.
Wedding Ceremony Songs
Wedding Prelude Music
Processional Songs
Bride Entrance Song
Interlude Songs
Recessional Songs
Postlude Songs
Wedding Reception Songs

Cocktail Hour
Dinner Music
Wedding Party Grand Entrance
Newlywed's Grand Entrance
First Dance
Father-Daughter Dance
Mother-Son Dance
Dollar Dance
Bouquet Toss
Garter Toss
Cake Cutting Songs
Last Song
Choosing your wedding songs infuses an extra layer of affection, sentimentality, and memories into your special day that you'll always treasure.
Whether you're gravitating towards timeless classics or modern chart-toppers, your wedding music should echo your unique love narrative.
Handpicking songs that align with your love story lends an exclusive touch of romantic sophistication, further enriching the charm of your wedding day.
Hence, making the right choice in wedding music is a vital step, a decision that will hold a special place in your heart forever.
Let's embark on this delightful journey of song selection, crafting your wedding playlist, and turning your wedding day into an unforgettable symphony with our handpicked melodies.
---
8 Essential Tips for Choosing Your Perfect Wedding Songs
Selecting the first dance song or determining the soundtrack for the entire event, these tips will guide your decision-making, helping you craft the perfect playlist for your wedding.
Let's embark on this melodious journey together and pick the songs that will make your wedding day unforgettable.
Key Considerations to Craft Your Ideal Wedding Playlist
Reflect Your Personalities: The wedding song should ideally be something that both of you love and relates to your relationship. It should reflect your personalities and bond. Whether it's a song from a band you both enjoy or a song that played on your first date, personal significance should be a priority.
Consider the Mood: Depending on the part of the wedding you're choosing music for, the mood can greatly differ. The processional, first dance, and reception party will all call for different kinds of songs. Make sure your selections fit the mood of each moment.
Song Lyrics Matter: Pay attention to the lyrics. Sometimes, songs sound romantic but the lyrics tell a different story. Make sure the song's lyrics reflect your feelings appropriately.
Test the Dance-ability: For the reception, consider the dance-ability of the song. It can be a favorite, but if it's difficult to dance to, it may not keep the party going as you might like.
Cater to Your Audience: Although your wedding is primarily about you, it's also about your guests having a good time. Try to pick songs that are broadly popular or universally understood and appreciated, ensuring they appeal to multiple age groups and tastes.
Length of the Song: Some songs can drag on, especially for key moments like the first dance. You might love a song, but if it's too long, it can feel awkward and lose people's interest. Consider songs of a reasonable length, or speak to your DJ about potentially shortening songs.
Check with Your Band/DJ: If you're having a live band, ensure they can play your chosen songs well in advance of the wedding. If you have a DJ, make sure they have or can obtain your selected songs. In both cases, communication is key.
Have a Backup Plan: Sometimes, despite your best planning, things might not work out as expected. There might be a technical issue, or the mood of the crowd might be different. Always have a backup selection of songs ready for different parts of the wedding.
Choosing wedding ceremony music and reception songs can be one of the most enjoyable, yet overwhelming tasks when planning your big day.
With countless options available, from processional songs to recessional songs, the best way to ensure your playlist is perfect is to start early, do your research, and decide whether you prefer classical or modern tunes.
---
Finding Ideas and Recommendations for Wedding Music
Music sets the tone for your celebration, accompanies defining moments, and keeps your guests entertained.
But with countless songs to choose from, selecting the right ones can feel overwhelming. Don't stress!
Whether you need a first dance song, dance floor jams, or aisle-worthy melodies, we have your back.
Take a look at our Song List page for a bunch of different lists.
We'll help you navigate various sources and strategies, from digital platforms to personal consultations, ensuring your wedding playlist resonates with your unique love story.
Exploring Various Sources for Your Perfect Wedding Soundtrack
Ask Friends and Family: Your loved ones are likely to have some great song suggestions based on their own experiences or songs that they think are a great fit for you and your partner.
Use Music Streaming Platforms: Platforms like Spotify, Apple Music, or YouTube often have curated playlists for weddings. You can also look at the playlists of weddings of other users for inspiration.
Consult With Your DJ/Band: These professionals have been to many weddings and know what works best in different scenarios. Don't hesitate to ask them for song recommendations.
Look at Popular Wedding Blogs/Websites: There are many wedding blogs and websites that publish lists of song recommendations for weddings. They often categorize these lists based on the part of the wedding, like processional, recessional, first dance, etc.
Social Media Groups/Forums: There are numerous online communities where people discuss wedding planning. You can find many song recommendations and discuss options with people in similar situations.
Movies and TV Shows: Romantic movies and TV shows often have great soundtracks that can inspire your wedding playlist.
Wedding Planners: If you're working with a wedding planner, they can provide recommendations based on their experiences with other weddings.
Consider a Music Theme: Think about whether you'd like to base your music selection on a specific theme – be it the '80s, jazz, or even Disney – and then find songs within that theme.
Remember Personal Favorites: Reflect on any songs or artists that have significant meaning to your relationship. These songs can make for meaningful and unique additions to your wedding playlist.
Attend Other Weddings: If you have the chance to attend other weddings before your own, pay attention to the songs played and how guests respond to them. You might discover some great picks for your own celebration.
There are numerous sources to explore for inspiration and guidance. Start by browsing wedding websites, blogs, and forums dedicated to sharing wedding music ideas and playlists.
Social media platforms, such as TikTok and Pinterest, can also be treasure troves of wedding song suggestions.
Consider reaching out to friends and family who have recently gotten married for their favorite wedding songs and personal recommendations.
By exploring these resources, you'll discover a diverse range of musical options that can help you curate a unique and memorable playlist for your special day.
---
Matching Music to Your Personal Preferences
Matching music to your personal preferences is an essential aspect of planning your wedding.
Remember your favorite genres and artists too. If you both love classic rock, for example, incorporate some of your favorite tracks into the playlist.
When your wedding music matches your personal preferences, it not only makes the day more enjoyable for you as a couple but also gives your guests a deeper insight into your bond, creating a more memorable experience for everyone involved.
---
Seeking Expert Advice for an Wedding Music Experience
When it comes to creating an impeccable wedding music experience, seeking expert advice can be invaluable.
Wedding planners, professional musicians, DJs, and entertainment companies have extensive experience in curating music for weddings and can provide valuable insights and guidance.
They can help you navigate through the vast selection of songs, suggest popular wedding tracks, and offer recommendations based on your preferences and the overall ambiance you want to create.
They can also assist with technical aspects such as sound systems, equipment setup, and ensuring a seamless flow of music throughout the event.
---
FAQ
How do I pick songs for my wedding? Where Do I Start?
Start by considering songs that have personal significance to you and your partner, such as songs you both love, those from memorable dates, or those that encapsulate your relationship's journey.
---
What are the key moments in a wedding that need a song?
Key moments often include the processional (entry of the bride), recessional (exit of the couple), first dance, father-daughter dance, mother-son dance, and party songs for the reception.
---
What if the song I want is too long or short for the occasion?
Most professional DJs or bands can modify songs to suit your needs. A long song can be edited down, while a short song can be looped or blended with another piece to extend it.
---
Congratulations on your upcoming wedding! Choosing wedding music can be a fun and exciting task for any couple.
Whether you choose recorded music or hire a live band, music is a crucial element of your wedding party.
When it comes to a first dance song, there are an abundance of classics to choose from such as "You Are the Sunshine of My Life" by Stevie Wonder or "What a Wonderful World" by Louis Armstrong, "At Last" by Etta James is a timeless choice that will also tug at the heartstrings of your guests Or maybe a brand new song from Taylor Swift or BLACKPINK.
Conclusion
Weddings are one of the most special events in life, so it's important to carefully pick out songs that fully express the sentiment.
Listen to your heart when you make your selection and remember that music isn't just used for its entertainment value; it's truly a way of communicating with your guests and expressing the love that brought everyone together.
After all, if there's one thing you want to guarantee at your ceremony or reception, it's out-of-this-world music!
From upbeat dance tunes to sentimental slow songs, together you can create a soundtrack with memories—and melodies—that will last a lifetime.
---
---
Related Articles
How do I pick songs for my wedding? 8 Proven Tips for Couples