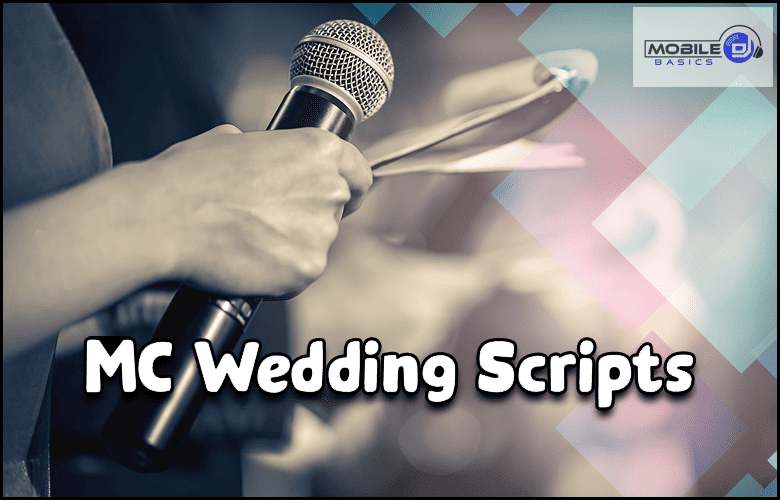 Last Updated on September 27, 2023 by Ryan Conlon | 🕒 6 min Read Time
---
Picture this: admired by a sea of elegantly-clad guests, two soulmates share their first dance as a married couple.
The air is electric with emotion, but the heart of the party is barely starting to beat; amplified by anticipation, laughter, claps and glasses meeting in cheers.
Every moment of this magnificent celebration navigated by one wise guide – the Master of Ceremony.
A potent secret weapon of every memorable wedding reception, the MC's words can play out like an enchanting symphony or a third-grade band practice–depending on the script they follow.
Dive into the world of Master of Ceremony wedding scripts and discover how thoughtfully crafted words can turn your special day into an unforgettable saga that will elicit smiles for decades to come.
Role of The Wedding Master of Ceremony
As the point person of the wedding reception, the role of the master of ceremony (MC) goes beyond being a mere event announcer.
They are responsible for ensuring that everything runs smoothly – from introducing the bride and groom to their guests, announcing important events like cake-cutting and first dance, and keeping the energy in the room high throughout the night.
A good MC has impeccable timing, charisma, and great interpersonal skills.
They should be able to handle unexpected situations with ease and grace, while still being able to keep their cool.
Whether you choose a professional emcee or a trusted friend or family member to fill this role, it's important that they understand the responsibilities that come with this job.
Take, for instance, when a dessert got spilled on the stage just as the couple was about to enter for their first dance.
A quick-thinking emcee would immediately address the situation by making light of it or subtly correcting it without ruining the moment.
It's these little details that separate an average MC from an excellent one.
The key to being a great MC is to strike a balance between keeping things on schedule while also being flexible enough to adjust when unexpected circumstances arise.
A good emcee should have an organized timeline prepared ahead of time so they know exactly what will happen when, but they must also be prepared to make adjustments if necessary.
The emcee also sets the tone for the entire evening.
They introduce speakers and guests while maintaining an upbeat atmosphere throughout.
By establishing a positive vibe early on in the event, guests are more likely to remain engaged and have a better time overall.
In addition, an experienced MC knows how to read a crowd and use humor and personal anecdotes in their speeches.
This helps them connect with guests on a more personal level and keeps everyone entertained even during slower portions of the night.
Now that we have a better understanding of the role of the wedding MC, let's move on to discussing how they can navigate the event and ensure everything runs smoothly.
A survey by WeddingWire showed that nearly 35% of couples choose to have their friends or family act as the Master of Ceremonies at their weddings.
According to a study conducted by The Knot, about 72% of weddings involve some speech presentation, where wedding scripts are heavily relied upon for clear communication.
Data from a Toastmasters International report suggest that preparation time, including script writing for public speaking engagements such as being a wedding emcee, can take up to seven hours for every one hour of presentation time.
Navigating the Event
First things first – the emcee should be familiar with every detail of the reception.
They should communicate with everyone involved in the event, including vendors, wedding planners, caterers, and photographers.
In doing so, they will have a better grasp of how each piece fits into the larger puzzle.
The emcee should also have a timeline or script prepared ahead of time.
This will allow them to know exactly what is happening at all times while still allowing for flexibility if changes need to be made.
If possible, create a run-through of the reception beforehand to ensure that everyone knows their cues and when to begin specific speeches or events.
Good communication is key.
The MC must be in contact with other vendors to coordinate different parts of the event like music transitions, arrival times, and table clearance.
Knowing these details ahead of time will help avoid any confusion during the event and make sure everyone is on the same page.
For example, suppose there's an unexpected delay in dinner service due to unforeseen circumstances.
In that case, a good MC would know how to keep guests entertained during this lull period by introducing impromptu games or asking trivia questions about the couple.
Additionally, it's important for the emcee to memorize key names and pronunciations of guests who will be introduced throughout the night. There's nothing worse than mispronouncing someone's name in front of their friends and family members!
To compare being an MC to something else – it's like being a conductor leading an orchestra.
Each musician has their role precisely outlined, but it's up to the conductor to ensure that everything comes together seamlessly.
The conductor should know every detail of the music and the musicians to make sure everyone plays in perfect harmony.
Now that we have looked at how a wedding MC navigates the event, it's time to explore the different script options available.
Collaborating with Vendors
Collaboration with vendors is a crucial aspect of executing a flawless wedding reception.
You may consider yourself an experienced Master of Ceremony, but it's necessary to acknowledge that you can't singularly operate the entire event.
Communication with all the vendors involved in the wedding is key in ensuring that all activities run smoothly.
Working together with other vendors like the wedding planner, florist, musicians, or DJ requires excellent communication skills.
It would be best if you considered creating a WhatsApp group where all parties involved can communicate and make plans more fluidly.
This way, everyone can express their ideas and concerns about the event while still being able to work towards a common goal.
Collaborating with vendors enhances the teamwork required in making the wedding ceremony a resounding success.
Most times, one vendor's mistake could result in chaos that will most likely ruin the couple's special day.
Therefore, effective communication among all parties before the event ensures that everyone is on the same page and has a clear understanding of what's expected of them.
Some people might feel that relying too much on vendors minimizes creativity and originality.
However true this might seem, collaboration with vendors doesn't mean letting go of your expectations about how you want the event to be executed.
You should communicate your preferred theme and order for the program so they can add their unique talents based on their areas of expertise.
Proper collaboration with vendors significantly supports you as a Master of Ceremony to ensure that every detail flows harmoniously together at your client's special occasion.
Traditional Vs Creative Wedding Scripts
Writing scripts for weddings can be challenging because there are both conventional and innovative options to choose from.
The choice between whether to opt for traditional wedding scripts or creative ones can also be tricky because both have their merits.
Traditional wedding scripts have been popular for ages.
They provide a sense of familiarity and offer comfort to those who prefer an organized event. Some traditional ideas include giving toasts that honor the couple, acknowledging the parents of the bride and groom, and introducing the wedding party.
Traditional wedding scripts offer a timeless appeal that takes the pressure off of trying something new for some people.
Such scripts create coherence by maintaining classic themes in activities such as throwing the bouquet and garter, cutting cake, and first dance.
On the other hand, creative scripts can be engaging and innovative in ways that leave guests surprised and help them remember the event long after it ended.
You may incorporate unique performances like cultural dances or celebrity impersonations into your script and tie it all together with exciting music choices.
In a way, choosing between traditional and creative scripts is akin to deciding between black or white color schemes for your wedding decorations.
Traditional ideas are classic but might be too expected while creative ideas are daring but require more effort to execute effectively.
At the end of the day, both traditional and creative wedding scripts are valid options that depend entirely on what you want your wedding reception to look like.
The ultimate goal should be striving towards achieving a balance in either taking well-loved customs and adding personal twists or wholly renovating every aspect of ceremony planning to make it unique.
Classic Toasts and Sentiments
When it comes to wedding receptions, classic toasts and sentiments always create an emotional atmosphere that can touch the hearts of everyone attending.
Starting with a toast to the newlyweds, the words spoken by the MC should be genuine and evoke feelings of joy and love.
The guests are there to celebrate the union of two people in love, so it's important to set the tone for the rest of the night.
An excellent way to start a toast is by telling a story about the couple that personalizes their journey towards marriage.
This could include how they met, memorable moments they shared or why they fell in love.
By sharing a story, you make it easy for guests who may not know your friend or family member well to connect on an emotional level with them and their partner.
However, to really capture the essence of your friend or loved one's relationship, it's crucial that your words come from the heart.
Avoid cliches and instead speak authentically.
Anybody can recite lines off a script but speaking from a personal place will help guests feel more connected to the couple and engaged with what you are saying.
While keeping things authentic is important, remember that your words will shape the emotion in the room.
It can be easy to get carried away with humor or stories that take too long when delivering a toast – this can lead to audiences becoming disinterested and distracted.
To avoid this happening, try rehearsing your speech beforehand.
Consider timing by pausing when necessary and practice curating an audience response when appropriate.
Moving on from traditional wedding speeches into more creative ideas allows for your guests to remain freshened in spirit throughout the long reception party.
Innovative Speech Ideas
If your friends are a quirky duo or don't enjoy being as sentimental, perhaps considering more innovative speech ideas is needed.
Here, it's important to remember to strike a balance between being fresh and creating an engaging atmosphere that still keeps with the spirit of a wedding celebration.
Consider ideas such as:
Remembering special references: you may want to consider incorporating a joke based on your friend's beloved coffee shop or chip van, even if it's silly these moments add personality.
Tell a story: perhaps incorporate teamwork and competition into the speech – maybe they met doing something unconventional such as participating in a beer pong tournament.
Singing instead of speaking: if one partner likes music or you have friends in attendance that are musically-inclined, have them lead the crowd in song.
Ultimately, successful speech ideas come down to the right tone for the specific couple being toasted.
When executing your Toasts, find ways to blend informality without sacrificing sincerity.
Whether it's hashtags for guests to tag their social media posts or making light of the stakes at hand by encouraging members of the audience to volunteer their advice for an upcoming anniversary- small details can leave a lasting impression on guests.
Yet there is also caution towards reverting too far outside of the box with creative ideas.
For instance, including wedding speeches that only cater to inside jokes-may throw outsiders off without a full understanding – making them not memorable in any way.
We've now seen how traditional speeches satiate many during the reception but creative ones keep things upbeat throughout- but how exactly do you craft a script catering to all this?
The next section dives deep into elements one should consider whilst writing their master of ceremonies script.
Creating Memorable Ceremony Scripts
The wedding ceremony is not only a time to exchange vows but also an opportunity to express your unique style and personality as a couple.
Hiring a master of ceremony for your reception ensures that the event flows smoothly and guests remain engaged throughout.
But how can you make sure that your script is memorable for all the right reasons?
Here are some factors to consider:
Start with a theme:
Every great script has a unifying conceptual thread that ties everything together. It could be as simple as "our favorite memories" or inspired by something more elaborate.
Either way, building your script around a theme will help give it coherence and structure.
Engage with personal stories:
People love hearing stories, and weddings are no exception.
Personal anecdotes about you and your partner's relationship can be a wonderful addition to your wedding script.
Share funny moments, challenges overcome, or sentimental experiences that you have shared together.
This not only entertains your guests but helps them connect more deeply with you as a couple.
Keep things focused:
While humor and storytelling can add depth and interest to your script, it's important to keep things focused on the two people getting married.
Too much rambling or tangential content can detract from the ceremony itself.
Make sure that any jokes or anecdotes tie back into honoring the couple in some way.
Use visual aids:
If appropriate for your venue and audience, putting up slideshows or pictures is an excellent way to engage guests during downtimes in the reception.
You might want to include photos of moments shared between you as a couple or snaps from childhood and family members.
Overall, remember that less is often more when it comes to crafting an engaging wedding script that won't run too long or become overwhelming.
Personalizing the Order of Events
Planning the order of events for your wedding can be a logistical challenge, but it's also a perfect opportunity to make your big day feel uniquely special.
Here are some tips for creating an event schedule that suits you and your partner:
Start with the basic structure:
While there is room for plenty of creativity when it comes to personalizing a wedding reception, there is a basic structure that everyone should follow.
This usually includes introductions, speeches, toasts, mealtime, cake cutting, first dance and entertainment.
Add personal touches:
One of the simplest ways to make your wedding feel special is by incorporating tailored elements throughout the schedule.
You might choose to incorporate traditional cultural elements or rituals that hold significance to you; perhaps alongside non-traditional customs as long as they remain respectful.
Consider timing:
Incorporate timing carefully by factoring in factors such as nature walk schedulesand daylight hours into the picture.
Be sure that guests have adequate time during each section without prolonging one phase more than expected.
Remember accessibility needs:
Always keep in mind anyone who might require special accommodations or attention during important parts of the ceremony or reception.
Having sign language interpreters present may be helpful amongst other things.
---
Fusing Tradition and Novelty in Your Script
One of the biggest challenges that a wedding emcee faces is creating a script that balances tradition with novel ideas.
While it's important to respect classic customs and values, including fresh concepts can make your wedding more memorable and personalized to the couple.
How can you achieve this balance?
One great way to mix tradition with novelty is by incorporating anecdotes and personalized stories about the couple.
You can use these stories to introduce each segment of the reception program, giving guests insight into the couple's background, interests, and shared memories.
For instance, you can recall how the couple first met or highlight some of their favorite travel destinations.
Guests will appreciate hearing unique details about the bride and groom and it will help them feel more connected to the couple.
Another technique for fusing tradition with innovation is by updating classic elements with a modern twist.
For example, instead of simply announcing the bride and groom's entrance, you can create a playful introduction that reflects their personalities.
Maybe they'll walk in to their favorite song or perform a fun dance routine.
These small touches add a bit of whimsy to the ceremony without taking away from its significance.
Some people worry that updating traditional elements might be perceived as disrespectful or inappropriate.
However, it's possible to change some aspects while still keeping the meaningful parts of each ritual intact.
For instance, instead of having everyone toss rice during the exit processional, you could substitute flower petals or bubbles.
The meaning behind throwing rice is good luck for fertility but has been lessened because when birds consume raw rice tends to kill them; therefore alternatives have become popular lately.
There are plenty of ways to strike a balance between classic and contemporary ideas in your wedding script.
Remember that each element should represent the couple's personalities and tastes rather than just filling traditional script requirements.
One of the ways to make the ceremony more personalized is by choosing music that resonates with the couple and their guests.
Music Choices and Entertainment Ideas
Music helps set the tone and mood for your wedding, so it's important to choose the right songs for each moment.
From the processional to the reception, your playlist should reflect both your personal style and your guests' preferences. Here are some tips for selecting music that will entertain everyone:
When selecting the music, consider incorporating both classic hits and current chart-toppers.
Older crowd favorites like "I Will Always Love You" by Whitney Houston could be perfect for a slow dance number while contemporary party hits like "Uptown Funk" by Mark Ronson will energize younger guests.
Choosing music is like cooking a meal.
You want to create a menu that complements each other from appetizer to dessert.
It's important to have variety but also keep in mind that some of the guests might prefer certain genres as opposed to others.
The most successful DJs know how to balance songs that appeal to different generations and personalities.
If you're concerned about engaging guests with longer attention spans, consider adding entertainment options beyond dancing.
A photo booth or games station can provide fun opportunities for all ages to interact and socialize.
Karaoke can also be a great way to get introverted guests out of their shells.
However, it's important not to go overboard with too many novel ideas at once.
They may provide entertaining diversions but always stay centered on what matters most: celebrating the couple's union.
Remember that selecting music plays an integral part in fusing tradition and novelty in your wedding reception program script.
Incorporating new activities is refreshing for your guests, but prevent it from becoming overwhelming.
Finding the correct balance will create an unforgettable evening.
---
Related Posts
---
---
---
Pins for Pinterest
If you like what you see, feel free to share some love on Pinterest ❤️
Master of Ceremony Wedding Scripts: How to Make a Reception Memorable
From discovering new songs to getting more gigs, I'm excited to share the wealth of knowledge I've gained through many years of DJing. [email protected]