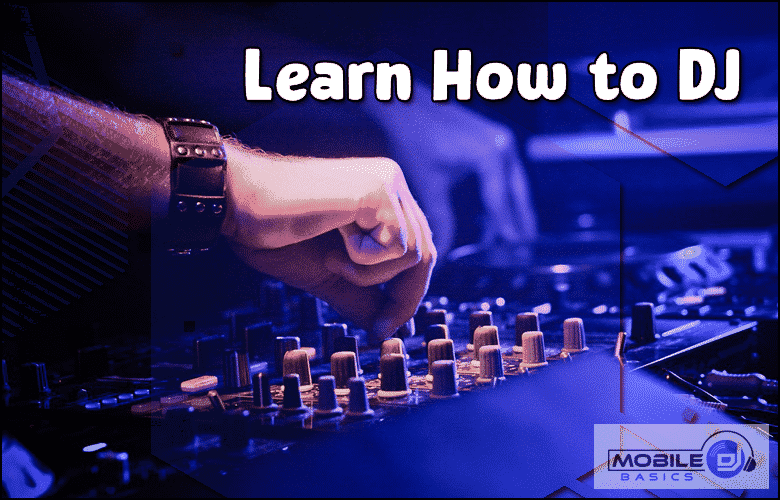 Do you have an affinity for music? Do you like to get the party started with a good mix? If so, then being a mobile DJ is right up your alley. This guide will help you start off on the right foot and take care of the basics before approaching this amazing career opportunity.
Being a DJ is an incredible way to express your creativity while making money. If you're interested in this type of gig, we've compiled some tips and tricks that can help get you started on becoming the best mobile DJ possible!
To do so, learning how to play music isn't all there is – it's about understanding what kind of career path suits YOU most and having a plan for success before ever putting any work into anything at all.
In our website, we'll cover every step necessary with detailed instructions and illustrations as well as answer common questions DJs might have when they are just starting out or experienced pros looking for something new!
Now, if you have a passion for DJing and want to pursue it as their career, then there are certain things you need to know.
From technical details to music-related, learning how to DJ is not just about mixing up songs. It is also about the people you are playing music for.
To help you out and to give you a kick start, this straightforward guide will help you get started as a DJ.
---
Your Beginners Guide To Becoming a DJ
DJing is a profession that has exploded in recent years. It's not uncommon to see DJs at weddings, birthday parties, clubs and other large events. If you're looking for an exciting career with lots of opportunities to express your creativity then you may want to consider becoming a DJ.
What Is The Best Approach For Beginning Your Journey as a new DJ?
Before we talk about how to DJ, it is essential to know what type of DJ you'd want to become. In my article – What Does DJ Stand For? I talk about 5 Types of DJs.
Radio
Mobile
Club/ Bar
Event
Touring
Each one is different. You do not need to be all of these. Try to focus on one area. And work on being very good at that area. I know a DJ that makes most of his money doing Bubble party for kids. I made most of my money doing Teen Events – Sweet 16, School Dances, and Proms. Other DJs make great money doing only mid-size weddings.
This website, we will focus on two types of DJs:
Mobile DJ
Mobile DJs are the second type of DJ. These DJs usually play music at School Dances, Birthday Parties, Sweet 16s, Proms, and Weddings.
Event DJ
Event DJ focuses more on corporate events and large weddings.
---
Full Time or Part Time
In the beginning, you will most likely be part-time. Part-time DJing is a great way to occupy your weekends with something you love. Having a "job" will help you make money to pay your bills. Hopefully, this "job" will not have you working Friday and Saturday nights. Side note – Event DJs don't only work Friday and Saturday nights. So, You will need to be flexible.
Full Time = All your money comes from being a DJ
Part-Time = Some of your money comes from being a DJ, and some come from a different "job."
---
Marketing
One thing crucial when it comes to getting yourself out there as a mobile DJ is figuring how best you'll market yourself – what would work better? Putting something online so everyone knows who you are without any effort from them or going around town posting posters everywhere advertising everything related with being able to book gigs through their website?
All of the hard work that you put into your new mobile DJ business will not matter if no one knows who you are or what services you offer. The key to marketing your new company is to get out there and make it known.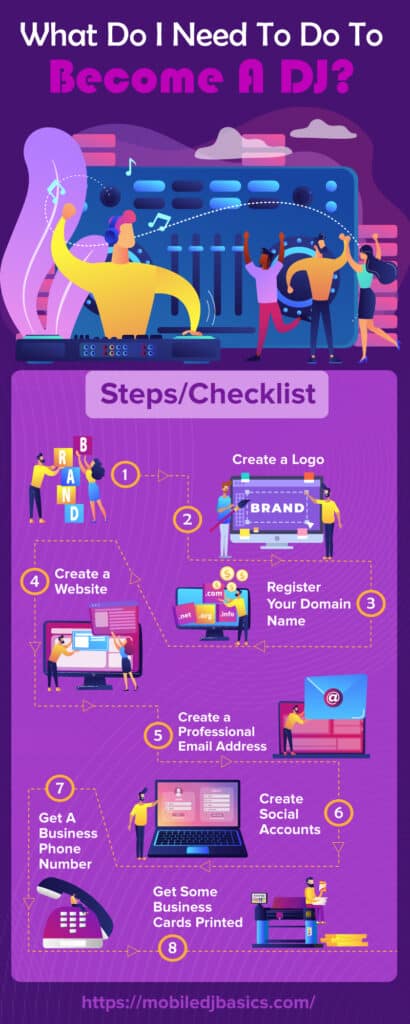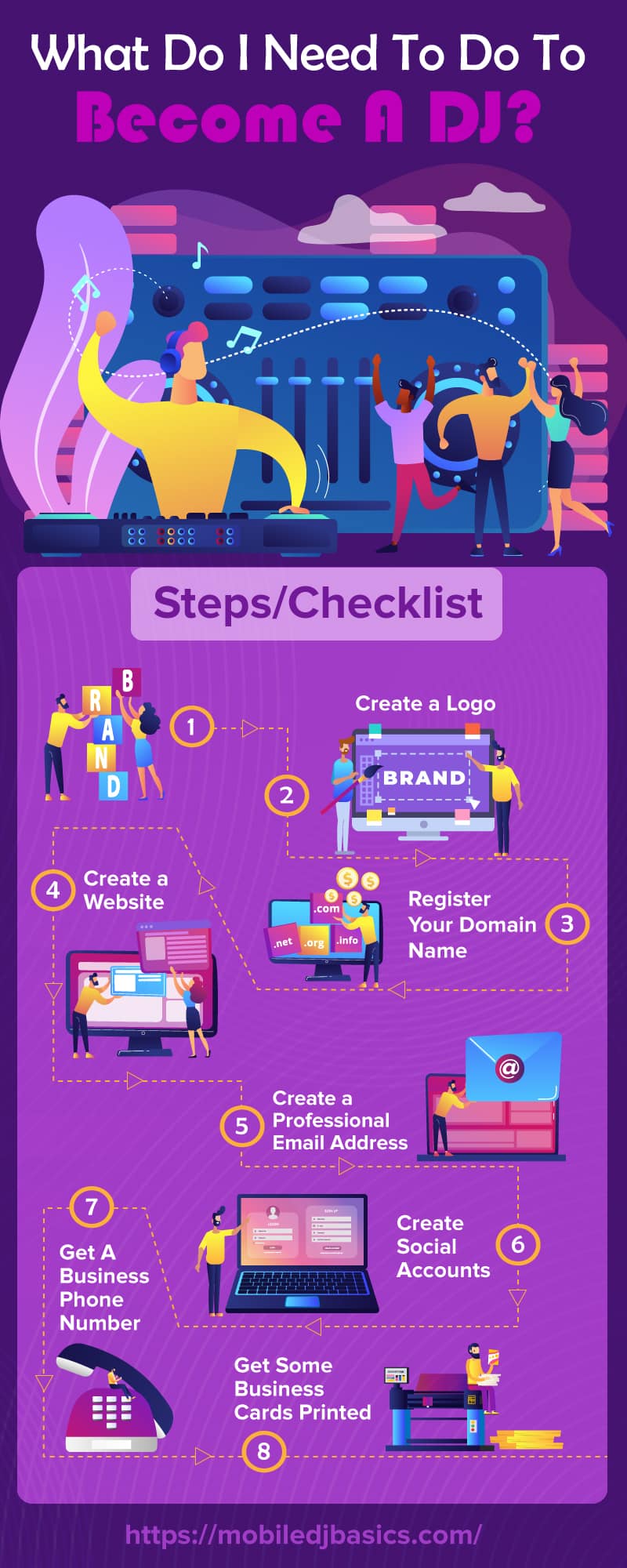 ---
Create Your Brand
---
Decide On A Company/DJ Name
Get Started – Figure out your company name. Save time and start with a google search. Finding the perfect DJ company name is just like finding your soulmate, but much easier!
So to make it easy on you – why not go ahead and use some of that spare time by doing an online search for local DJs? That should help you eliminate a couple of ideas.
Ask for feedback from friends and other DJs online.
Avoid hard to spell names.
---
Create a DJ Logo
The best way to show your dedication to this industry is by creating an original logo that will represent you in all aspects of DJing: from social media accounts like Facebook; SoundCloud profiles where DJs upload mixes they make themselves; event pages for parties or concerts which need promotional material such as flyers and posters—anything!
You can create your logo or go to Fiverr.com and get one made up cheap. I had one done for this website.  Create a DJ Logo Using Fiverr | I paid $17 For Two Effortless Logos
---
Register Your Domain Name
Register a Domain (yourDJcompany.com) from NameCheap (Affiliate Link). Find out if your company name is already registered. Pick a Domain with 2 or 3 words at the most. Avoid Hyphens It sucks to tell someone your email address with Hyphens – Example – [email protected]
---
Create a Website
In order to have a successful website you need two things: an online presence, and the ability for your customers to easily find it.
When purchasing a domain name make sure that you are able to access all of its important features such as how many pages can be created on one site or if there is any email functionality included in setting up the URL.
Once this has been established then put together some basic information for what visitors will see when they get redirected from their search engine results page; like contact info, pictures, videos and services offered by using well-known content management software platforms so people don't feel lost once they reach your homepage!
You could use a website builder (22 Best Free Website Builders). This is not the best option.
The best option is to build your own (or hire a website creator)
---
Create a Professional Email Address
People will trust you more if you have an actual l email address. Do not use your day job account or some silly Yahoo! address that screams "I'm a dork!"
First Name @ Yourwebsite.com or First and Last Name @ Yourwebsite.com
I would stay away from [email protected]
---
Create Your Social Accounts
It's time to get on the social media train and start networking with others in your industry. You'll need a user name (DJ Name), Company Name, an email address, maybe even some photos of yourself and your company for profile pictures! It can seem daunting at first but don't worry we're here to help you out through this process step by step.
Brand Your Name – Website URL – FB page – Instagram – Tik Tok – Twitter – YouTube – Twitch – LinkedIn – Snapchat – SoundCloud – AND Vimeo – Plus whatever is new.
You don't have to develop every channel. But when you want to start using one of them, your name will be available. Start with these:
Setup your Business Instagram account – add a profile picture and website link.
Create a LinkedIn account – add an accurate profile picture and add website link — Connect with me on LinkedIn
Post your site on local directories – Yelp – BBB – Nextdoor – Yellow Pages. You can also post on wedj.com or weddingwire.com – as long as you can list for free – do it everywhere.
Setup and Optimize Google My Business Listing
---
Get A Business Phone Number
You can use Google Voice for a 2nd phone number or a 2nd Line Business Phone Number APP.
Plenty of free and paid options to help you set up a 2nd phone line only for your business
Once you have a number setup – Record a Professional Voice Mail Greeting –
Hey, there. You've reached [your name]. Please leave me a brief message about the reason you are calling and your contact information. I will call you right back at the earliest opportunity. Have a nice day!
or
You have reached [your name] at [your company]. Thank you for calling. Please leave your name, number, and a message, and I will get back to you.
---
Get Some Business Cards Printed
Business cards are still relevant, and they're a great way to present your company while networking or meeting new clients. Why not take the time now to get some printed? – I like moo.com (Not an Affiliate Link)
Information that should be on the business card:
Full Name
Business Email
Instagram Account
LinkedIn Account
Business Phone Number
---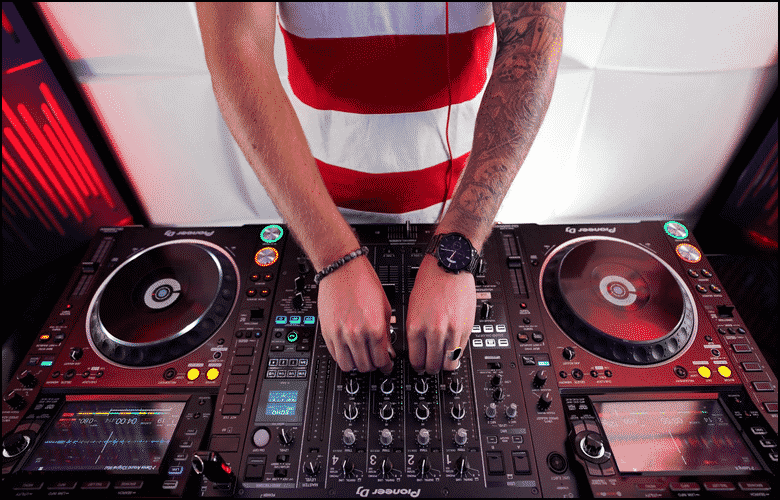 Sales
Are you looking for ways to generate sales and get noticed in the digital world? Do you want your business to stand out amongst those vying for attention online? If so, then this blog post comprises all of the marketing strategies needed. Implement them into your company's strategy now!
---
Word of Mouth
You start with your network of family and friends. Tell everyone that you are beginning to be a DJ. Find ways to DJ at people's House Parties, Birthday Parties, and Weddings.
The more events you DJ, the more people you will meet. Word of mouth will get you more shows. And some Mobile DJ companies do very well with just Word of Mouth.
---
Working for a Company
Doing all by yourself is the long and challenging way to be successful. If you have never DJ'd a wedding, how do you sell your services to a young couple.
You can start by working for a Multi-Op DJ Company. A Multi-Op DJ Company books more than one DJ. They do multiple events every week. They can teach you how to DJ their events – Plus, they provide music and equipment. They are also the ones who find the weddings for you to work. Working for a company is an excellent way for a beginner DJ to get started.
If you work for a good company, you will not DJ alone. You will learn from other DJs and see how they do things – everything from – what they play – when they play it, and how to Mc the event.
I wrote about How to MC a Wedding here How To MC a Wedding | Get Creative | Be Relaxed | 7 Essential Tips This is a great way to get a lot of experience in a short amount of time.
---
School Events
School Events can be different. You will need to make contact with the people that are booking the dances. In some schools, it is the Student Council – others, it is different student groups for each event. The Prom Committee is also separate from school dances.
I liked postcards. Every year I would mail out eight different postcards addressed to the student activities director. 4 times a year, I would drop off a full-page flier to the front desk and ask them to give it to the people in charge of the dances.
The problem with this method – it is random. I wish I made a more focused approach. Finding out the name of the person in charge and mail the postcards directly to them. I still booked a lot of school events. But I know I could have booked more.
It is hard to schedule time with a teacher or administrator. They always have students that need their attention. Trying to call or Email – I feel it is a waste of time.
---
Try to Get on a Venue Preferred Vendor List
If you have worked with one venue for a substantial amount of time, they may add you to their preferred vendor list. Being on the Preferred Vendor List – means that when somebody books an event at that venue, their brochure will show your name under the entertainment section. You gain a ton of credibility this way.
---
Online Presence
Advertising as a wedding and event DJ is one way you will be able to get clients. Thankfully, there are loads of ways to do this. We're going to take a look at the five best ways.
Be Present on Review Websites
A quick internet search will show you the copious amounts of review websites out there. As a DJ, you need to ensure your clients have written good reviews about you here. These reviews are a sure-fire way to get more customers.
If you're interested in the most popular review sites, check out these:
Yelp
Better Business Bureau
Another great website to post reviews – is on your site. Just like this company does Bellagala
---
Setup Your Google My Business Listing
Google My Business is  essential. Why? Because it allows your DJ enterprise to show up when it's most needed.
As soon as someone in your area searches for event or wedding DJs, your Google My Business page will show up in the results under the map at the very top of the page. Google My Business (GMB) might seem like it would be tricky to set up, but we promise you it's simple!
Just head to Google, and the search engine will hold your hand through the whole process.
---
Get Yourself on Online Directories
Online Directories are a giant book of DJs in various areas. You need> to be on these directories if you are trying to make it in the wedding world. People want to know that you are reliable, and staking your claim amongst the big boys is the way to do just that.
---
Be Present on WeddingWire and The Knot
WeddingWire is an online international marketplace that allows happy couples to connect with wedding experts in their area. The site has a stockpile of everybody from photographers to caterers to DJs.
---
Skills
When it comes to learning how to DJ, there are three essential things you need: the software (which can be downloaded online for free), basic mixing skills and a set of professional quality headphones.
If you're serious about rocking out at your next house party or high-end wedding then these three items will have you covered from start to finish!
---
1.Learn About The Software
For mixing up the songs and beats to make a track, you need good software. Today, in the market, there are many software platforms available such as:
Best DJ Software for Music | Highly Effective Free and Paid Options 2021
Rekordbox
Pioneer has come ahead with a music management platform for DJs named Rekordbox. (you can download the software here) This platform has plenty of uses, such as:
• Great for importing music
• Can create new playlists
• Useful for setting cue points
• Useful for other preparation work
The export mode gives you access to copy your library on the USB. You can then play it on any hardware device.
If you want your laptop to act as DJ players, you can also go for the 'Performance Mode.' Additionally, you can use a mouse or keyboard or other devices for mixing the songs virtually, such as the Pioneer DJ controller).
Most of the features here are free. However, you can also go for an upgraded version with additional features for ease and better quality.
Rekordbox software is the best software for those aspiring to become club DJ artists. It is also great for those wanting to use their laptop and USB for accessing their beats.
Serato
Another great type of software is Serato. Unlike Pioneer, they don't have their type of hardware. However, they work with various other kinds of hardware manufacturers, making it the best and most accessible software with any hardware.
In this software, you get two options such as:
Serato DJ Lite: This software is excellent if you want to mix two channels. The 'practice mode' here also doesn't require you to use any hardware if you're learning how to DJ.
Serato DJ Pro: This option is suitable for those who are a pro at being a DJ. It offers various premium features and thus, can cost around $130.
We recommend going for Serato if you want to access various hardware options.
Traktor
Traktor, by Native Instruments, is also a pretty popular software choice for DJ artists today. It is highly preferable for techno lovers with its various stem abilities and remix decks.
However, the only major con here is that you need to have the same company's hardware, Native Instruments. This software doesn't work with other hardware. Yet, once you have both of them, the entire DJ system is relatively safe, reliable, and has plenty of features, with the best FX.
There is also plenty of other DJs software present, such as Virtual DJ, Mixxx, Djay Pro, etc. In this article, we talk about them – Highly Effective DJ Software | Best Free and Paid Options 2022 So, do your research and find the best software as per your needs.
After this, the next step is to learn some essential tips and tricks for the DJ.
---
2.Learn Some of the Basic DJ Skills
Here are some of the most important and most basic DJ skills you need to know.
Let's take a quick look at all of them.
Beat match the Songs:
Learning how to beat match your songs can help you become more confident and accomplished as a DJ.
So, now what exactly is beatmatching?
In simple words, beat matching refers to playing two different tracks at the same tempo and the Phase. Here, tempo refers to the speed, while Phase refers to the synchronization of both the beats.
For adjusting the tempo of the song, you need to use the player's pitch fader. On the other hand, you can go for using a jog wheel for adjusting the Phase, touching one of your playing records, or pushing the pitch bend button.
Gain Control
Gain controlling helps whenever you need to change the level of the volume of the tracks or sounds.
To know how to do this, you will see a gain knob on every mixer channel. Gain control helps in changing the levels by watching the meters.
Now, every mixer channel also has a line fader that adjusts the number of signals you're sending to the main output. You can also find a crossfader. Crossfader helps in fading between two channels with the help of the left and right movements.
Various DJ software has a specific gain structure. So, make sure you read up the manual. Also, ensure you stay out of the red and instead use an amp or speaker to increase the volume.
Equalizing or EQing
One of the most critical aspects of the DJ is to be able to blend various tracks. So, equalizing can help in altering frequencies and mixing tracks.
However, remember that equalizing may not help make a bad mix better, but it can help smooth the music tracks -Thus, equalizing can help reduce messy tracks and mixes.
These are some of the basic skills you need to learn when it comes to DJ. The next part is getting to know the DJ hardware.
---
3.Get to Know Your DJ Hardware
Becoming a DJ doesn't require you to have specific hardware always. You can do it using a laptop too. Yet, if you wish to become more professional and advanced in your approach, it is a good idea to get some DJ hardware such as:
DJ Controller Setup:
One of the DJ hardware is the controller setup. These DJ controllers help in giving hands-on control of the DJ software. You can mix the beats and manipulate them without the hassle of your mouse or keyboard.
If you go for an all-in-one controller setup, you can almost get everything for mixing and recording the music. Their range usually starts at $100. Take a look at – The 7 DJ Controllers On The Market and 7 Best Under $500
Vinyl Setup:
If you're looking out for mixing actual records, then a vinyl setup is a great option. 2 turntables and a DJ mixer. It is also great for those wanting to learn how to DJ from scratch.
Now, plenty of DJ artists may not prefer it due to the hassle of mixing records, along with the overall expense.
However, if you feel like the vinyl setup is your thing, go for it.
CDJ Setup:
This type of setup- 2 CDJ and a DJ mixer – is the most common and is found in plenty of places such as nightclubs, concert arenas, fests, and many more. Initially, CDJs were used to play music from components such as compact discs. Yet, the newly-developed CDJs can also directly play music from the USB drive.
---
What Music Do You Need?
For the most part, you will need a large selection of music. Each event you do is different. Record Pools and subscription services will help you build your DJ Library.
---
What Equipment Do I Need To Be a DJ?
When you start DJing, you will need – Music, a Laptop Computer, DJ Software, a DJ Controller, and a Good Set of Headphones. Beginning with that equipment, you will be able to practice and get ready for your first event.
Buy or Rent
You do not need to buy all the gear right away. Please don't. But I would spend money on getting Music (Weddings, School Dance, Party Songs), DJ Computer, Large External SSD, DJ Software, DJ Controller, Wireless Mics, and a good set of DJ headphones.
After you have that – buy two speakers. I listed my top 10 here, but I would only buy 1-5. You can rent a wireless mic, lights, and subwoofers when you need them.
Find a local company that has DJ lights and DJ gear. Plan on renting the DJ equipment you need. This way, you can try out different DJ setups and additional gear and find what you like.
Plus some events, you might need more lighting – so rent more lighting. You will not have to worry about buying more lights for that one event.
Transporting all your gear can also be a problem. Should you buy a new vehicle or rent? Best Vehicles for DJs | Should You Buy or Rent | 2022
Story – I bought a DJ case when I started, from the money I had saved up. It was custom-built (my design). Everything I needed fit in that case. It was great on paper. Then I got it. It was 6′ wide, 2′ tall, and 2′ wide.
It was Heavy. The first time I was going to use it was at a couple's wedding. I was setting up by myself. I had to carry(drag) that case up a flight of stairs to the banquet hall. After that event, the Case never left the house again.
---
How Much Does To Cost To Be a DJ?
With the DJ Equipment, you need to start. It will be around $1730. You will need a laptop ($1200), DJ Software (free), DJ Controller ($330), and DJ Headphones ($200). Try not to buy cheap gear just so you have the equipment.
After you have that gear, spend $1300+ on speakers and speaker stands. Buy the bags for the speakers and stands to help them look good for many years. Cheap speakers are acceptable for your basement, but having the wrong gear for an event will not help you with your word of mouth.
---
Find Mentors
Find a mentor who has achieved success as a DJ and you will learn how to DJ too! Everyone needs someone that they can follow.
I had some mentors when I started, but in hindsight now 18 years later – They were not the right people to listen to.
Look for successful DJs with whom you share common ground and one day might be just like them; happy, diligent workers following their passion every step of the way.
Find a mentor who has achieved success as a DJ and you will learn how to get there too!
---
DJ Links and Resources
Set aside time during the day to learn about the DJ business – Connect with other DJs on Instagram, in Facebook Groups, and on DJ Forums. These people below share everything you need to know about being a DJ.
Best DJ YouTube Channels to Follow in 2022
Best DJ Books Every Professional Should Know | Buying Guide 2022
Fortunately, there are plenty of different resources available that will help you learn how to become a mobile DJ without breaking your budget!
---
Conclusion
If you're looking for a way to express your creativity while still making money, DJing may be the perfect gig! The tips and tricks we've outlined can help get you started on becoming an incredible mobile DJ.
Learning how to DJ is all about recognizing your goals, having a full-proof plan, and a proper understanding of how to follow each step.
In this guide, we have tried our best to cover every step appropriately to help you out. So, we hope you'll follow through with it and pave your path as a successful DJ. Want to Learn how to DJ?  It can be a great full-time job or just fun on the occasional weekend.
---
Read More
---
---
Pins for Pinterest
If you like what you see, feel free to share some love on Pinterest <3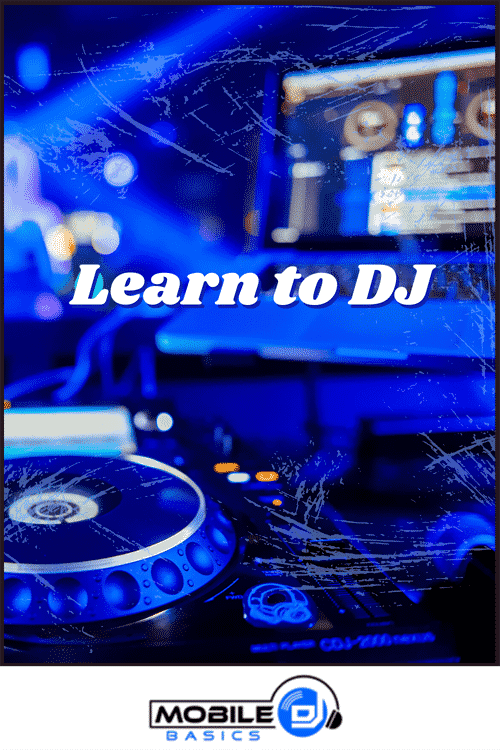 Learn How to DJ | 8 Useful Things You Should Still Do Before You Start