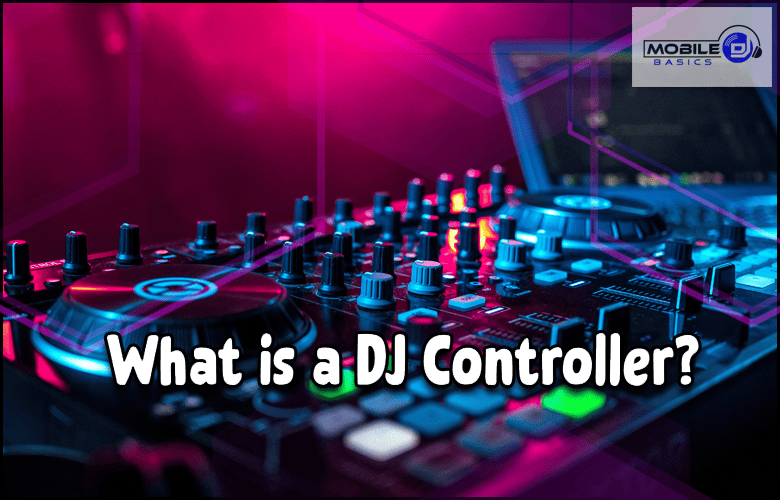 Last Updated on September 18, 2023 by Ryan Conlon | 🕒 5 min Read Time
---
What is a DJ controller? If you're new to the world of DJing, you may have heard this term before.
It's essentially a piece of equipment that sits between your computer and your speakers, and it gives you hands-on control over the music you're playing.
DJ controllers come in a wide range of sizes and shapes, but they all serve the same basic purpose: to help you create seamless, professional-grade mixes.
They can also be customized with different features and functions to suit your specific needs as a DJ, making them a versatile tool for music production and performance.
In this article, we'll take an in-depth look at what DJ controllers are, how they work, and why they're an essential piece of equipment for any aspiring DJ.
What is a DJ Controller?
A DJ controller is a device used by DJs to mix music using various components such as knobs, jog wheels, faders, encoders and other buttons. A DJ controller sends signals to the computer running the DJ software for audio mixing. Most controllers have built-in sound cards for previewing tracks in headphones before they are output. They generally use MIDI or HID protocols to communicate with the computer via USB.
---
What are the benefits of using a DJ controller?
Using a DJ controller for mixing music has revolutionized the DJ industry.
DJ controllers are an all in one unit that provide ease and convenience when compared to traditional set-ups with separate components.
Most DJ controllers allow a DJ to mix tracks from up to four decks all in one unit using computer software like Serato DJ, Traktor or Virtual DJ.
This allows the DJ to perform with the confidence that all the controls they need are at their fingertips, including volume controls, EQ, and FX.
DJ controllers offer the ability to control DJ software and come packed with features like a sync function, which automatically matches the BPM of the tracks being played.
Furthermore, they feature LCD screens, which give the DJ visual feedback and make it easy to navigate between audio sources.
The best DJ controllers also have jog-wheels and touch-based controls that mimic the feel and functionality of traditional DJ turntables, giving DJs an option to choose from both worlds.
One of the major benefits of using a DJ controller is that it is a standalone unit that does not require a separate mixer or computer software.
With a DJ controller, all the essential controls are in one place, making it easier to mix and control music.
It eliminates the need for separate components, making it easier to transport and set up.
DJ controllers also offer a more efficient way for DJs to create sets, as they can save their cues, loops, and playlists within the software and easily recall them for future performances.
In conclusion, it is easy to see the advantages of using a DJ controller.
They offer a faster, more efficient and more powerful way to control music.
They also offer a more affordable and portable solution when compared to traditional setups.
Therefore, it is no surprise that the best DJ controllers are now the go-to tool for DJ's of all skill levels.
If you're looking to step up your DJ game, a DJ controller is a wise investment to make for your next gig.
---
Types of DJ Controllers and Their Features
When it comes to DJ controllers, there is a wide range of options available on the market, each catering to different needs and skill levels.
Understanding the types of DJ controllers and their features can help beginners and professionals alike make informed decisions about their equipment choices.
DJ controllers can be broadly categorized into two main types: beginner-friendly controllers and advanced controllers for professionals.
Let's take a closer look at each type and the features they offer.
Beginner-friendly DJ Controller
For those who are just starting their journey as DJs, beginner-friendly controllers provide an excellent entry point. These controllers focus on simplicity and ease of use while still offering key features to learn and develop your skills.
One popular beginner-friendly controller is the Pioneer DDJ-FLX4.
It is Pioneer's flagship entry-level DJ controller that works with various software like rekordbox, Serato, and Algoriddim's djay.
With its 2-deck, 2-channel layout, it provides a user-friendly interface. The integration with streaming services allows access to a vast library of tracks.
The back-lit rubber performance pads enable easy triggering of hot cues, loops, and effects. With USB-C connectivity, it ensures fast and reliable connections.
Another notable option is the Traktor Kontrol S2 Mk3 from Native Instruments.
Bundled with the Traktor Pro DJ software, this controller offers a simplified yet powerful experience for beginners.
Its 2-channel mixer, touch-sensitive wheels, and multi-function performance pads provide intuitive control over mixing and effects.
The hyper-accurate pitch fader allows precise adjustments to match beats seamlessly.
These beginner-friendly controllers prioritize user-friendliness without compromising on essential features necessary for early-stage DJs to learn the fundamentals of mixing, beatmatching, and track selection.
They strike a balance between functionality and affordability, making them ideal choices for aspiring DJs, hobbyists, and anyone looking to have some fun at house parties.
For example, imagine a beginner DJ who wants to learn the basics of mixing and transitioning between songs. They decide to invest in a Pioneer DDJ-FLX4 controller.
With its user-friendly interface and integration with DJ software like rekordbox, the beginner can navigate through tracks easily and experiment with different effects and hot cues.
As they gain confidence and skills, they can gradually explore more advanced features on this controller or consider upgrading to a more professional-grade option.
It's important for beginners to consider their specific needs and goals when choosing a DJ controller.
While these beginner-friendly controllers may have limitations compared to their advanced counterparts, they provide an excellent starting point for beginners to develop their skills and understanding of DJing.
Now that we've explored the features of beginner-friendly DJ controllers, let's shift our focus to advanced DJ controllers designed for professionals.
These controllers offer a wider range of features and capabilities to meet the demands of seasoned DJs.
Beginner-friendly controllers like the Pioneer DDJ-FLX4 and Traktor Kontrol S2 Mk3 offer easy entry into DJing while still providing essential features to learn and develop skills.
These controllers strike a balance between functionality and affordability, making them ideal for aspiring DJs, hobbyists, and anyone looking to experiment with mixing at house parties.
While they may have limitations compared to advanced controllers, they serve as valuable tools to nurture passion for music and build confidence in exploring creativity.
Each step in the journey of becoming a DJ contributes to personal growth as an artist.

Advanced DJ Controllers for Professionals
For professional DJs who have honed their skills and are ready to take their performances to the next level, investing in an advanced DJ controller can greatly enhance their capabilities.
These controllers offer an array of features and functionalities that cater specifically to the needs of experienced DJs.
Let's delve into some of the key aspects of advanced DJ controllers that professionals should consider.
One crucial factor to consider when choosing an advanced DJ controller is compatibility with professional software programs such as Serato DJ Pro, rekordbox, or Traktor.
The ability to seamlessly integrate with these software platforms ensures a smooth workflow and access to a wide range of creative tools and effects.
Imagine being able to effortlessly manipulate tracks using intuitive controls integrated with your favorite software, allowing you to create seamless transitions and unique remixes on the fly.
Another essential feature of advanced DJ controllers is high-quality wheels.
These mechanical or capacitive jog wheels provide precise control over track playback, allowing DJs to scratch, cue, and mix with precision.
Additionally, some controllers offer displays built into the wheels, providing visual feedback on track information such as waveform display, BPM, and time remaining.
Think of high-quality wheels like the steering wheel of a sports car – smooth, responsive, and designed for exceptional performance.
Furthermore, professional DJ controllers often come equipped with an extensive array of performance pads and buttons.
These pads allow DJs to trigger samples, loops, hot cues, and other creative elements during live performances.
Having quick access to these performance-enhancing features can elevate a DJ's set by adding layers of complexity and personalization.
Additionally, advanced DJ controllers may offer built-in mixer sections with dedicated EQ controls, filter knobs, and faders.
This integrated mixer functionality allows DJs to fine-tune their mixes on the go without relying on external hardware.
Now that we have explored the key features and functionalities of advanced DJ controllers, let's move on to discussing the essential steps involved in setting up a DJ controller for optimal performance.
---
The journey of becoming a DJ often starts with humble beginnings. Beginner-friendly controllers serve as valuable tools to nurture your passion for music and mixing. They provide an accessible entry point into the world of DJing, building your confidence and allowing you to explore your creativity without overwhelming complexity. As you grow as a DJ, you'll discover new horizons and set your sights on more advanced equipment. Keep pushing forward, and remember that each step in your journey contributes to your growth as an artist.
---
DJ Controller VS Other DJ Equipment
When it comes to choosing the right gear for DJing, one of the primary considerations is whether to opt for a DJ controller or other DJ equipment like turntables, or CDJs.
So, let's explore the key differences between DJ controllers and other DJ equipment.
A DJ controller offers an all-in-one solution that combines a mixer, jog wheels or pads for track manipulation, knobs and sliders for control, and integrated sound cards.
It provides a compact and portable solution that simplifies setup and transportation without compromising functionality.
With a wide range of features and effects accessible through dedicated buttons and knobs, DJ controllers are versatile tools suitable for various styles of DJ performances.
On the other hand, more traditional gear like turntables or CDJs offer a tactile experience that many DJs find appealing.
The touch and feel of vinyl records or the solid build quality of professional-grade CDJs can create a unique connection between the DJ and music.
Purists often argue that using turntables with vinyl records allows for greater creativity and expression in manipulating tracks.
However, it's important to note that technological advancements have bridged the gap between DJ controllers and other gear.
DJ controllers now offer features like vinyl control emulation and motorized wheels, allowing DJs to experience the best of both worlds.
Additionally, many professional DJs have embraced controllers as their primary choice due to their convenience, portability, and powerful software integration.
Ultimately, the decision between a DJ controller and other DJ equipment depends on personal preference, style of performance, and budget considerations.
Each option has its merits and caters to different needs and aspirations.
Whether you choose the tactile experience of vinyl or embrace the versatility of a DJ controller, what matters most is your passion for music and your ability to connect with the crowd.
Now that we've explored the differences between DJ controllers and other DJ equipment, let's take a closer look at utilizing portable audio devices with DJ controllers.
---
DJ Controller VS DJ Mixer
When it comes to the world of DJs and their equipment, two pieces that tend to get compared a lot are the DJ controller and the DJ mixer.
Traditionally, the setup for a DJ would include the audio mixer, which allowed the DJ to mix different signals and manipulate them in real-time.
But with the advent of technology, many DJ controllers have hit the market that perform similar functions to the traditional setup without requiring the use of a separate audio mixer.
One key difference between a DJ mixer and a DJ controller is how they work.
A DJ mixer takes multiple signals from turntables, CDs, or other sources, and lets the DJ manipulate them through various techniques like scratching, cueing, and adjusting tempo.
DJ controllers work in a similar way, but instead of separate turntables or CDs, they rely on a laptop computer and a soundcard to process audio signals.
Another difference is the level of skill required by the DJ.
Traditional setups with audio mixers and vinyl turntables require a high level of skill to operate correctly, and beginner DJs may find it challenging to get started.
DJ controllers, on the other hand, are generally more accessible to beginners as they usually have platters and features that mimic vinyl turntables, making it easier to experiment with DJ skills.
When it comes to sound quality, there's not much difference between the two.
Both DJ controllers and DJ mixers allow for the manipulation of signals, and as long as the equipment is of decent quality, there should be no discernable difference in sound quality.
In terms of headphone and microphone usage, both DJ controllers and DJ mixers come with their own built-in jacks.
The difference is that most DJ controllers offer a direct USB connection to the laptop or computer, while traditional DJ mixers have to rely on analogue inputs.
Both the DJ mixer and DJ controller have their own advantages and disadvantages.
While the traditional setup may require more expertise, DJ controllers offer more accessible options for beginners.
Ultimately, it comes down to personal preference and the type of party or event you're hosting.

---
Using Portable Audio Devices with DJ Controller
One of the great advantages of DJ controllers is their ability to work seamlessly with portable audio devices, allowing DJs to expand their music library and perform on the go.
Whether you're a beginner or professional DJ, incorporating portable audio devices into your setup can bring flexibility, convenience, and a wide range of music options to your performances.
In today's digital age, portable audio devices like smartphones, tablets, and USB drives have become a popular way to carry and access music.
With a DJ controller, you can easily connect these devices and use them as a source for your tracks.
This means that you can quickly browse through your playlists, select songs, and mix them seamlessly without relying solely on a computer or laptop.
Consider this scenario – imagine you're performing at an outdoor event or a small venue where hauling around a laptop might not be feasible or ideal.
In such situations, using a portable audio device connected to your DJ controller allows you to have a compact setup while still delivering an exceptional performance.
You can simply load up your playlists or even stream music directly from services like Spotify or SoundCloud.
Now let's discuss the different methods through which you can connect portable audio devices to your DJ controller.
There are typically two main ways to connect portable audio devices to a DJ controller: using USB connections and using auxiliary (AUX) connections.
Using USB connections is one of the most common and straightforward methods.
Many modern DJ controllers feature USB ports that allow you to directly connect your smartphone, tablet, or USB drive.
Once connected, the device will appear as a storage device on your controller's interface, giving you easy access to your music library.
Using auxiliary connections involves connecting your portable audio device to the auxiliary input/output ports on your DJ controller.
This method requires an appropriate cable, such as a 3.5mm to RCA cable or a USB-C to 3.5mm adapter, depending on the specific devices you're using.
Once connected, you can route the audio from your device through the controller, allowing you to mix and manipulate the tracks alongside other sources connected to your controller.
---
Conclusion
In the end, it is evident that a DJ controller is a useful tool for creating and producing different kinds of music.
This complex equipment can be used to mix, blend, loop and scratch sounds together to create new tracks.
As technology continues to advance, so too does the capabilities of a DJ controller.
More advanced features are being added all the time; from soundboards with button pads and wheels, to turntable simulators that allow you to recreate classic vinyl effects.
With a DJ controller, the possibilities for creativity and experimentation are limitless.
It's no wonder why so many aspiring DJs find these controllers incredibly appealing; they truly give anyone the ability to bring their dream mixes into fruition.
---
Related Posts
---
---
---
Pins for Pinterest
If you like what you see, feel free to share some love on Pinterest ❤️
What is a DJ Controller? Exploring the Heart of DJing Technology 2023
From discovering new songs to getting more gigs, I'm excited to share the wealth of knowledge I've gained through many years of DJing. [email protected]