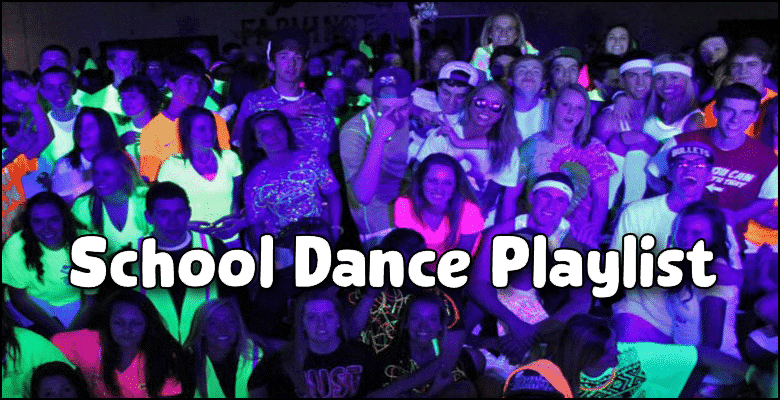 We make this song list to help School Dance DJs find New Music for the school events that they DJ. Read our Article about >>  How do DJs find new Music?  It can be a challenge to keep up with all the new music that the students listen to. Besides finding new songs – you will also need to figure out if the content of the song is appropriate for your event. Clean or radio versions of the songs would be preferred.
Song Lists Updated Monthly
New School Dance Playlist 2021
Song Lists for High School, Jr High School and Middle School Dances
Olivia Rodrigo – drivers license (Clean Version)
Dixie D'Amelio – One Whole Day (Clean Version)
Troye Sivan, Kacey Musgraves – Easy
BTS – Life Goes On
Blackbear & Wiz Khalifa – CHEERS
Playboi Carti – Slay3r (Clean Version)
The Kid LAROI – ALWAYS DO (Clean Version)
Dixie D'Amelio – Roommates
24kGoldn – Coco ft. DaBaby(Clean Version)
Jason Derulo x Nuka – Love Not War
Selena Gomez – De Una Vez
Tate McRae – r u ok
All Time Low – Monsters (Clean Version)
Eminem & Skylar Grey – Black Magic (Clean Version)
Why Don't We – Slow Down
Taylor Swift – long story short
Dua Lipa, Angèle – Fever
ROLE MODEL – Blind
AJR – Bang!
Foster – fools (can't help falling in love)
Tai Verdes – Stuck in The Middle
Shawn Mendes – Call My Friends
Black Eyed Peas, Shakira – GIRL LIKE ME
YUNGBLUD feat. Machine Gun Kelly – acting like that
New School Dance Songs
EBEN – It's Not You, It's Me
Ed Sheeran – Afterglow
The Kid LAROI – WITHOUT YOU (Clean Version)
MEDUZA – Paradise
ILLENIUM and Dabin Feat. Lights – Hearts On Fire
Pink Sweat$ – At My Worst
Sara Kays – Remember That Night?
Miley Cyrus – Plastic Hearts
Juice WRLD & The Kid Laroi – Reminds Me Of You (Clean Version)
Swae Lee – Dance Like No One's Watching (Clean Version)
Declan J Donovan – Perfectly Imperfect
Ant Clemons – Better Days ft. Justin Timberlake
Slow Songs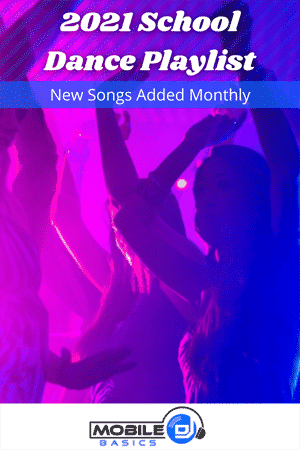 Shawn Mendes, Justin Bieber – Monster
Jhené Aiko – A&B
Alexander 23, Jeremy Zucker – Nothing's The Same
Ariana Grande – POV
taylor swift – willow
SZA – Good Days
Anson Seabra – Walked Through Hell
Phora – Stars In The Sky ft. Jhené Aiko
Justin Bieber – Holy
Lewis Capaldi – Before You Go
Taylor Swift – Cardigan
Lauv – Fake (Clean Version)
JP Saxe – If the World Was Ending (Clean Version)
Dance
Tiësto – The Business
Gryffin – Safe With Me
Bad Bunny x Jhay Cortez – Dákiti
Raye & Rudimental – Regardless
SOFI TUKKER & Novak & YAX.X – Emergency
Topic & A7s – Breaking Me
Purple Disco Machine – Hypnotized
ILLENIUM – Nightlight
Timmy Trumpet x Vengaboys – Up & Down
---
New Country Hits 2021

Eric Church – Doing Life With Me
Kidd G – Teenage Dream
Lee Brice – Soul
Brothers Osborne – All Night
Thomas Rhett – What's Your Country Song
Robyn Ottolini – F-150
Priscilla Block – Just About Over You
Morgan Wallen – Still Goin Down
Nelly, Florida Georgia Line – Lil Bit
Russell Dickerson – It's About Time
Dierks Bentley – Gone
Luke Bryan – Down To One
New Country Slow Songs
Eric Church – Through My Ray-Bans
Kane Brown – Worship You
CHASE WRIGHT – Wish You'd Miss Me
Gone West – I'm Never Getting Over You
Morgan Wallen – 7 Summers
Gabby Barrett – The Good Ones
Luke Combs – Forever After All
Always find Clean Versions of the Songs You Play
---
---

Prom 2021 Slow Songs
Here Are Some Songs For Your 2021 Prom Dance
Taylor Swift – Willow
Jake Owen – Made For You
Blake Shelton – Nobody But You
Kane Brown – Worship You
Andy Grammer – I Am Yours
Taylor Swift – Lover (First Dance Remix)
Luke Combs – Better Together
Niall Horan – Black And White (Stripped / Audio)
Justin Bieber – Holy
Russell Dickerson – Yours
Surf Mesa – ily (i love you baby)
Classic Prom Slow Songs
Taylor Swift – Forever and Always (Piano Version)
Christina Perri – A Thousand Years
Ed Sheeran – Perfect
Lewis Capaldi – Someone You Loved
John Legend – All of Me
Dan+Shay – Speechless
Edwin McCain – I'll Be
---
Top Songs | School Dance Playlists 2020

These are good songs for High School, Jr High and Middle School Dances 2020
BLACKPINK – Ice Cream
24kGoldn – Mood
BTS – Dynamite
Jason Derulo – Savage Love
24kGoldn – Mood (Clean Version)
Justin Bieber – Lonely (Clean Version)
Surf Mesa – ily (i love you baby)
Shawn Mendes – Wonder
Machine Gun Kelly – Forget Me Too
Ariana Grande – positions
Doja Cat – Say So
Joel Corry x MNEK – Head & Heart
BLACKPINK – How You Like That
Chloe x Halle – Do It
Gabby Barrett – I Hope
Lady Gaga, Ariana Grande – Rain On Me
Dua Lipa – Break My Heart
Selena Gomez – Rare
Harry Styles – Adore You
DaBaby – ROCKSTAR
---
What Was the Most Played Song in 2020?
The most played song from 2020 was The Weeknd – Blinding Lights. It was the most streamed song. Plus you heard the song everywhere.
---
Classic School Dance Songs
Past Favorite Songs Played at High School Dances
Cupid – Cupid Shuffle
Taylor Swift – Shake It Off
Billie Eilish – Bad Guy
Mark Ronson – Uptown Funk
Luis Fonsi – Despacito
The Black Eyed Peas – I Gotta Feeling
Justin Timberlake – Can't Stop the Feeling
Miley Cyrus – Party In The U.S.A.
One Direction – What Makes You Beautiful
---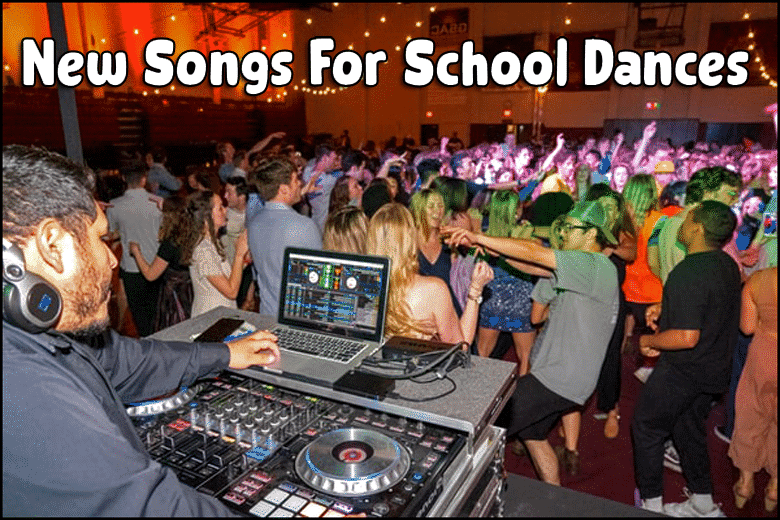 High School and Middle School events have been a social pastime for as long as we can remember. From homecoming, Prom, Snoball, spring parties, to the Valentine's Day Ball. There's a dance for just about everything depending on where you are.
Of course, what makes or breaks a dance is the Music that is played.
Students can tolerate just about any shortcomings when planning a dance. A not-so bangin' school dance, however, can have the students heading for the door faster than the bell itself!
Music isn't just the staple to any event– it is the event. It's good to keep the following in mind when curating a High School or Middle School Dance song list:
Students Want To Dance
Sub par decorations? Meh. No snacks? Whatever, Micky D's is up the road. Bad music? Absolutely unforgivable. Especially with today's younger generations.
Students go to dances to dress up and express their energy. All of which is mostly done through a dance party and mingling. Be sure to add any dance mixes or shuffles that everyone knows and can participate in.
Students Want Nostalgia
Throwbacks are also good because students aren't regularly listening to them. The classic hits know how to get everyone in a mood. All of which is a must for your dance party. The classic hits foster a positive and inclusive environment for your dance party.
Students Want To Sing Out Loud
We all know singing feels good. No matter how terrible we are at it! A sign that your school event is a success is that students are jumping around and singing along. Singing along helps students break out of their shells and get more comfortable with their classmates.
Including the best karaoke hits to your playlist is a must. Of course, don't add too many sing-alongs or else you might wear them out!
Kids Want a Break

Though most of your playlist should energize your dance party occasionally throw a low tempo song that isn't easy to dance and sing along to. Play a Slow Song.
Students need a moment to catch their breath, sit down, use the restroom, and check their phones. Nothing can kill their vibe more than catching their breath and their favorite song coming on!
Know the Students
Popular music varies depending on regional differences. Country may dominate one area, yet hip hop and rap may dominate another. Some places may have a strong local music scene where students listen to local artists.
For the most part, you should aim to diversify while considering what the majority of students will enjoy.
New music comes out every week. It can be tough to keep up-to-date with the current hits. The best thing about doing high school and middle school dances is the requests. The students will request songs. New songs that you might not have. But after that dance you can get the songs for the next dance. Plus each school has their favorite songs. Once you get to know them and get them – the dances will become more fun to DJ.
Pro Tip – You can ask for song request weeks before the dance. It can be as simple as a Google form. Setup a online request site for each dance.
Always play clean versions of songs for your school events.
---
Conclusion
School Dance DJs play a range of music genres. Knowing what students like is key to curating a school dance playlist for a successful middle school or high school event.
---
Read More
---
Pins for Pinterest
If you like what we see feel free to share some love on Pinterest <3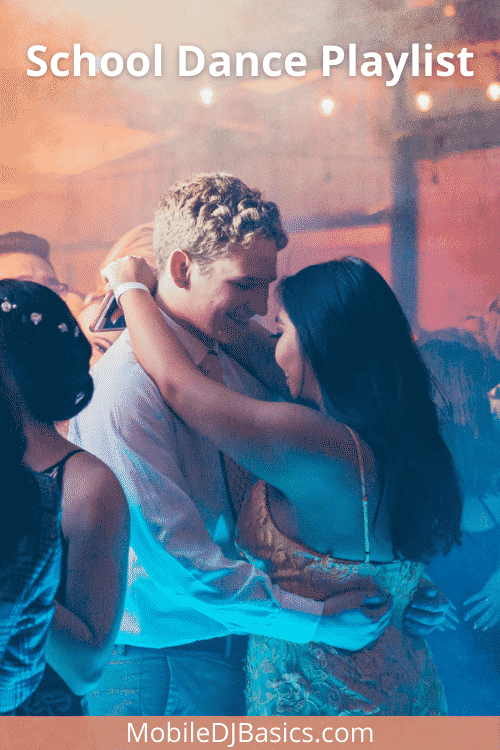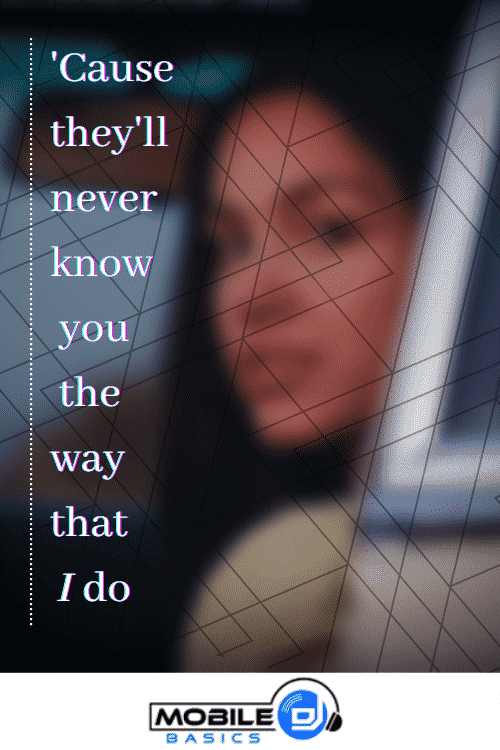 School Dance Playlist 2021 – Exclusive Songs For School Dance DJs