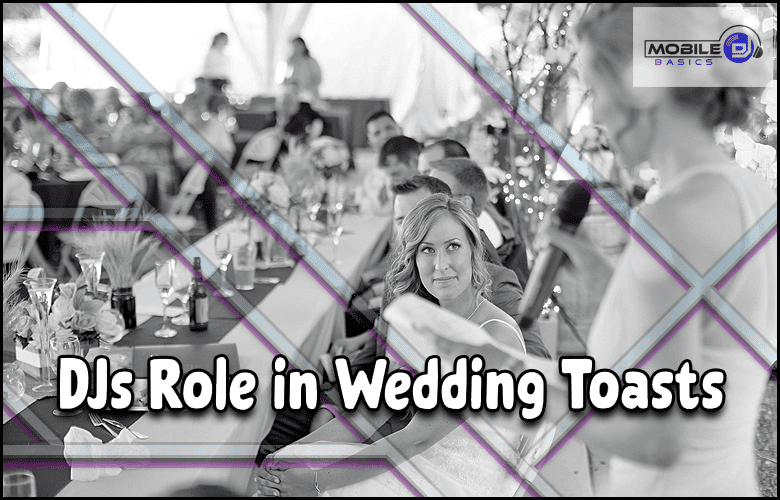 Last Updated on September 27, 2023 by Ryan Conlon | 🕒 5 min Read Time
---
In 2023, the wedding landscape might have evolved and transfigured, but there's an enduring element that remains crucial – making memorable Wedding Toasts and Speeches.
When the wine glasses clink, hearts flutter, and all eyes rivet on the person at the stand, it's not just the words that matter but also the environment set for them.
Intriguingly, one maestro has subtly yet remarkably taken center stage in harmonizing this moment – The DJ.
Can you imagine the high-octane finale of your favorite show without its dramatic soundtrack?
Well, that's what a wedding toast without a deft DJ is like; bereft of rhythm, soul, and dynamic punctuation.
While DJs may not have a direct role in wedding speeches and toasts, they play an essential role in creating the overall atmosphere and ensuring that the event runs smoothly. By providing quality sound equipment, lighting, emceeing services, and song selection assistance, a professional wedding DJ can create a positive environment that sets the stage for successful speeches and toasts. Ultimately, hiring a skilled professional DJ is crucial in creating an unforgettable wedding experience.
DJ's Role in Wedding Toasts and Speeches
A wedding celebration is not just a party; it's a once-in-a-lifetime event. It's an occasion for friends and family to witness the couple's love and commitment to each other.
From the first dance to cutting the cake, from the cocktails served to the photography, every moment of the reception counts.
One key aspect that can make or break a wedding event is music.
A professional DJ has an essential role in every wedding party, including making sure speeches and toasts run smoothly.
During speeches, DJs help coordinate all audio elements involved by managing the sound levels and ensuring that the microphones work correctly.
An experienced DJ recognizes that speeches require a different type of sound setup than say, pumping dance floor music.
They alter their equipment layout so that guests can hear every word of the speech without any interference.
The last thing guests want during those emotional and sentimental moments is crackling sounds or no sound at all.
Moreover, an experienced DJ knows when to bring up or lower down the volume level during speeches.
Sometimes guests may move further back into the reception venue, necessitating adjusting the sound levels so they will still hear everything perfectly.
With this strategic approach, wedding DJs know how to keep a speech engaging without disrupting its natural flow by micromanaging its audio elements.
It's important to consider that wedding DJs also act as emcees for wedding events.
They play a crucial part in timing your reception and announcement plans leading up to each memorable moment of your special day.
Just like how a conductor leads a symphony orchestra, a wedding DJ serves as a conductor directing your reception towards an experience you and your guests will remember forever.
From introducing formalities such as speeches and grand entrances to throwing high energy dance parties with expertly curated playlists – hiring an experienced professional DJ sets you up for success.
Creating a Positive Atmosphere
It's not all about music. DJs not only ensure the sound systems are in the perfect tune but also create an inviting atmosphere to which guests will feel welcome.
Making sure both the wedding party and their guests have a wonderful time requires effort that starts with the DJ creating an inviting ambiance within your venue.
For instance, the music played during dinner should be soft enough to allow guests to enjoy conversations at their tables yet inviting enough to keep them engaged and entertained.
The taps tune into familiar melodies that align with each table's seat allocations or types of songs everyone knows and can sing along with.
Good wedding DJs provide an array of intellectual suggestions and exciting ideas while still embracing your style and taste. They also add character using lighting design to fit your wedding's theme.
From pin spotting centerpieces to backlighting the head table, proper lighting elevates your reception beyond typical setup into better visuals for display.
What's more? The expert touch a DJ brings towards setting up the mood within a wedding reception creates an enjoyable, relaxed, and romantic setting for both wedding party and guests alike.
According to a survey conducted by the Wedding Report, approximately 70% of wedding receptions in the United States have a DJ.
A study published in 2023 found that roughly 85% of wedding DJs also serve as emcees, directing the flow of events and often facilitating speeches and toasts.
Of those surveyed in The Knot's Real Weddings Study, nearly 63% report that their DJ contributed significantly to the reception's overall mood and atmosphere, which could indirectly influence the success of speeches and toasts.
Enforcing the Event Timeline
A wedding is a joyous event, but it's also one that requires careful planning and strict adherence to timelines, especially when there are several events scheduled back-to-back.
This is where the DJ plays an essential role in making sure everything runs smoothly.
The DJ acts as the main point person for coordinating with different vendors and the couple themselves. They are responsible for ensuring that everyone is on the same page so that everything happens at the right time.
For instance, if speeches and toasts are scheduled to happen after dinner, but dinner runs late, the DJ will have to work with the catering team and other vendors to adjust the schedule.
They may need to extend cocktail hour or push back dancing until later in the evening to give speeches and toasts their proper time slots.
This is where an experienced and professional DJ can make all the difference.
A good wedding DJ understands how important every moment of a wedding day is and knows how to be flexible while keeping everyone informed about changes.
In contrast, hiring an inexperienced or unprofessional DJ could lead to miscommunication, confusion and potentially a disorganized chain of events causing long wait times between events.
Or worse yet – missing out some integral parts such as cutting cake or bouquet tosses.
---
How DJ Professionalism Enhances Wedding Toasts
Wedding receptions often revolve around speeches from loved ones, which makes it essential for DJs to have experience in public speaking.
When introducing speakers, a professional DJ can add a personal touch by sharing anecdotes about how they know each other or highlighting special moments about their relationship.
Think of your wedding day as your favorite Broadway show. The performers are your loved ones who make up your VIP cast telling a love story filled with ups, downs and emotional triumphs!
Therefore, your DJ is the conductor who implements cues, adding emotions and interacts with your cast to bring the story alive!
A seasoned DJ takes pride in their MC skills and understands how to keep the energy flowing between speeches.
They know how to adjust music volume and monitor microphones to ensure every word of each toast can be heard.
A professional DJ can also help make sure that all speakers are adequately prepared by offering tips on what to include in a speech or helping edit their remarks so that they have maximum impact.
This ensures that even those guests who aren't familiar with the speaker will still enjoy hearing what they have to say.
Some people might argue that hiring a wedding planner would be sufficient for ensuring smooth event flows.
However, while wedding planners coordinate logistics like catering and decor, they may not always have experience with more technical aspects such as sound equipment or running audio-visual technologies.
On the other hand, DJs specialize in these areas, making them an indispensable part of any wedding planning team when it comes to speeches and toasts.
Overall, without proper MCing or effective timelines, even the best heartfelt speeches or elaborate cake cutting ceremonies could fall flat!
Each aspect of a wedding reception builds on top of each other leading into a seamless and unforgettable event, which you will cherish for years to come.
For a successful wedding reception, it is crucial to have a professional DJ with experience in public speaking. The DJ can add a personal touch by sharing anecdotes during introductions and keeping the energy flowing between speeches. They can also help ensure that all speakers are adequately prepared and that their remarks have maximum impact. While wedding planners may coordinate logistics, DJs specialize in technical aspects like sound equipment and audio-visual technologies, making them an indispensable part of any wedding planning team. A well-executed wedding reception with effective timelines and MCing will lead to an unforgettable event cherished for years to come.
Proper MC Performance
As the master of ceremonies (MC) for a wedding reception, DJ's play an essential role in creating an enjoyable and entertaining atmosphere.
The MC serves as the voice, face, and guide for the entire evening, responsible for making announcements, directing guests to specific locations, introducing key players, and most importantly – keeping speeches and toasts on track.
A skilled MC knows how to set the tone for each part of the reception by adjusting their energy level and performance style.
During speeches and toasts, they need to switch from a hyped-up dance party mode to a more somber or reflective attitude while still remaining engaging.
Additionally, proper microphone technique is critical for effective MCing during speeches and toasts. Holding the microphone too close or too far away can affect sound quality, causing speech distortion or low volume.
Combined with poor enunciation or articulation abilities can make it difficult for guests to hear clearly.
In addition to microphone technique and performance skills, DJ's also have a vital role in setting up sound and lighting equipment that enhances wedding speeches and toasts.
Sound and Lighting Setup
Great sound quality is essential at any event but particularly at a wedding where speeches are given.
Poor sound quality will detract from any speaker's message, so it is imperative that DJs ensure that their equipment setup optimizes clarity with minimal feedback or distortion.
Investing in high-quality microphones is crucial because even speakers with natural projection will need help being heard over noise created by conversations taking place around the venue.
Using lavalier mics or handheld models equipped with wireless transmitters can ensure that all speakers are heard loud and clear no matter where they are standing.
While some couples opt for DIY setups in an attempt to save money, hiring a professional DJ ensures that all necessary equipment is properly set up, tested, and in working condition.
Not only will wedding speechmakers appreciate the high-quality sound but unlikely power outages or failing equipment issues will not ruin this memorable event.
Lighting is another essential component of a DJ's setup as it can completely transform the look and atmosphere of a venue.
By adjusting color temperatures, intensity, direction, and placement for each part of the reception, DJs can create dramatic effects that enhance the mood or direct guest attention.
Think of it this way – by selecting specific light colors, such as warm yellows and oranges, DJs can create a welcoming glow similar to candlelight during intimate speeches.
Also dimming lights when toasts are given creates an instant improvement in focus on the individual speaker while setting the rest of the venue parties into an ambient mood adapted to commemorate what is being said.
With clear sound quality made possible by excellent microphones and top-of-the-line lighting gear enhancing your reception hall's ambiance, your wedding speeches will be talked about for years afterward.
As you can see, professional DJ services can make a significant difference in your wedding reception experience.
Proper MC performances help ensure that speeches and toasts go smoothly without distraction or interruption.
In contrast, sound and lighting setups can turn an ordinary hall into a magical event space with eloquent speakers taking center stage.
---
The Contribution of DJs to Memorable Wedding Events
Wedding DJs are not only responsible for setting the mood and keeping the guests on the dance floor, but they also play a pivotal role in creating memories that will last a lifetime.
A wedding reception is all about celebrating love, happiness, and unity, and a talented DJ knows how to enhance these feelings through music and other subtle techniques.
For instance, during the cocktail hour or dinner, the DJ may play soft background music that creates an ambiance where people can comfortably mingle and talk.
This allows guests to relax and enjoy each other's company without feeling pressured to hit the dance floor right away.
On the other hand, when it is time to get everyone on their feet, the DJ has the power to create a lively and energetic atmosphere that motivates even shy attendees to join in on the fun.
Another way in which DJs contribute to memorable wedding events is by engaging with guests in a positive way.
With their microphone skills and experience as an emcee, wedding DJs have ample opportunity to interact with the crowd throughout the night.
They can hype up the energy during key moments like cake cutting or bouquet tossing and encourage participation in group dances like the "Cupid Shuffle" or "Cha Cha Slide".
By creating a sense of community among the attendees through music, games or activities, DJs can help make lasting memories.
Furthermore, experienced wedding DJs can read the room and adjust their approach accordingly.
For example, if it seems like people are not responding well to certain songs or genres of music, they can switch things up until they find what works best for that particular crowd.
Good DJs are also skilled at pacing themselves throughout the night, gradually building up from slower jams during dinner to higher-energy dance music later on.
Think about your favorite sporting event: There is always some underlying energy that exists in the crowd that is created either by the fans or by something else.
DJs are able to harness a similar type of energy at wedding events, and they are often the driving force behind a memorable experience.
They can take the energy of the attendees and channel it into creating an unforgettable night.
Now that we have discussed how DJs contribute to memorable wedding events, let's talk about some common pitfalls to avoid.
Pitfalls to Avoid with Wedding DJs
Hiring a wedding DJ is an investment, and as with any investment, you want to make sure you're getting your money's worth.
Unfortunately, there are many pitfalls that couples can fall into when looking for a DJ. Here are some things to keep in mind:
First and foremost, always make sure you do your research and read reviews before hiring a DJ.
Don't just take their word for it – ask for references or check out their social media accounts to get a sense of their overall reputation.
Additionally, be wary of DJs who offer packages at unrealistically low rates or who seem overly pushy or desperate for business.
Another pitfall to avoid is failing to communicate clearly with your DJ about your expectations for the event. Whether it's special song requests, desired volume levels or overall style preferences, make sure you're on the same page from the start.
This will help ensure that everyone is happy with the music and overall atmosphere throughout the night.
Finally, one contentious issue that often arises with wedding DJs is whether or not to allow guests to make requests.
On one hand, taking requests can give guests a sense of ownership over the evening and create more excitement on the dance floor.
On the other hand, inexperienced DJs may find themselves struggling to accommodate all of these requests without sacrificing quality or cohesion within their setlist.
In general, if you do decide to allow requests, make sure they are appropriate and that your DJ has the final say on what gets played.
By avoiding these common pitfalls and working closely with your DJ to create an unforgettable experience, you can look forward to a wedding reception filled with memories that will last a lifetime.
---
Related Posts
---
---
---
Pins for Pinterest
If you like what you see, feel free to share some love on Pinterest ❤️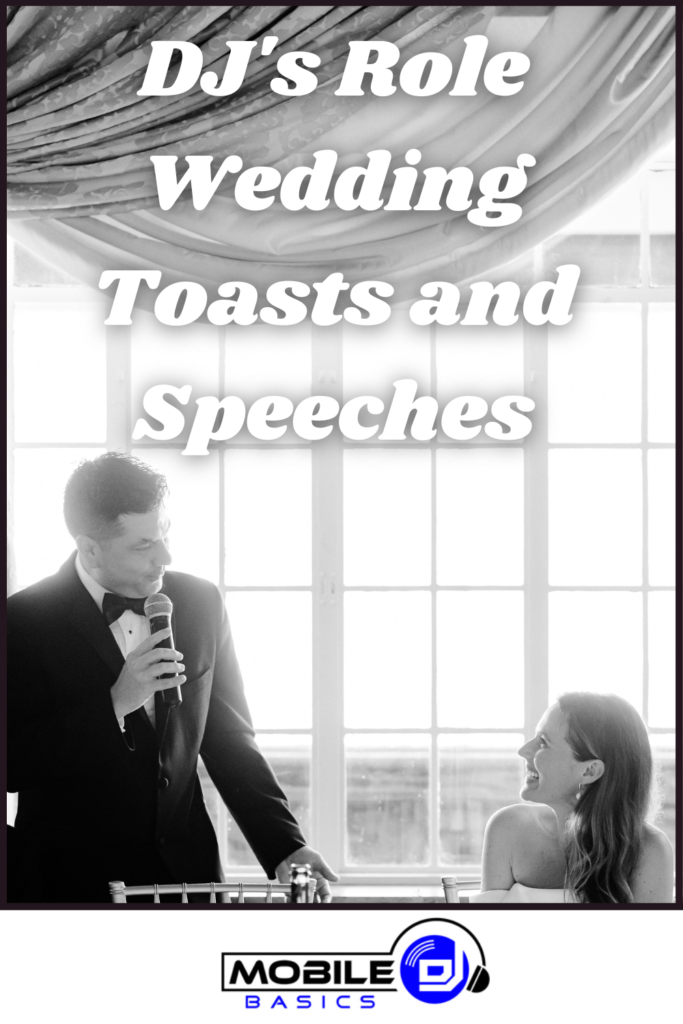 DJ's Essential Role in Making Memorable Wedding Toasts and Speeches
From discovering new songs to getting more gigs, I'm excited to share the wealth of knowledge I've gained through many years of DJing. [email protected]