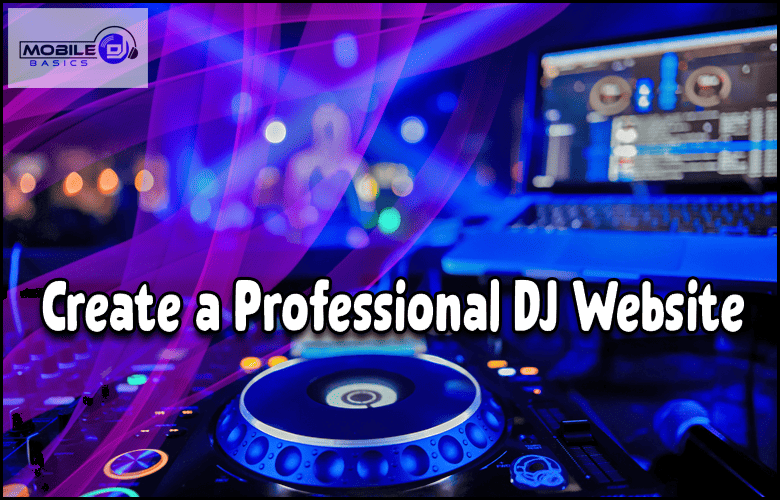 Last Updated on October 16, 2023 by Ryan Conlon | 🕒 6 min Read Time
---
Imagine being in a bustling room filled with beats pounding, lights flashing, and people dancing.
Everyone turns their heads, gravitating toward the music like moths to a flame. Behind it all? You—the DJ—rhythmically manipulating the turntables.
But as the night dims and cheers subside, how can you ensure this euphoric experience doesn't just end there? A top-notch DJ website is your answer!
In the endlessly competitive digital landscape of 2023, having a professional website elevates your DJ branding from 'just another name on the lineup' to 'the name headlining every event'.
Let's journey together through this streamlined guide on how to create a sensational DJ website using resources available at your fingertips.
It's easier than syncing beats — promise. Time to build that virtual stage and bring your audience into an eternal after-party!
Choosing the Right Platform for Your DJ Website
Creating a website has never been easier. Nowadays, with a plethora of platforms and tools available online, it's become increasingly accessible to build a stunning website in just a matter of minutes.
However, with each platform having its own pros and cons, selecting the right one can become an overwhelming task.
Before jumping to create your DJ website, it's crucial to consider what you want to accomplish with it. Do you plan on selling merchandise? Finding new gigs? Building your brand online?
Without defining goals or evaluating whether the platform can fulfill those goals, making the right choice becomes impossible.
Once your objectives are well defined, deciding on a platform narrows down.
Generally speaking, some essential features must be present in any web-building tool regardless of the intended use; responsiveness, user-friendliness, affordability, and design templates are among them.
Now let's move on to discuss two popular options for creating DJ websites: Bandzoogle and WebsiteForDJs.
Bandzoogle vs. WebsiteForDJs
Bandzoogle and WebsiteForDJs are among the best platforms available for building DJ websites in terms of functionality and ease of use. However, which one is better suited for you depends entirely on your needs as a DJ.
First things first; let's compare pricing models between the two platforms.
Both offer similar levels of affordability relative to their competition; however, there is a significant difference in how they approach pricing tiers.
Bandzoogle offers three plans ranging from $8.29/month to $16.63/month, whereas WebsiteForDJs only provides one plan at $19/month.
Simplicity is one of the most significant advantages that Bandzoogle has over its competitor due to its easy-to-use interface.
Beginners can create a custom website without needing any technical skills whatsoever.
The platform's drag-and-drop editor offers a wide range of templates and customization options suitable for any budget and design taste.
Furthermore, Bandzoogle integrates with platforms such as Soundcloud, YouTube, and Bandsintown, making it easier to manage your content.
On the other hand, WebsiteForDJs has an advantage when it comes to hosting and streaming live shows.
Its robust servers are perfect for offering high-quality audio and video streams, with no lag or other technical issues that might hinder a show's success.
Additionally, WebsiteForDJs doesn't impose any limits on the amount of media storage available to users, allowing them to upload as many files as necessary.
Another area where Bandzoogle exceeds is customer support. The platform boasts some of the best customer support in the market with a response time of less than ten minutes.
They offer personalized support via phone call or email, ensuring that any issues can be resolved promptly and efficiently; however, this is not something we can say about WebsiteForDJs.
While their customer services try to assist users in solving issues, they don't have the same level of responsiveness as Bandzoogle does.
In terms of SEO optimization, both platforms offer similar tools and features useful for increasing website visibility among potential customers.
However, WebsiteForDJS's integration with Google Analytics provides an advantage over Bandzoogle since users can analyze various data points such as audience demographics and online behavior in real-time.
Choosing between these two DJ website builders could be compared to selecting between two different cars: one known for its reliability and ease of use (Bandzoogle); the other known for its performance and flexibility (WebsiteForDJs).
Both cars serve different purposes depending on the user's needs.
Ultimately, choosing a web building platform boils down to personal preferences and objectives.
Whether you prefer simpler interfaces over versatility or better customer service over a sound streaming experience, carefully assessing your needs and goals beforehand will help you make an ideal choice between the two platforms.
According to a 2023 study, about 85% of DJs prefer using specialized platforms like Bandzoogle and WebsiteForDJs to build their professional websites.
Another study in the same year shows that approximately 60% of DJs saw an increase in bookings after creating a professional website.
In the music industry, it is reported that in 2023, nearly 65% of independent musicians, including DJs, manage their own websites for merchandise sales, event promotions, and fan interaction.
Essential Elements of a DJ Website
When it comes to creating a professional DJ website, certain elements are essential to impress your audience and provide them with an immersive experience.
The overall layout of your website must be visually appealing and easy to navigate, while the content must be engaging enough to keep your visitors hooked.
Let's explore some of the critical elements you should include on your DJ website.
First off, sound quality is paramount when it comes to DJ websites.
Make sure your audio tracks are clear, crisp, and high-quality so that your listeners can easily immerse themselves in your music.
You can also incorporate visualizers for an added effect.
Another important aspect is video integration.
Including videos of you performing live will allow your potential audience to see what you're capable of delivering beyond just audio recordings.
Further, integrating livestream events on your website is a great way to attract a larger audience and keep them engaged.
Your fans can attend their favorite DJs' live streamed performances from anywhere in the world without leaving their home.
An analogy that may help explain how livesteaming works in this context is that it's like going to a concert, but online instead – you get all the benefits and enjoyment of being at the show but from the comfort of your own home.
Some might argue that merchandising isn't necessarily a crucial part of a successful DJ website.
However, including merchandise for sale is a great way to appear more polished and professional while increasing revenue streams.
Now that we have reviewed some essential elements necessary for a successful DJ website let's take a look at another aspect of building a website that complements these features – sound, video, and livestream integration.
Sound, Video and Livestream Integration
The digital age has simplified sound, video, and livestream integration.
Creating an immersive, multimedia experience for your audience has never been easier.
Here are some methods to consider optimizing your sound, video, and livestream integration on your website.
Firstly, having music samples available online is imperative.
While some may argue that not sharing music publicly adds an air of exclusivity, it can also alienate potential fans who want a taste of what you have to offer before going to see you live.
Second, using a variety of content types increases the liveliness of your website, keeping visitors engaged over longer periods.
Mixing in promotional videos alongside live performance recordings is an excellent way to show off all facets of your personality and career.
Livestream integration has great potential as both a revenue and reputation-building tool for DJs.
It helps establish brand credibility by allowing fans to see performances even if they're far from the venue or can't make it to the show.
Streaming can lead to higher attendance rates as well since fans hesitant about traveling might still attend virtually.
Livestreaming for DJ websites is like a chance to provide another performance platform – instead of performing at venues only for those physically present, DJs can perform live events streamed to anyone with an internet connection.
Incorporating sound, video and livestream integration in your DJ website can be time-consuming or costly but yet rewarding enough as a marketing tool.
With so many free or very affordable options available online today no matter which level of expertise you have when it comes to integrating these technologies into your website anything is possible.
Merchandise and Event Integration
As a DJ, your website must showcase not just your music but also the events you're playing at and the merchandise you're selling.
With Bandzoogle and WebsiteForDJs, you can easily integrate these features into your website and offer your fans an all-round experience.
With Bandzoogle, you can set up an online store and sell merchandise directly from your website.
Whether it's t-shirts, hats, or stickers, you can easily add products to your store, customize prices and descriptions, and manage orders all from one central place.
You get to keep 100% of the earnings with no commission fees on sales.
This feature is especially useful for new DJs who are looking to build a brand and create more visibility.
On the other hand, WebsiteForDJs allows you to promote events using their tour calendar feature which shows upcoming events right on your website.
This integration saves time in updating multiple websites or platforms when adding new gigs or shows.
By highlighting your events via widgets, social media links, or customized text, visitors are encouraged to buy tickets via presale links or physical ticket outlets.
While both platforms offer similar features that will help with branding and marketing, choosing between them depends on personal preferences regarding ease of use of navigation tools, site maintenance options, hosting/traffic fees/bandwidth limitations.
Therefore it's important for DJs to compare different platforms extensively before settling on one that matches their needs.
Having a website without proper integrations is like having a pizza without toppings; you have the basics but lack extra flavor.
Integrating event promo widgets together with merchandise sales would be perfect for creating a unique user experience for any fan inclined to visit.
In building your brand online as a DJ through a website, there are key elements that should form the bedrock of your digital presence.
Building Your DJ Brand Online
Building your brand online is an essential factor that determines how successful you will become in the long run. It begins with creating a website that's not only visually appealing but also informative and engaging.
A compelling bio plays a crucial role in establishing connections between DJ and fans.
With Bandzoogle and WebsiteForDJs, DJs can write bios about themselves, sharing their experiences and what makes them unique as artists.
Alongside this are Contact Forms; these help keep the fans feeling connected to the artist by allowing direct messages and feedback.
In addition, integrating social media links on your website using Bandzoogle or WebsiteForDJs' templates allows easy connection with fan groups where interaction is made more robust via posts updates from gigs, recording sessions or pre-event peeks adding to the relationship between artist and fan community.
However, heightened functions or customizable features such as pop-ups, live Q&A streams, heat mapping tools would require a slightly different configuration as these may not be open for use on all current platforms mentioned above – limiting full access to visitors.
Bio, Contact Form, and Social Links
When building a professional DJ website, it is essential to include a bio, contact form, and social links section. These elements help visitors learn more about you and connect with you outside of your website.
Your bio should be informative yet engaging. It needs to provide a brief overview of your journey as a DJ. You can mention where you started and how you got to where you are now.
By sharing your experiences and accomplishments, you will start to create a bond with your audience. Additionally, it helps establish trust with potential clients who may be interested in booking you for future gigs.
A contact form is also an essential element because it provides an easy way for visitors to get in touch with you. This form should ask for basic information such as name, email address, and message.
Keep the form short and straightforward, so that visitors can quickly fill it out without being overwhelmed.
Think of your contact form as a gateway to new opportunities. It allows fans to ask a question or leave feedback. More importantly, it gives potential clients an easy way to start the conversation about booking you for their next event.
Some may argue that including social media links on your website takes visitors away from your site.
However, in today's world of online marketing and self-promotion, social media plays an essential role in creating brand awareness and connecting with fans.
Therefore, adding social media links allows visitors to follow you on platforms they use regularly.
Now that we have discussed the importance of including a bio, contact form, and social links section let's move on to advanced features that can help make your website even more versatile.
Advanced Features for a Versatile DJ Website
As a professional DJ, having an informative website is crucial when promoting yourself and booking gigs.
In addition to the essential elements mentioned earlier, advanced features such as a gig booking form and member-only pages can take your website to the next level.
A gig booking form is a great tool to have on your website if you want to get more bookings.
This feature makes it easy for potential clients to provide detailed information about their events and ask for availability and pricing estimates.
You can include custom fields such as event date, location, music preferences, and special requests.
Once submitted, you'll receive an email notification with the details of the request.
Think of a gig booking form as a user-friendly portal tailored specifically for those interested in hiring you. It streamlines the entire process of booking you for an event into one easy step.
Additionally, implementing member-only pages is another advanced feature that can add value to your website.
These pages are password-protected areas of your site accessible only by registered users.
You may consider creating exclusive content that visitors cannot access unless they sign up for your newsletter or become a member of your website.
Some may argue that providing exclusive content only to registered users can be frustrating or turn away visitors who do not want to create an account.
However, offering something unique that is only available to those who join can motivate fans to engage more deeply with your brand and keep them loyal in the long run.
Implementing these advanced features for your DJ website can bring it from good to great!
By providing an engaging bio, simple contact form, directing visitors towards social media links, adding a professional looking gig-booking form and member-only pages specifically designed for dedicated fans or customers geared towards engagement with you longer-term compared to those who may engage closer-to immediate event-related needs of warrant hire or performance bidding.
Gig Booking Form and Member-Only Pages
As a DJ, one of the most important features you need on your website is a gig booking form.
This tool allows event organizers to easily book you for gigs and shows directly through your website, without the need for back-and-forth emails or phone calls.
It's a simple and effective way to manage your bookings and ensure you don't miss out on any potential opportunities.
Bandzoogle offers an easy-to-use and customizable gig booking form that you can add to your website in minutes.
With their drag-and-drop page builder, you can customize the fields of the form to fit your needs, ensuring that you collect all of the information you need from potential clients.
You can also specify which days and times you're available for gigs, making it easier for potential clients to book you when you're free.
For example, let's say that you specialize in performing at weddings. With Bandzoogle's gig booking form, you could include fields for the wedding date, location, and any special requests from the couple or event planner.
You could also ask for details about the venue, such as whether there will be adequate space for your equipment or any restrictions on volume levels.
In addition to a gig booking form, another useful feature to include on your DJ website is member-only pages.
These pages allow you to share exclusive content with your fans or clients, such as private mixes, contract forms, press kits, or any other resources that only those who have booked your services would have access to.
Bandzoogle makes it easy to create member-only pages on your website by providing a password-protected option.
You can grant access to those who have booked your services by sending them a unique username and password combination via email when they book with you.
This ensures that only those who are authorized can view the content you've shared.
Think of member-only pages like a VIP backstage area at a concert.
Just as only those who've been granted special access can enter the backstage area, only those who have booked your services can access your member-only pages.
This creates a sense of exclusivity and makes your fans or clients feel valued.
By including a gig booking form and member-only pages on your DJ website, you'll be able to streamline your bookings, offer exclusive content to your fans, and build a stronger online presence overall.
With Bandzoogle's powerful custom design tools and drag-and-drop page builder, you can easily add these features to your website in just minutes without any coding required.
However, it's important to note that not all website builders offer these features.
For example, although WebsiteForDJs does offer a gig booking form, they do not currently offer member-only pages.
It's important to consider which features are most important to you when choosing the right platform for your DJ website.
Some DJs may argue that adding a gig booking form or member-only pages to their website isn't necessary if they primarily get bookings through social media or word-of-mouth referrals.
While it's true that these channels can be effective for getting new gigs, having a dedicated booking form on your website can make it easier for potential clients to contact you directly.
Similarly, offering exclusive content via member-only pages can help build loyalty and keep your fans coming back for more.
Ultimately, the decision to include a gig booking form or member-only pages on your DJ website will depend on your personal preferences and business needs.
However, by considering the benefits of each feature and comparing different website builders like Bandzoogle versus WebsiteForDJs, you can make an informed decision about which platform is right for you.
As a DJ, having a gig booking form and member-only pages on your website can streamline bookings, provide exclusive content to fans or clients, and improve your online presence. Bandzoogle offers customizable gig booking forms and password-protected member-only pages that enable DJs to tailor their website to their needs and collect all the necessary information from potential clients. While social media and word-of-mouth referrals can be effective for getting gigs, having a dedicated booking form on your website can make it easier for potential clients to contact you directly. By comparing different website builders and considering the benefits of these features, DJs can make an informed decision about which platform is right for them.
---
Related Posts
---
---
---
Pins for Pinterest
If you like what you see, feel free to share some love on Pinterest ❤️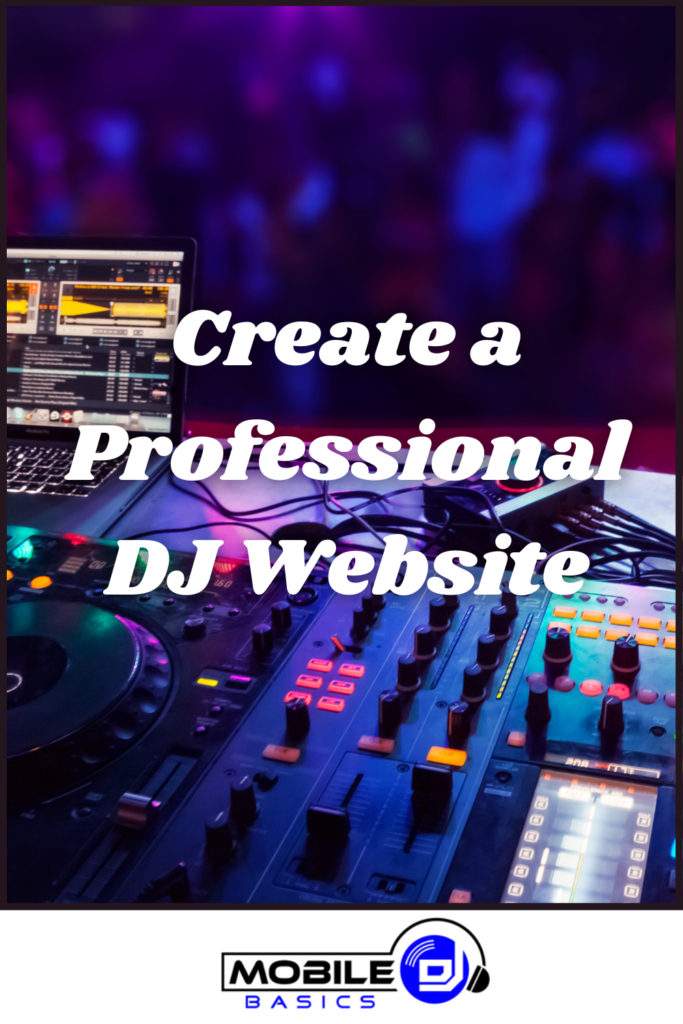 How to Create a Professional DJ Website in Minutes {2023}
From discovering new songs to getting more gigs, I'm excited to share the wealth of knowledge I've gained through many years of DJing. [email protected]